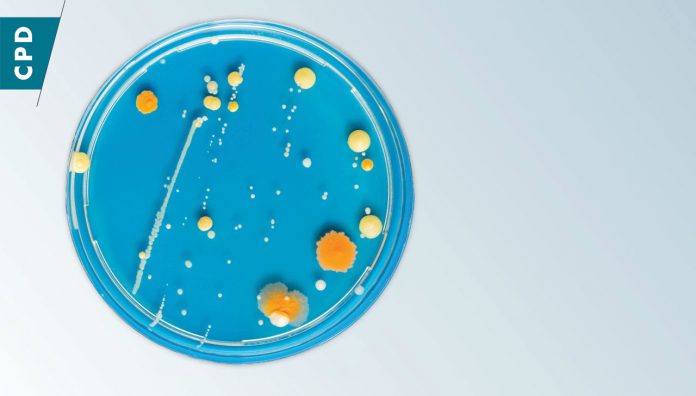 Introduction
The once high morbidity and mortality associated with infectious diseases was transformed during the 20th century with improvements in public health, medical practice, vaccination and antimicrobials.
Learning objectives
After reading this article, pharmacists should be able to:
Discuss the causes of antibiotic resistance
Identify the challenges and threats associated with antibiotic resistance
Describe the role of the pharmacist in supporting judicious and appropriate use of antibiotics.
Competencies (2016) addressed: 1.1, 2.2, 2.3, 3.1, 3.2, 3.5, 3.6.
Case scenario
Margaret is a 71-year-old woman with type 2 diabetes, peripheral neuropathy, hypertension, osteoarthritis of the knees and obesity. She currently takes metformin modi­fied release (MR) 1 g daily, gliclazide MR 60 mg daily, rosuvastatin 10 mg daily, perindopril erbumine 4 mg daily, pregabalin 75 mg twice daily and paracetamol MR 1.33 g three times daily.
Last week, Margaret saw her podiatrist for a routine foot check and was advised to see her general practitioner (GP) as soon as possible, due to concerns about a foot ulcer. Margaret couldn't see her regular GP, so consulted the out-of-hours service. She was prescribed amoxicillin-clavulanic acid 500 mg/125 mg twice daily.
Margaret visits the pharmacy today, with her husband, Bert. She asks for the repeat on the antibiotic prescription and Betadine ointment, as she 'always ­finds it helps these things'.
Test your knowledge on this article's assessment questions here to earn up to 1.5 Group 2 CPD credits.