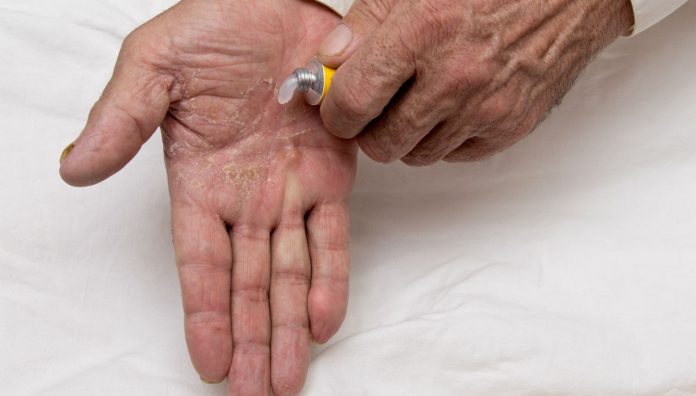 Atopic dermatitis (eczema) is an inflammatory skin condition that mostly affects young children. However, a recent report shows it may affect older adults more often than previously thought.
The report, published in the Annals of Internal Medicine, shows a U-shaped prevalence curve in which prevalence is highest among children and teens. Ten to 25% of children in industrialised countries have the condition.
The curve then dips to its lowest point for young and middle-aged adults, before spiking again for people aged 74 years and older. The cumulative lifetime prevalence of atopic dermatitis was found to be 9.9%. The annual mean prevalence among patients up to 17 years was 12.3%. The rate then declined to a mean of 5.1% among adults aged 18–74 years. In patients aged 75–99 it rose again to 8.7%. That is, the rates of active disease were found to be highest among children and older adults.
The report analysed data between 1994 and 2013 from the Health Improvement Network in the United Kingdom. This cohort is known to be representative of the population of the United Kingdom, where primary care physicians manage 97% of cases of atopic dermatitis.1
Dr Stephen Carter, Lecturer at the School of Pharmacy at the University of Sydney and PSA NSW branch representative, told Australian Pharmacist: 'I am unaware of any (previous) data on the prevalence, nor about the incidence (new cases identified), within this age group. Most researchers tend not to specifically target people over 75'.
What makes elderly skin susceptible to atopic dermatitis?
environment and the tissues beneath. According to Dr Carter, this happens because of epidermal thinning, essentially from the loss of elastin and collagen and reduced subcutaneous fat.
'We also wear the history of contact with our environment – photoaging from UV light, oxidative damage from smoking and pro-inflammatory processes,' he said. In addition, as people become less mobile there is a tendency to spend more time indoors, where factors such as air conditioning dry the skin.
'Older people may not be as likely to hydrate themselves. Sometimes they are advised to reduce their water intake, for example in heart failure. Any prescribed diuretics can make this worse.'
Dr Carter noted that as the skin dries, the itch-scratch-itch cycle ramps up. This may be more relevant for someone who's not distracted by work, family and social interactions.
'If a person is required to spend long periods of time in bed, the clothing and bedding itself can be irritating.
'It can also be difficult for less mobile individuals to apply moisturisers to parts of the body affected. While this area has not been the subject of a lot of research, we should really have predicted an upswing in prevalence and problems,' he said.
Treatment options
A combination of factors can lead to the development of atopic dermatitis, including alterations in immune response, inherited defects in the skin barrier, environmental irritants and allergens. Therefore early interventions involve avoiding triggers, restoring the skin barrier, and treating skin inflammation.
Topical corticosteroids are the main treatment for atopic dermatitis in all age groups. They should be applied liberally to the affected area and then carefully massaged into inflamed skin. Regular use of emollients is also important to help restore the barrier function of the skin. New biologic agents may also have an emerging role in the management of severe atopic dermatitis. For more information, access the recent Australian Pharmacist article on atopic dermatitis.
References
Abuabara K, Magyari A, McCulloch CE, Linos E, Margolis DJ, Langan SM.

Prevalence of Atopic Eczema Among Patients Seen in Primary Care: Data From The Health Improvement Network.

Annals of Internal Medicine 2019. At: https://annals.org/aim/article-abstract/2717731/prevalence-atopic-eczema-among-patients-seen-primary-care-data-from