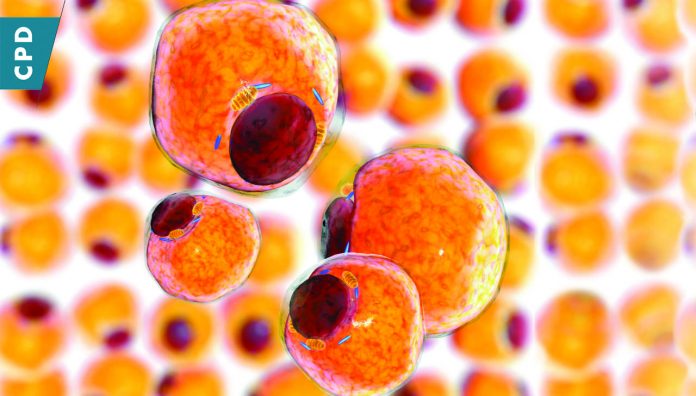 Diabetes mellitus overview
Type 2 diabetes mellitus (or just diabetes) is a chronic, progressive condition primarily characterised by two metabolic dysfunctions: insulin resistance and relative insulin deficiency.1
Learning objectives
After reading this article, pharmacists should be able to:
Identify current guideline treatment targets for people with type 2 diabetes based on their different characteristics.
Describe recent evidence regarding the risks and benefits of new treatments for the management of type 2 diabetes.
Propose evidence-based, individualised treatment plans for people with type 2 diabetes.
Competencies (2016) addressed: 1.1, 3.1, 3.2, 3.2, 3.3, 3.6.
Case scenario
Helen is a 63-year-old woman (height 162 cm, weight 84 kg) with chronic heart failure (NYHA Class 1), hypertension and type 2 diabetes (diagnosed five years ago).
The medicines Helen is currently taking is shown in the table (below), along with pathology results from one month ago.
Helen commenced glibenclamide around 12 months ago when her glycaemic control had been consistently suboptimal, despite taking metformin. She has been taking the current dose for 6 months, but her HbA1c has not reduced appreciably and she has gained 3 kg in weight.
Helen comes into the pharmacy to pick up her repeats, and discusses her diabetes control with you. She reports taking her medications daily and that gaining better control of her diabetes is a priority. However, she states: 'I am not ready to start injecting myself and prefer to stick to pills.' She wants to know more about the possibility of adding a third glucose-lowering agent.
This article presents an overview of options available to Helen, with an emphasis on recent evidence on the beneficial effects of some newer agents.
Medicine name and strength
Directions 
Glibenclamide 10 mg
One tablet in the morning
Lisinopril 20 mg
One tablet in the morning
Metformin 1,000 mg
Two tablets twice daily
Metoprolol SR 190 mg
One tablet in the morning
Pathology results (reference range) from one month ago
Blood pressure
136/80 mmHg (<120/80 mmHg)
Sodium
135 mmol/L (135–145 mmol/L)
Potassium
4.5 mmol/L (3.4–5.5 mmol/L)
Urea
8.3 mmol/L (2.9–8.2 mmol/L)
Creatinine
89 micromol/L (40–95 micromol/L)
Fasting BGL
7.2 mmol/L (4.0–6.0 mmol/L)
HbA1c
8.4% (≤7%)
Urinary albumin: creatinine ratio
2.1 mg/mmol (<3.5 mg/mmol (female))
Total cholesterol
3.5 mmol/L (<5.5 mmol/L)
Test your knowledge on this article's assessment questions here to to earn up to 1.5 Group 2 CPD credits.