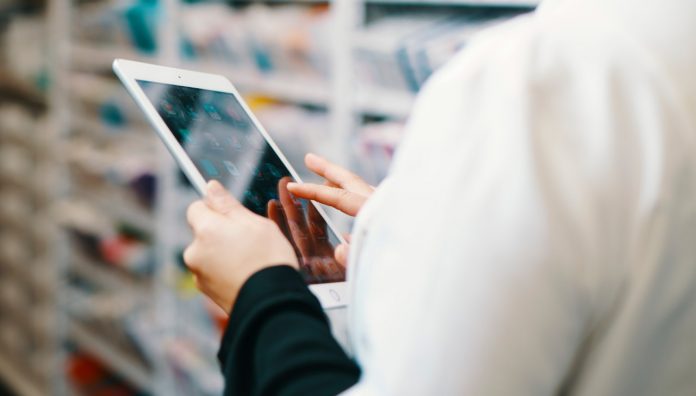 A significant milestone has been reached in pharmacy, with Australia's first genuine and legally valid electronic prescription (e-prescription) created, stored and dispensed in Victoria last week.
Key points:
Australia's first e-prescription was dispensed at Anglesea Pharmacy in Victoria.

Patients are sent a 'token', or unique QR code, that is scanned in the pharmacy to unlock the prescription.

Benefits include improved patient safety and a reduction in paperwork.

For more information, don't miss PSA's free

COVID-19: Electronic Prescribing webinar

tonight (13 May, 7:30pm EST). 
While initially slated to begin in mid-2020, Prime Minister Scott Morrison announced in March that the government would fast-track the rollout of e-prescriptions as part of the country's response to the COVID-19 pandemic. 
Previously a paper prescription was the only legal way medicines could be supplied, with the exception of digital image prescriptions, which were introduced last month as a result of the coronavirus. 
While paper prescriptions will still be available, PSA National President Associate Professor Chris Freeman said e-prescriptions would allow consumers to access their medicines when and where they wanted.
'Unlike digital image prescriptions, which are (sometimes poor quality) electronic reproductions of paper prescriptions, electronic prescriptions are completely paperless and will reduce transcription and interpretation errors,' he said.
Fast-tracking the future
Using the system, a prescription is generated electronically by a prescriber using approved software and transmitted securely to a prescription delivery service. The e-prescription is then sent via a 'token', or unique QR code, to the patient. This can be done via an app, SMS or email. While the legal copy of electronic prescriptions are paperless, consumers can also request for the token used to access the prescription to be printed.
The QR code is scanned in the pharmacy, unlocking the e-prescription and enabling medicines supply.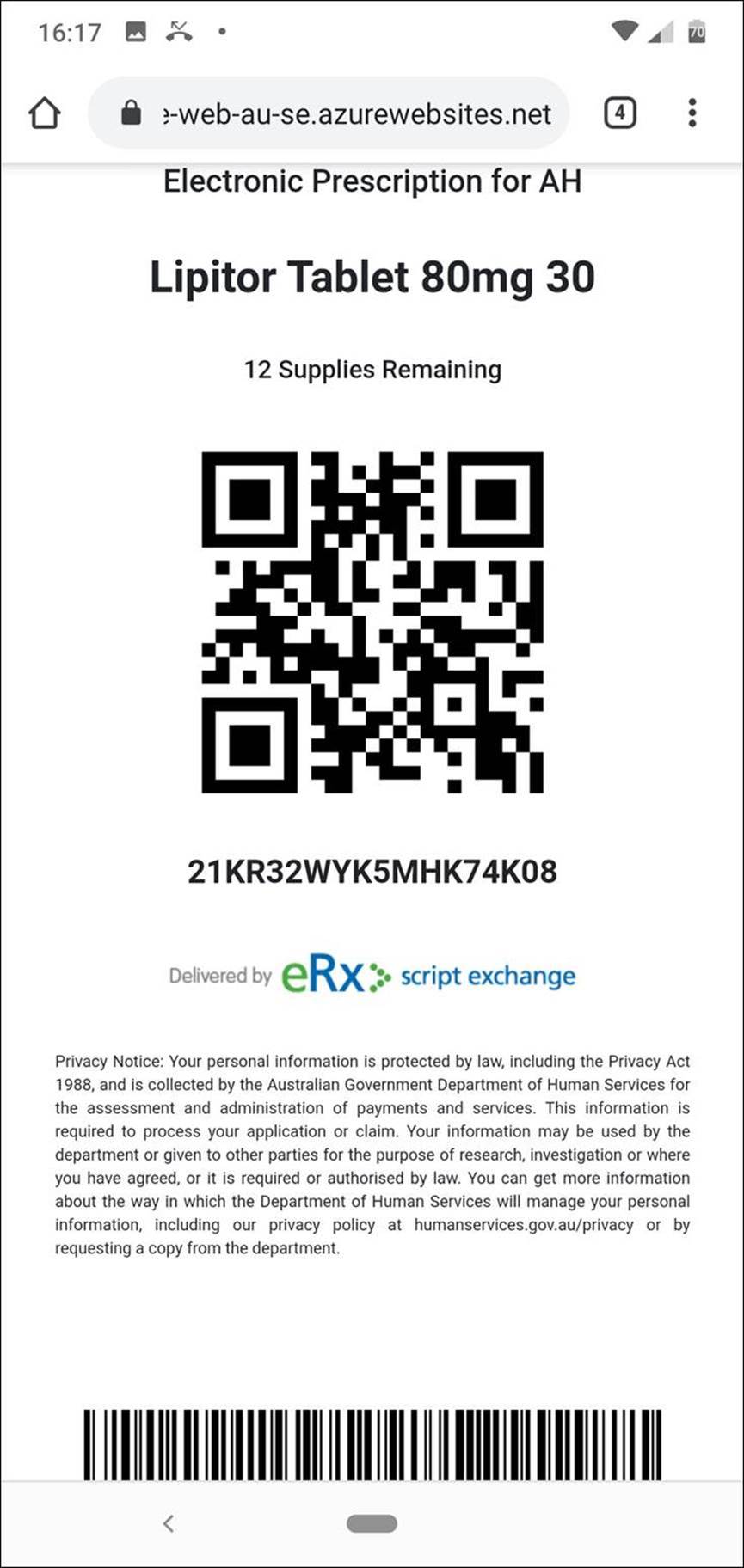 Pharmacist Jason Bratuskins MPS of Anglesea Pharmacy had the honour of dispensing the first e-prescription after a GP at Anglesea Medical prescribed electronically using regular prescribing software, Best Practice.
The patient was presented with a token with the required number of repeats via eRx Script Exchange, and then sent the dispensing request to the pharmacy.
The script was integrated into the pharmacy's workflow and dispensed via the pharmacy's regular dispensing software in Fred NXT Dispense.
'Paper scripts are, of course, still an option, but electronic prescriptions are the way of the future,' Mr Bratuskins said. 
'Our patients and staff have been profoundly influenced by the isolation requirements of COVID-19, and it has been terrific to be part of efforts to re-define how we support our patients with alternative options for fulfilling prescriptions. I was pleased to see that this could sit comfortably alongside our existing processes.' 
Mr Bratuskins said the benefits included:
reducing the need for pharmacies to store paperwork and the chance of patients losing scripts

flexibility of services

and maintaining patient privacy and integrity of personal information.
Ensuring a smooth transition
For pharmacists, embracing the idea that patients visit a pharmacy digitally as well as physically and require the same, personalised care is essential, said Victorian pharmacist Robert Sztar MPS. 
'Many pharmacies have been very paper-based but are open to new ways of working with patients to find the best model that suits them,' he told Australian Pharmacist. 
'Recently, through the challenges of COVID-19, pharmacists have had to manage exponential workflow changes and they will continue to do so very well, as long as the implementation roadmap is easy to follow.'
Pharmacists do need to ensure they have up-to-date software to receive e-prescriptions and issue repeats. Reviewing data security, including ensuring off-site backups are fit-for-
purpose are also important moves to prepare for electronic prescriptions.
Later this year, the Active Script List model will join the 'token' model for e-prescriptions. Under this model, patients who register for the Active Script List will be able to give consent for a pharmacy to access to all their prescriptions. 
This is expected to reduce the likelihood of lost tokens and assist with medication management and adherence, especially for patients who are using a large number of medicines.
For more information, don't miss PSA's free Electronic Prescribing webinar tonight (13 May, 7:30pm EST) in partnership with the Australian Digital Health Agency.