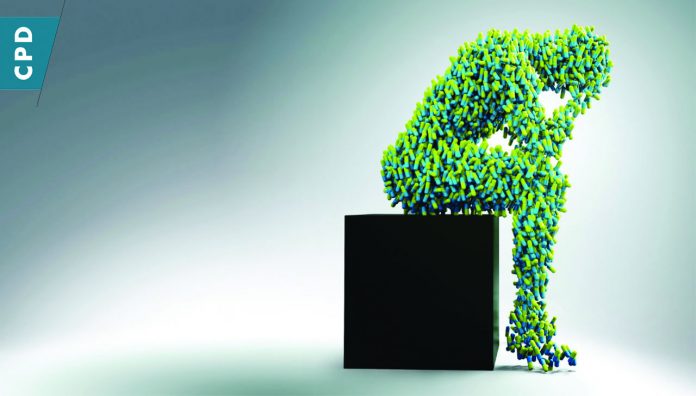 Definition of polypharmacy
Polypharmacy is commonly de­fined as the use of ­five or more medicines daily.1 Hyperpolypharmacy or excessive polypharmacy is de­fined as the use of ten or more medicines daily.2,3
Learning objectives
After reading this article, pharmacists should be able to:
Define polypharmacy and identify risks for polypharmacy
Discuss associated adverse drug outcomes from polypharmacy and how it impacts older people
Discuss strategies to address and manage polypharmacy.
Competency standards addressed (2016): 2.2, 2.3, 2.4, 3.1, 3.2, 3.3, 3.6
Case scenario
Clarise is a 79-year-old female with a history of congestive heart failure (CHF), hypertension, gastro-oesophageal re­flux disease (GORD), hypercholesterolaemia and osteoarthritis (OA). Her daughter is concerned as she has recently been exhibiting quite unusual behaviour. Her general practitioner (GP) has referred Clarise to you (as the local accredited pharmacist) for a Home Medicines Review (HMR). During the HMR interview with Clarise and her daughter, her daughter expressed concern about her mother's ability to remain independent, and fears the development of a 'dementing illness'. Over the last 2–3 months, Clarise has become confused, easily fatigued and very irritable. She has developed disturbing obsessive/compulsive behaviour, constantly complaining that her windows are not clean enough and require frequent cleaning. Her prescribed medications are:
furosemide 40 mg each morning
digoxin 250 micrograms daily
paracetamol 500 mg, 1–2 tablets 4-hourly when necessary
piroxicam 20 mg at night
esomeprazole 20 mg each morning
docusate 120 mg, 1–2 tablets at night
metoprolol 50 mg twice daily
ezetimibe/simvastatin 10 mg/20 mg, 1 tablet at night.
Test your knowledge on this article's assessment questions here to earn up to 1.5 Group 2 CPD credits.