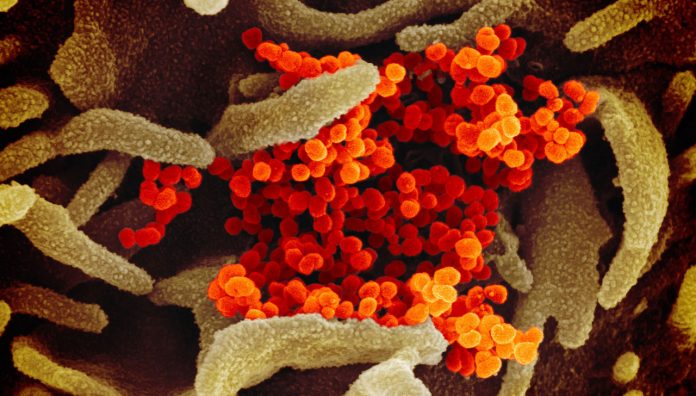 Coronavirus (COVID-19) information for pharmacists 


For the latest information, updates and advice related 

to the novel coronavirus outbreak, click here.
The number of COVID-19 cases continues to rise in Australia, with more than 110 confirmed cases and three deaths. 
Worldwide, nearly 120,000 cases have been reported across 112 countries and 4284 people have died.
The federal government today announced a $2.4 billion funding package to help protect Australians, particularly those in vulnerable groups, from COVID-19. This includes $25 million for home medicines services, which will allow patients to have their PBS prescriptions filled online or remotely, and have their medicines delivered to their home.
Australia's Chief Medical Officer Professor Brendan Murphy said the country is still in 'containment mode' and that most cases reported locally are related to overseas travel.
While he said health authorities expect more cases, it is important to note that, 'for most people who get this virus, it is a very mild illness'.
'Certainly we are worried if we have a large outbreak, that that would put pressure on our hospitals … but at the moment, there is no reason for community panic in Australia,' he said.
The only people who need to get tested are travellers returning to Australia or those who have been in contact with a confirmed case, even if you have flu-like symptoms, Professor Murphy said.
'Other Australians do not need testing, and all they are doing is putting an unnecessary burden on the [system].'
COVID-19 key points this week
119,120

 confirmed cases worldwide (up from 92,818 in the last

AP

newsletter)

4,284

deaths: 2,954 in mainland China; 631 in Italy; 291 in Iran; 54 in South Korea; 35 in Spain; 33 in France; 28 in the US; 10 in Japan; 7 in Iraq; 6 each in the UK and from the Diamond Princess cruise ship; 4 in the Netherlands; 3 each in Australia, Hong Kong and Switzerland; 2 each in Germany and San Marino; and 1 each in Argentina, Canada, Egypt, Lebanon, Morocco, the Philippines, and Thailand. 

65,765

 recovered

Median incubation period: 5.1 days

according to a new study

led by researchers at Johns Hopkins Bloomberg School of Public Health.

112 countries affected

In Australia: 60 cases in NSW, 15 each in Queensland and Victoria, 6 in SA, 4 in WA, 2 in Tasmania and 10 associated with the Diamond Princess cruise ship.
Across the country, schools and universities have closed to prevent the spread of the virus. In Victoria, a State Control Centre has been established, which Premier Daniel Andrews said would help agencies collaborate and share resources.
'Coronavirus will impact the entire Victorian community, [including] business and schools, and that's why a whole-of-government response is needed as we ramp up our response to this emerging pandemic,' he said.
Up-to-date advice
PSA National President Associate Professor Chris Freeman said a number of members had struggled to access the right information about the novel coronavirus. In response, the organisation has created a dedicated webpage, which will be updated regularly with the latest information, updates and advice for pharmacists.   
A/Prof Freeman said PSA is also working with the federal Department of Health to ensure pharmacists have access to adequate personal protective equipment (PPE) and medicines. 
He said the importance of the primary care sector in responding to the outbreak as it develops was emphasised at the Primary Care and Aged Care COVID-19 Preparedness Forums, held last week. 
'[At the forums] PSA highlighted the issues of availability of PPE stock, stockpiling of medicines and the need for continuation of emergency dispensing of chronic disease medicines.' 
A/Prof Freeman urged pharmacists to contact their relevant Primary Health Network (PHN) to request an adequate supply of PPE.
'Access to PPE is of the utmost priority and will only become more important over the coming weeks.
'If you are having difficulties accessing PPE from any PHNs, please let me or your state branch office of PSA know of the difficulties, and we will follow this up on your behalf.'
Medicines update
PSA also participated in a Medicine Shortages Working Party meeting with the Therapeutic Goods Administration (TGA) and other key stakeholders in the medicine supply chain.
'[PSA members] have raised concerns about requests from patients for multiple repeats of medicines and regulation 49 prescriptions (previously regulation 24), which could result in inappropriate medicines stockpiling and possibly medicine shortages, if this behaviour continues,' A/Prof Freeman said.
'Pharmacists are encouraged to reassure patients that there is no need to panic and everything is being done to ensure medicines are available.
'We are actively working with the National Pharmaceutical Services Association and the Pharmacy Guild of Australia to keep members up-to-date on the current supply situation.'
The TGA is closely monitoring international manufacturing of medicines and liaising with Australian medicine sponsors, wholesalers and pharmacists to determine any potential future impact to medicines supply to Australian consumers.
'While it may be appropriate for individuals to ensure that they have at least two weeks supply of prescription medicines in the unlikely event they are quarantined, any stockpiling of medicines is unnecessary,' a statement from the TGA advised.
There are currently no medicines or vaccines that have been approved for the prevention or treatment of COVID-19. However, a number of vaccines are under development and some medicines are being assessed in clinical trials for efficacy against COVID-19 infection.
'When the data from such trials becomes available, Australia is a lead member of a global group of regulatory authorities who will undertake a coordinated review of relevant vaccines and medicines with the highest possible priority,' a statement from the TGA said.
PSA has also written to the Commonwealth Chief Medical Officer seeking advice on whether this year's seasonal flu vaccination should be administered early to people at high risk of influenza to combat a collision of the seasonal influenza period with COVID-19.
Advice for pharmacists
As frontline health care professionals, A/Prof Freeman said it is vital that pharmacists stay informed about COVID-19 and implement risk-based approaches to protect themselves and the community.
PSA has provided the following information and advice for pharmacists:
Reassure patients that there are currently no medicine supply issues in the community.

If there is a larger spread of COVID-19, pharmacists will be able to continue to dispense medicines into the community including delivering medicines to homes.

Public health officials are monitoring the situation and will enact isolation and containment measures as and when appropriate.

Reassure patients that the best way to protect themselves is good hand hygiene.

Access regular information updates provided through the Commonwealth Department of Health.


See:

www.health.gov.au/health-topics/novel-coronavirus-2019-ncov