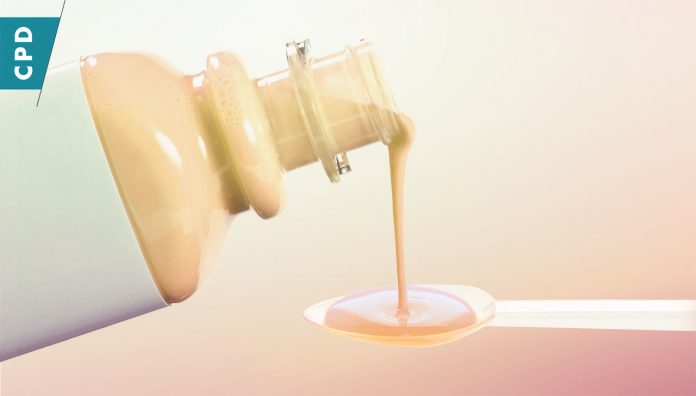 Background
Spironolactone, an aldosterone antagonist, acts on the distal portion of the renal tubule as a potassium-sparing diuretic; increasing sodium and water excretion and reducing potassium excretion.1
Learning objectives
After reading this article, pharmacists should be able to:
Recognise when compounding to meet specific patient requirements is necessary, and the necessary precautions to take
Explain how to prepare spironolactone oral liquid extemporaneously, including the components, methods of preparation, packaging, storage and labelling
Counsel patients/carers on the appropriate use of, and the precautions to be taken, when using spironolactone oral suspension.
Competencies (2016) addressed: 1.1, 1.3, 1.5, 1.6, 3.1, 3.2, 3.4, 4.4, 4.5.
Spironolactone has been available for more than 60 years, however with the advent of newer antihypertensive agents, its use in adults is limited to resistant hypertension (as an adjunct). It is also indicated for: congestive heart failure, hepatic cirrhosis with ascites and oedema, nephrotic syndrome, primary hyperaldosteronism, refractory oedema associated with secondary hyperaldosteronism, and hirsutism in females.2,3 Despite a long history of use in paediatrics, with the earliest paper reported in 1964,4 there are very few published studies on its use in children for oedema and heart failure.5,6
Spironolactone is not available commercially in a liquid dose form.3 However, for those patients unable to swallow tablets, or for convenient dosing in neonatal and paediatric populations, an oral liquid may provide a suitable alternative. Furthermore, mixing medicines with drinks or food can lead to potential drug-food interactions. It may also taint the infant's milk feed or food, which could alter the child's desire to feed, a­ffecting their nutritional intake.6
Test your knowledge on this article's assessment questions here to to earn up to 1.5 Group 2 CPD credits.