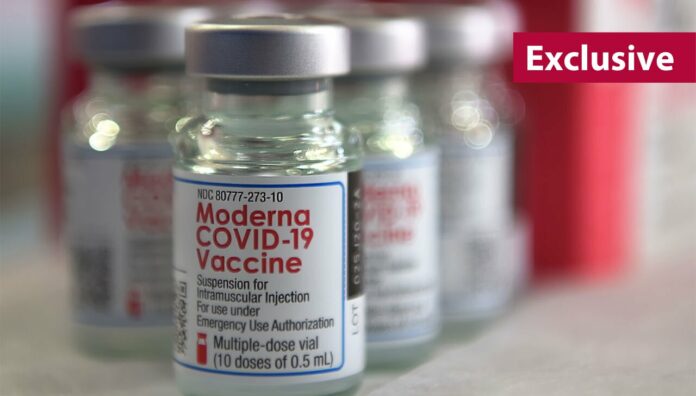 With the COVID-19 vaccine for children aged 6 months to 5 years given the green light in the United States, Moderna's Chief Medical Officer Dr Paul Burton expects the infant vaccine to roll out in Australia next month.
The Therapeutic Goods Administration (TGA) announced in mid-May that it had received, and immediately commenced evaluation of an application from Moderna Australia Pty Ltd to extend the use of its COVID-19 vaccine, to children in this age cohort.
In an exclusive interview with Australian Pharmacist, Dr Burton, during a brief visit to Australia, said it is now down to the TGA and the Australian Technical Advisory Group on Immunisation (ATAGI) to review and assess the data.
'If it is approved by the TGA, that will then go to our advisory group on vaccines to consider the way in which this should be rolled out to the community, so I'd expect it to be a matter of some weeks,' Federal Minister for Health and Aged Care Mark Butler said in Canberra on Tuesday.
With young children differentially and disproportionately impacted by the Omicron variant, Dr Burton said building immunity is vital.
'Data from Hong Kong [revealed] extremely high rates of paediatric ICU admission for kids with [Omicron], even compared to other variants of concern,' he said.
Young children also act as a reservoir for COVID-19 infection.
'The virus can go into that age group, [and] percolate because there's no vaccination, no protection,' Dr Burton said. 'Then it goes back out to older people who are really vulnerable'. 
The primary course of the infant vaccine is two 25 μg doses, 4 weeks apart, with recent clinical trials indicating that young children receive protection against COVID-19 6 weeks after their first dose, according to Moderna. 
At this stage, the World Health Organization Strategic Advisory Group of Experts on Immunization (SAGE) does not recommend Spikevax for children under 12 years of age, pending the results of further studies.
New Omicron-containing bivalent booster available soon
Meanwhile, new clinical data on Moderna's Omicron-containing bivalent COVID-19 booster candidate has revealed a 50 µg dose produces a significant jump in antibody levels.
'People who have been exposed [to Omicron] got up to a 12-fold increase in antibody levels, and people who have not got up to a four-fold antibody increase,' Dr Burton said.
'We can probably get a good extended period of time, maybe up to a year between boosters, and that will provide protection against infection, severe disease and death.
'Depending on TGA and ATAGI review and authorization, [we're hoping] to have doses available for people in August.'
It is unknown if pharmacies will be the first port of call for the bivalent vaccine, but Dr Burton assumes it will follow the same channels as Spikevax boosters.
'We're [also] working on a study to test the bivalent booster in [children aged 5 months to 6 years] now,' he said. 
'If they need boosting, we should be able to lead supply [with] that variant-adapted booster at the end of this year.'
Next in the works is a combined COVID-19 and flu vaccine that is currently in phase-one testing, and should be available in Australia in late 2023, Dr Burton said. A phase-one study for a triple combination – influenza, COVID-19, and respiratory syncytial virus (RSV) will begin soon, with the vaccine expected to roll out in Australia in late 2024.
With its recent 10-year agreement with the Australian Government to provide mRNA vaccines against COVID-19, influenza, RSV and other potential respiratory and latent viruses, Moderna's manufacturing plant in Melbourne is also expected to open its doors by the end of 2024.
'The aim of this plant is in Australia, for Australia,' Dr Burton said. '[We want to] produce 100 million vaccine doses a year.' 
'This agreement and strategic partnership with Moderna and the Victorian Government is crucial insurance for the health of the Australian population,' Former Minister for Health Greg Hunt said in March.
'It means Australians will have access to the most cutting-edge vaccination technology available both now and into the future.'

Other pipeline therapeutic targets
Moderna is working to develop mRNA vaccines for a range of infectious diseases, which will likely be produced in the Australian plant, Dr Burton said. Studies are currently underway on vaccines for cytomegalovirus, which is the leading cause of birth defects in newborns, and Epstein-Barr virus (EBV).
'There's data that EBV contributes to multiple sclerosis (MS),' he said. 'There's a burden of disease with MS in Australia, so I think there's a certainty that we will want to work on that here as well.'
Three Australian centres, the University of Queensland, the Burnet Institute and the Doherty Institute, are also collaborating with Moderna on its mRNA Access program, which focuses on the CEPI list of 15 priority pathogens, including Chikungunya, Crimean-Congo hemorrhagic fever, Dengue, Ebola, Malaria, Marburg, Lassa fever and Middle East respiratory syndrome.
But mRNA is the future of disease treatment more broadly, not just infectious diseases, Dr Burton told AP.
'We have 46 programs in development, covering cancer, cardiovascular disease, rare disease, rare metabolic disease, and autoimmune disease,' he said. '[And] we see Australia as a huge partner for us.'
Opportunities for pharmacists
With the Australian Moderna team rapidly growing, increasing from two to 20 in a 6-month period, the company is eager to recruit pharmacists in a range of roles – from medical affairs, global pharmacovigilance, safety monitoring and clinical development. 
'Some are now interested in moving into manufacturing and commercialisation,' Dr Burton said. 'The opportunities for pharmacists are extensive.'
Pharmacists are an asset because they understand complex science, diseases and how medicines are made, he believes.
'They're also able to translate complex data into knowledge that patients, physicians and hospitals can use to improve [health] outcomes,' Dr Burton said. 'It's a particular skill that's very valuable.'
PSA's latest evidence and updates on mRNA vaccines in its CPD Roadshow are available to attend from 6 pm on the following dates:

Brisbane – Thursday, 23 June 2022

Adelaide – Tuesday, 28 June 2022

Sydney – Wednesday, 6 July 2022
A National Webinar for regional and rural based PSA Members will be held on Wednesday, 6 July 2022. Registrations open soon.