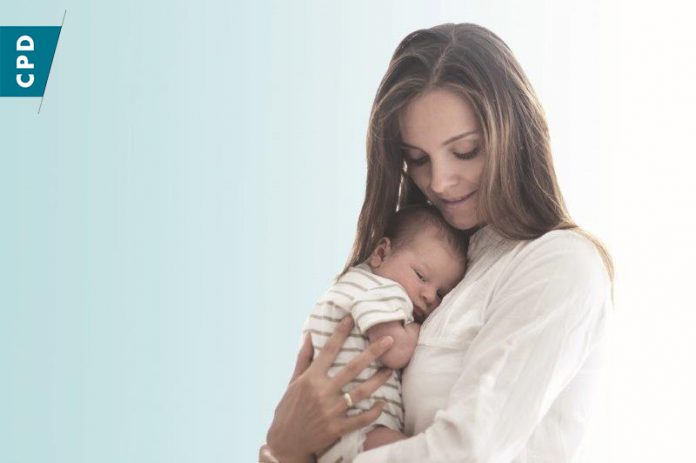 The health benefits of breastfeeding for both the mother and baby are significant, which is why breast milk is considered the best form of nutrition for babies.
Learning objectives  
After reading this article, pharmacists should be able to:
Describe the normal lactation process
Discuss the benefits of breastfeeding
Describe the role of the pharmacist in supporting women with breastfeeding.
Competencies (2016) addressed: 1.1.2, 1.3.2, 1.5.1, 2.1.2, 3.1.1, 3.1.2, 3.2.5, 3.6.1, 3.6.2, 3.6.3.
Competencies (2010) addressed: 1.1.2, 1.2.1, 1.3.1, 1.5.1, 2.3.3, 4.2.1, 4.2.2, 4.3.3, 6.1.1, 6.1.2, 6.2.2, 6.3.1, 6.3.2, 6.3.3.
Case scenario 
Jillian has come in with her 6-week-old exclusively breastfed son Rory, to speak to the pharmacist. Rory is her first baby, and she is feeling anxious about whether she is producing enough milk. Although Rory has periods of contentment, he has been becoming increasingly unsettled, particularly towards the evening. Her breasts feel softer than they did in the first weeks after Rory's birth and she is worried that this means she is running out of milk towards the end of the day. She is thinking she should buy some infant formula to supplement her breastfeeds in the evenings, and would like your advice.
Want to learn more? PSA members can access the full article and assessment questions here to earn up to 1.5 Group 2 CPD credits.
Not a PSA member? Find out why more than 18,000 pharmacists choose PSA to support, advance and create opportunities for the pharmacy career and the greater pharmacy profession. Click here to join today.