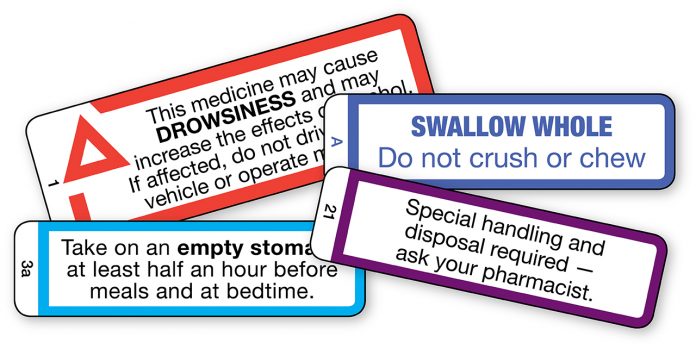 Scenario
A 70-year-old male patient is being discharged from hospital today and you note that swallowing difficulties are detailed in his case history. The dispensing pharmacist has dispensed the patient's discharge medications and has labelled simvastatin with cautionary advisory label 21 (Special handling and disposal required – ask your pharmacist) and label A (Swallow whole do not crush or chew). You are concerned that these labels may alarm and/or confuse the patient. What should you do?
Including cautionary advisory labels without counselling is not appropriate
During the counselling process, the pharmacist should provide (or inform patients how to access) written information such as dispensing labels, cautionary advisory labels or Consumer Medicine Information to reinforce verbal counselling (Professional Practice Standards (PPS) criterion 8.8.7).
Supplying written information such as cautionary advisory labels (CALs) without appropriate verbal counselling to explain how the information applies to the patient can lead to confusion and potential for medication misadventure.
As this patient has swallowing difficulties, the use of label A could lead to the patient not taking the medicine because he is unable to swallow it whole.
Removing labels 21 and A may be appropriate
Pharmacists are expected to meet legislative labelling requirements and exercise professional judgement when deciding whether to omit one or more CALs for a particular patient. Use of label 21 is not required by legislation.
Simvastatin is a pregnancy category D medicine and label 21 is recommended to identify the medicine as hazardous when people other than the patient (e.g. carers, family members) handle the medicine.
Some hazardous medicines may not pose a significant risk if they are administered to the patient intact, but the risk can be increased if these formulations are modified (e.g. crushed). Label A is recommended for simvastatin to reduce the risk of the formulation being modified.
The pharmacist should tailor counselling to the needs and understanding of the patient (PPS criterion 8.1.2). The patient is a 70-year-old male and therefore, providing he is self-administering his medicine at home, label 21 may not be required. Advice to swallow this medicine whole would not apply for this patient and therefore label A is not required.
Counselling the patient about label 21 and removing label A is the most appropriate option
The pharmacist should adapt available information based on informed professional judgement to tailor counselling to the needs and understanding of the patient (PPS criterion 8.1.2).
This will allow the pharmacist to present the most appropriate counselling, lifestyle advice and treatment options. The patient should be asked if they self-administer their medicines. If they don't, they should be asked who helps them administer their medicines to determine what special handling, if any, is required.
Use of label 21 should be accompanied by appropriate counselling, including ways for the person administering the medicine to minimise exposure to simvastatin (especially while crushing the tablet). Because of the patient's swallowing difficulties and the need to crush simvastatin tablets, label A should be removed.
Further resources
Australian Pharmaceutical Formulary and Handbook 24: Counselling and Cautionary Advisory Labels
PSA gratefully acknowledges the Australian Government Department of Health for providing funding for the original development of this case study as part of the PBS Access and Sustainability Package including the Sixth Community Pharmacy Agreement.
Relevant Professional Practice Standards:
Standard 1 – Fundamental Pharmacy Practice
Standard 4 – Provision of Non-prescription Medicines and Therapeutic Devices