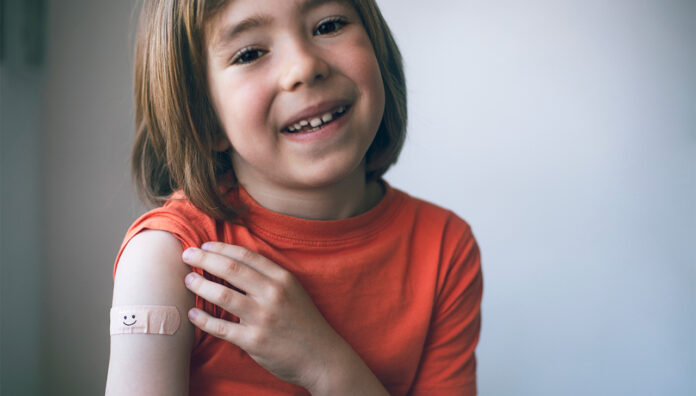 On 5 December, the Therapeutic Goods Administration (TGA) provisionally approved Pfizer's COVID-19 vaccine for children over 5 years of age.
The TGA assessment was made following review of both clinical trials and real-world data in countries where the paediatric vaccine is already available, A/Prof Freeman said. 
'Their approval provides confidence in both the safety and effectiveness of the childhood vaccine, which is a third of the adult dose (10 micrograms versus 30 micrograms),' he said.
While A/Prof Freeman said the regulatory approval is 'exciting', there are a few more steps which need to occur before the expected vaccination start date for this patient cohort on 10 January:
Australian Technical Advisory Group on Immunisation guidance, including on the interval between the second dose (if recommended)
workforce training, including a new mandatory online module
batch testing of the paediatric vaccine.
The TGA Product and Consumer Medicine Information Licence provides information pharmacists should be aware of:
The second vaccine will require additional medicine safety steps to avoid inadvertent dosing errors, such as wrong dose, wrong vaccine or administering an expired vaccine.

The children's Pfizer vaccine will have a different coloured lid on the vial (orange cap) compared to the adult vaccine (purple/grey cap).
There will be 10 doses per vial (adult vial is 6 doses).
It will be stable at normal fridge temperature for 10 weeks after thawing and used within 12 hours of diluation.
Reassuring concerned parents
Clinical trials have shown the safety profile in children aged 5–11 years is similar to that seen in adults, with only mild observed adverse effects. 
The most frequent adverse events were injection site pain, fatigue, headache, injection site redness and swelling, muscle pain and chills.
'Initially we only had [data] from the Pfizer trial in [just over 3,100] primary school-aged children, [which] told us that the vaccine in this age group has a good immune response,' A/Prof Margie Danchin, Senior Research Fellow in vaccine and immunisation research at the Murdoch Children's Research Institute, told ABC Radio Melbourne. 
Since the US rolled out the COVID-19 vaccine to children over 5 years of age in early November, 5 million children (10%) in this age group have been vaccinated.
'There is no vaccine safety signal at the moment for myocarditis and pericarditis,' A/Prof Danchin added.
There is a 'background rate' for myocarditis and pericarditis occurring in children due to viral infections or adverse effects from medicines.
'It is very important that's looked at closely to see if there's an increased rate, which hasn't been seen,' A/Prof Danchin said. 
'That is what we [are] seeking as paediatricians, as we would for any vaccine before it was approved for children.' 
There is also no safety signal for other serious adverse events, such as anaphylaxis, A/Prof Danchin said.
'The data coming out of the US is really reassuring and very good news for parents,' she added.
As with the 12–15 year age group, A/Prof Dachin said there should be caution for children who experienced myocarditis or pericarditis in the last 3 months.
'They would need to speak to their doctor and weigh it up very carefully,' she said. 'In most instances, we still proceed with vaccination for those children.' 
Why vaccinate children?
The PSA National President Associate Professor Chris Freeman emphasised that pharmacists are well-placed to protect this important group.
'With children under 12 years now representing approximately a fifth of all new infections, the option for parents to protect their children against COVID-19 will be welcomed by families, as well as protect the wider community,' he said.
'Vaccination is the best way to ensure these susceptible populations and their families are protected against the virus – plugging the hole in national immunity,' A/Prof Freeman said.
Pharmacists are trained and experienced in vaccinating younger age groups against other vaccine-preventable diseases, and are ready to protect them against COVID-19, A/Prof Freeman said.
'Given the expedient uptake from the 12–15 age bracket, now at 76.6% first dose and 67.5% double dose, we are confident that public demand will be high for 5–11s,' he added.
There are many reasons to vaccinate children against COVID-19, said TGA Head Adjunct Professor John Skerritt.
While children 'generally' experience mild symptoms of COVID-19 and a limited number require intensive care treatment, Adj/Prof Skerritt said one in 3,000 will develop a multi-system inflammatory condition. 
Different to Long COVID-19, the syndrome is associated with severe illness and may persist for months, Adj Prof. Skerritt said.
Vaccinating children also helps to prevent COVID-19 transmission in homes.
'We know that [about two-thirds of] kids transmit the virus back to their families, and at a lower rate they also transmit the virus within the broader school context,' Adj/Prof Skerritt said.
Lastly, vaccination will allow children to return to their normal lives.
'The social, educational, sporting and physical development of these kids [is] being affected by COVID-19,' he said. 
'The ability to vaccinate those kids so that they can return to those activities, [and] their parents can be confident [in their return]… is a real step ahead.'
Tips for vaccinating younger children
Earlier this year, PSA CEO and registered nurse Mark Kinsela shared his tips for vaccinating children. These include preparing the vaccine in advance, distracting them with videos and looking out for vasovagal syncopes.
For younger children who are needle-phobic, Judi Parson, Senior Lecturer in Child Play Therapy at Deakin University, advised asking them to tense and relax their muscles, take a deep breath, hold it and breathe out slowly, or wiggle their toes to provide some distraction.
If the child shows signs of distress, such as kicking or screaming, it is best to postpone the vaccination until they have developed some coping strategies.
'This could potentially prevent a needle phobia from developing,' she said.
Pharmacists could suggest introducing some medical equipment toys at home and observe if the child is interested or avoids them.
'If they're curious, tell them about their upcoming vaccine and why they need it, Ms Parson said. 'You might say, it will help to stop them, and lots of other people, from getting the [COVID-19], including their grandparents.' 
A new toy or object could be introduced to hold the child's attention immediately before and during the injection.
'This might be sensory fidget toys, I-spy books, digital games or apps,' Ms Parson said.
Some children have special needs regarding vaccination – including children with severe needle phobia. Pharmacists should be aware of local services and referral pathways for parents and guardians to ensure their child's needs are supported' or similar.
To keep the mood light, hospital pharmacist Hannah Knowles MPS shared a trick from a US-based colleague, who has been vaccinating young children against COVID-19. 
'He wears a cartoon shirt under his white coat, and he's found it helps the kids relax in the healthcare setting,' Ms Knowles said.
'The first day he had three runaways, and five people crying, but once he [introduced] lollipops, cartoon bandaids and the cartoon shirt, that really helped.'