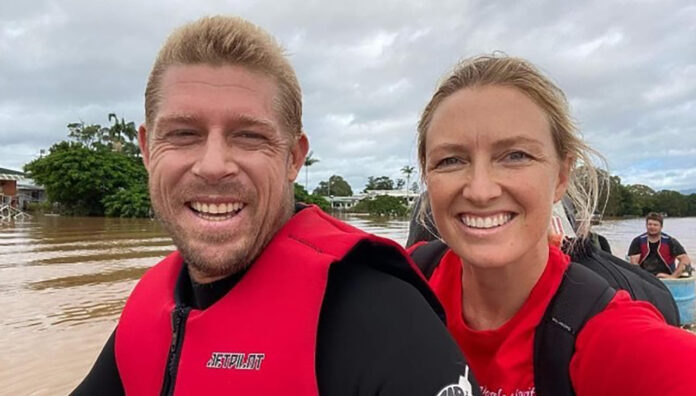 It's not every day you ride into work on a jet ski with an Australian surfing legend, but Skye Swift MPS did just that after devastating floods swept through the northern New South Wales town of Murwillumbah.
With flood waters making it impossible to drive from her home in Tweed Heads to her pharmacy 28 kilometres away, Ms Swift turned to the local Facebook page for help.
'I said if someone can devise a way for me to get to Murwillumbah this morning [Tuesday] by boat, I can open my pharmacy,' Ms Swift told Australian Pharmacist.
She drove with her husband to Terranora, where they met some people launching a small boat.
'I asked if I could jump on,' Ms Swift said. 'They then took me across flooded paddocks. Mick Fanning met us in the middle of a cow paddock, and I got out of the tinny and onto his jet ski.
'We literally had to duck to get the jet ski under a bridge, and we rescued some people who had run out of fuel … dropping them at the house they were going to before we continued on to town.'
Upon arrival, Ms Swift discovered the pharmacy was one of the only dry properties in Murwillumbah. Within minutes, five local pharmacy assistants were on the premises to help out.
With the three other pharmacies in town unable to operate, Ms Swift and her team took care of their patients.
'My team is just amazing, they put the community before their own needs,' she said.
'When it comes to continued dispensing, people had their scripts at home if they were stranded because of the flood. 
'We've got doctors' mobile numbers, so we're calling them when we can. I've been doing other pharmacies' methadone patients as well.'
One regular patient with diabetes who came into the pharmacy needed a supply of insulin.
'They didn't have their medicine or prescription with them because they were washed away from their house in the flood,' Ms Swift said.
'But because we have the patient's history, we were able to [rely on] continued dispensing and supply them with insulin.'
The most important thing is that everyone in the community feels reassured, Ms Swift said.
'People have lost everything, so when I say, "It's ok, I'm going to look after you", it makes such a difference,' she added.
While Ms Swift was encouraged to wait out the flood at home, she could not be persuaded.
'I said, "No, they need us," she said. 'I wanted to be here to help the whole community.'