World Pharmacists Day (WPD) provides an opportunity for pharmacists across the globe to unite and celebrate the achievements and future prospects of the profession.
This year, Australian pharmacists took the time to share messages of support for their fellow pharmacists after another challenging year, embodying this year's theme: Pharmacy united in action for a healthier world. 
Happy #WorldPharmacistDay2022 from Capital Chemist Wanniassa, ACT!
And thank you to @nicolelawder for video us today! @EliseApolloni @misserin_c pic.twitter.com/6OufPsHfWn

— PSA (@PSA_National) September 25, 2022
'This is an opportunity to show our communities and governments where pharmacy has come from, and where we are going. No matter where we are practising, we are ONE profession, and we must work together collaboratively and unite as one team,' said PSA National President Dr Fei Sim.
Thank you @PSA_National for this special #WPD2022 message from your president @DrFeiSim We look foward to working with you on the next #FIPcongress #FIP2023 where we will focus on sustainbility of #pharmacy and #pharmaceutical services https://t.co/W4oRkpeon6

— FIP (@FIP_org) September 25, 2022
Here's how pharmacists and other healthcare leaders celebrated the most important day for the profession.
Community pharmacists show their pride
Community pharmacists took to social media in droves to share what they love about their job.
Happy #WorldPharmacistsDay22 from Curtis Ruhnau MPS and Margaret Ruhnau MPS from Emerton Amcal Pharmacy in NSW! #proudmps pic.twitter.com/LreI0hrJad

— PSA (@PSA_National) September 25, 2022
'I love being a pharmacist because I love being an accessible point of contact for my local community,' said Tim, a pharmacist at Capital Chemist Southlands, ACT. 'I also love the satisfaction of being able to say I am helping people on a daily basis!'
Happy #WorldPharmacistDay2022 from Capital Chemist Tuggeranong Square, ACT pic.twitter.com/Em9XN8ditI

— PSA (@PSA_National) September 25, 2022
Others were lucky enough to celebrate in style at the South Australian Pharmacy Students' Association 2022 Ball.
Happy World Pharmacists Day from amazing SAPSA ball!!! Thanks for organising such a great event @SAPSA_Rx @PSA_National @FIPECPG @FIP_org #WPD2022 https://t.co/09dRhZdmRE

— Veronika Seda MPS (@they__call_me_V) September 24, 2022
But it's also important to highlight the work pharmacists across all settings are doing to promote the quality use of medicines.
Happy World Pharmacists Day #WPD2022 – #pharmacists supporting #QUM across many settings – wherever #medicines are 💊 🤗#agedcare #GPPharmacist #disability #communitycare #hospitals #community_pharmacy pic.twitter.com/L7PRnjtH3H

— Debbie Rigby (@DRugby56) September 24, 2022
Governments highlight the role of pharmacists
Members of Parliament took the time to visit pharmacies across the country to show their appreciation for their important contribution to the community.
Happy #WorldPharmacistsDay22 from Ryan Park MP and Alison Byrnes MP, who visited Priceline Pharmacy Woonona last week. Thank you to owner Ahmed Sawan MPS and team for hosting us! pic.twitter.com/XHNuCccksF

— PSA (@PSA_National) September 25, 2022
Some, including Federal Minister for Health Mark Butler and New South Wales Chief Health Officer Dr Kerry Chant recorded messages of support.
Mr Butler acknowledged that pharmacists have been 'right up the front of the front line' at each stage of the pandemic.
Today we're celebrating #WorldPharmacistsDay by acknowledging the important role pharmacists play in caring for the health of their patients, and the outstanding work they continually provide in the community. To all the #pharmacists across Australia, thank you for all you do. pic.twitter.com/fav0yah1Sn

— Digital Health AU (@AuDigitalHealth) September 24, 2022
'In those early dark months, you put your health on the line to serve your community, keeping your doors open, and being arguably the most accessible healthcare setting to your Australian community,' he said.
Pharmacists also delivered millions of COVID-19 vaccinations and did what they could to provide testing options to the community when rapid antigen tests were scarce.
Thank you to @MiaDaviesMLA, Leader of National Party in WA for joining Matthew Reid MPS for #WorldPharmacistsDay22 pic.twitter.com/Un9shwoDzz

— PSA (@PSA_National) September 24, 2022
'Over recent months, you've been able to expand your operations and deliver antivirals to those members of the community [who] are vulnerable to severe disease, hospitalisation, or even worse,' Mr Butler said.
Today is World Pharmacist Day.

Pharmacists across NSW like Melanie conduct medication reviews for patients to educate & empower them to actively understand the medication they may be taking.

Watch this message from Dr Kerry Chant: https://t.co/WzPBs996Ud pic.twitter.com/SSRzH53JIp

— NSW Health (@NSWHealth) September 25, 2022
Dr Chant thanked pharmacists across NSW for their ongoing dedication and service to the community, which has increased in significance over the last few years.
'Increasingly, pharmacists are playing an important role as immunisers, and the pharmacist contribution to the COVID-19 vaccine rollout was critical,' she said.
Hospital pharmacists celebrate triumphs
Meanwhile, Western Sydney Local Health District pharmacy departments joined forces to celebrate WPD and acknowledge the important role hospital pharmacists play as a resource for doctors, nurses and allied health professionals.
'[We] strive to continually innovate our services to ensure patients benefit from evidence-based clinical expertise and improved clinical care,' said Westmead Hospital clinical pharmacy manager Melissa Tao.
It's World Pharmacists Day, 22 September – such a privilege to be working with this incredible team at @WestSydHealth creating a better health system for our community in western Sydney #wpd2022 #worldpharmacistsday2022 @NSWHealth @the_shpa @PSA_National pic.twitter.com/p4l37bpasM

— David Ng (@_David_Ng) September 24, 2022
During the COVID-19 pandemic, Ms Tao told The Pulse that the pharmacy team developed innovative services to support patients, including setting up COVID-19 take-home medicine packs.
'In collaboration with the COVID-19 Disaster Unit, we developed a medication pack solution, tailored to patients' symptoms, that empowered patients with mild COVID-19 symptoms to be able to confidently manage their symptoms at home,' she said.
Cancer day care pharmacists also found ways to deliver safe and effective care to vulnerable patients during the peak of the pandemic.
Thank you to over 3,000 colleagues from at least 138 countries/territories & from every sector of pharmacy who shared FIP's #WPD2022 message through activities & social media, showing that our profession is truly united to achieve good health & well being for all! pic.twitter.com/Z8mgntHZse

— FIP (@FIP_org) September 26, 2022
'We had to reduce patient contact to reduce the potential of COVID-19 transmission, so we creatively used three-way video interpreters chairside, via mobile iPads on stands, to enhance communication and ensure that cancer patients didn't miss out on vital care information,' Ms Tao said.
'Our pharmacists have really gone above and beyond, and we would like to acknowledge the hard work and dedication of all pharmacy staff on this special day.'
The future of pharmacy practice
While it's important to celebrate the achievements of pharmacists across Australia on WPD, PSA took the opportunity to renew calls for pharmacists to be able to practise to the top of their scope.
'Australia can learn from countries around the world who have moved to allow pharmacists to play a greater role in community health,' Dr Sim said.
'In parts of the United States, pharmacists are prescribing hormonal contraception while South African pharmacists are administering childhood vaccinations for polio and measles under an expanded immunisation program.'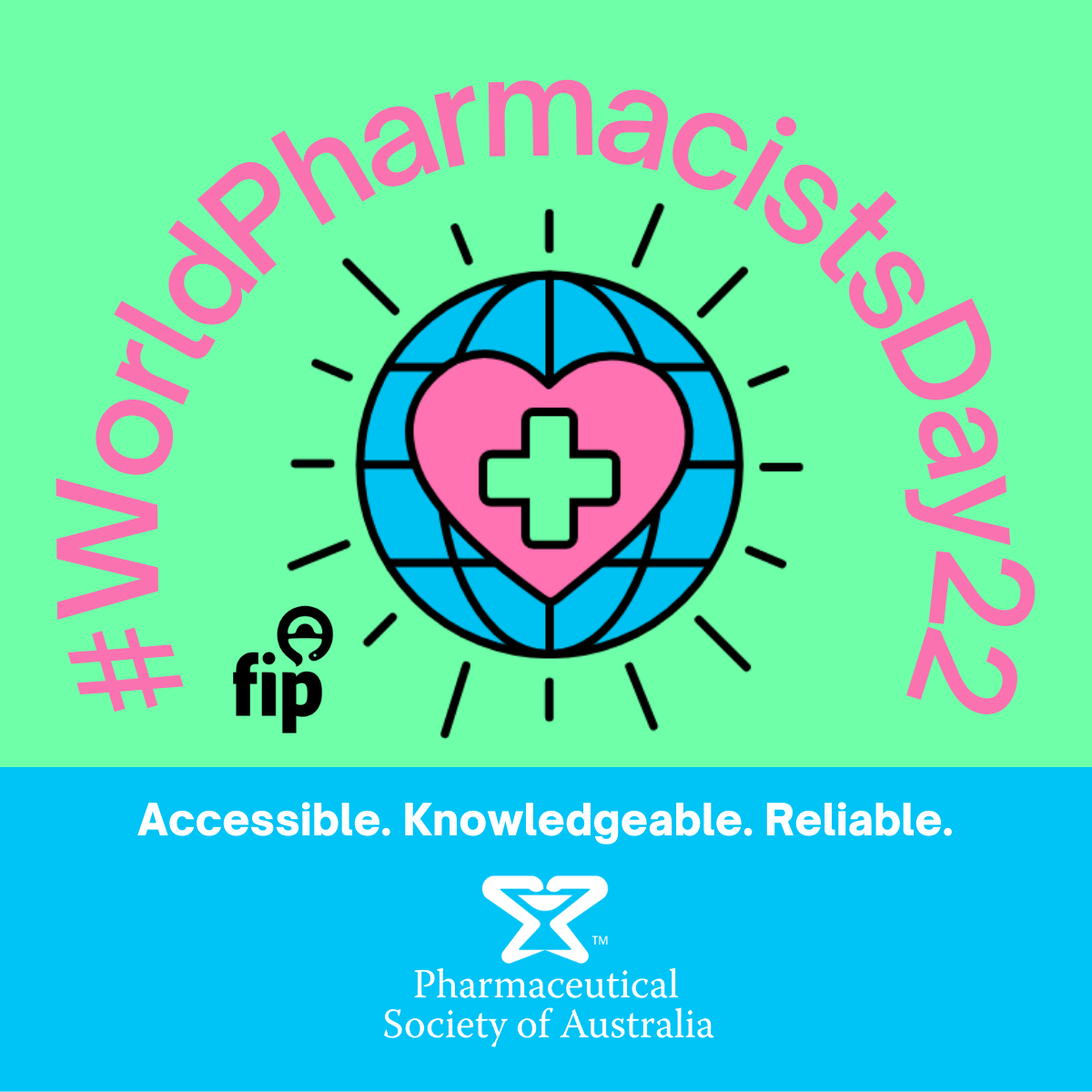 Practising to the top of scope means pharmacists should be able to deliver expanded services across all states and territories. For pharmacists, this means:
vaccinating patients of all ages

administering all injectable medicines

implementing pharmacist prescribing for uncomplicated urinary tract infections




and trialling GP-Pharmacist Collaborative Prescribing

expanding the list of medicines eligible for Continued Dispensing arrangements

funding for treating minor ailments in community pharmacies 

remuneration for case conferencing.
'Regulations on scope of practice sit across federal and state governments, and will require extensive consultation to change,' Dr Sim said. 
'The PSA is ready and willing to work with any government at any level to ensure that pharmacists are able to contribute to the health of Australians to their full ability.'
FIP coming to Brisbane
As the International Pharmaceutical Federation (FIP) World Congress drew to a close in Seville last week, pharmacists shared their excitement to partake in next year's conference down under, with the theme 'Pharmacy building a sustainable future for health care'.
Thanks for coming to #FIP2022. We can't wait to say "G'day" in Brisbane! 24-28 September #FIP2023: https://t.co/SHIDhjrbsF #FIPcongress pic.twitter.com/eGEbpDDaDA

— FIP (@FIP_org) September 21, 2022
Dr Sim said she is proud to bring the conference to Australia, which will be held from 24–28 September 2023 in Brisbane.
'This will be an opportunity for Australian pharmacists to connect with international pharmacy leaders like never before, right here on our own shores,' Dr Sim said.
'The FIP World Congress is well known for being the premier global conference for the pharmacy profession, featuring internationally acclaimed speakers and exciting social events for pharmacists in a variety of practice settings.'
Happy World Pharmacists Day to all my amazing colleagues around the world.

Thanks for the amazing work you do. Thanks for sharing my passion for patient care. Thanks for playing your role as the medicines experts.

Pharmacists, #unitedinaction for a healthier world. #WPD2022 pic.twitter.com/EZtsip4Q7J

— Peter Guthrey (@pguthreyRx) September 25, 2022
Newly elected FIP President Paul Sinclair AM MPS, the first Australian leader of the federation, will begin his reign as the conference kicks off.
'I look forward to working with all our Member Organisations to deliver the FIP mission and to promote Pharmacy in all its forms worldwide,' he said. '[The] FIP Congress in Brisbane next September will be a great opportunity to showcase Australian pharmacy to the world.'
Outgoing President Dominique Jordan also said he was excited to bring the conference back to Australia after a 20-year absence.
'The entire FIP team is looking forward to working with our members [of] PSA, the Society of Hospital Pharmacists of Australia, and the Australasian Pharmaceutical Science Association to develop a vibrant event that will gather expertise and experiences from a vast international network for the benefit of all, as "One FIP".'