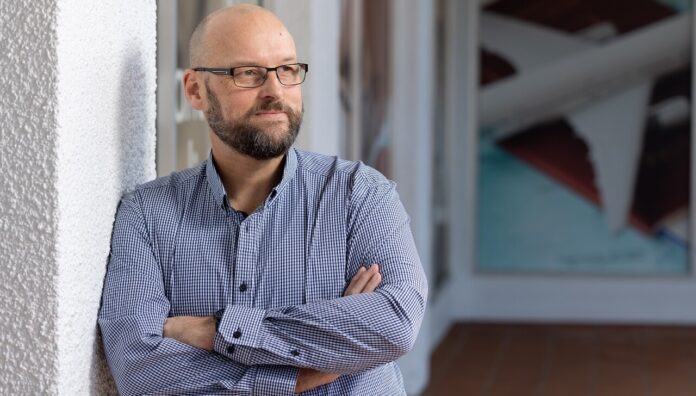 Peter Fairgray MPS (he/him) proudly embraces the cheeky motto 'I fix dicks', continuing the successful program started by Brad Butt MPS in Canberra.
How did you find your way to a career in pharmacy?
I always knew I wanted to work in science or health care. At school, I went to the careers office for an application form and information on physiotherapy. The forms were filed alphabetically, and in front of physiotherapy was one for pharmacy. I applied for both, decided on pharmacy and never looked back – definitely never regretted it either. The perfect match of science and health care!
What roles were open to you as an ECP and why choose community pharmacy?
In my early years and during training, I was never really interested in hospital or industry as a career. I have always loved pharmacy, and admired community pharmacists I had seen growing up. I enjoy being in the community, helping individuals. Every patient is a different experience. You never know who is going to walk through the door, or what they may need, and I love the variety.
How long have you been at your Brisbane pharmacy, and what challenges have you overcome there?
I have been at TerryWhite Chemmart Arana Hills for 5 years. When I started, the store had been open 38 years, but had become a bit tired. I started the same day as the new partner, Karen Brown.
And together we have reinvigorated the business (which I have just bought into)! A refit, adding in a cafe, and training and supporting the team to be 'on the bus' with us, has transformed the pharmacy into a fun, vibrant, health hub and a successful business that is now 43 years young.
How has your trailblazing work in Queensland with Mens Health Downunder improved patient lives?
The work I do for blokes with Mens Health Downunder is the most rewarding part of my day. I have men referred to me by urologists, prostate nurses, physiotherapists and mates of previous clients. The work aims to improve these men's lives.
Treating erectile dysfunction is rewarding work, especially after they've had prostate surgery and have heard they may never have erections again. Some of the feedback I've had from customers is a little too X-rated to share, but I have blokes tell me I've saved their marriages, made them feel complete again and been able to feel more like the men they used to be. Improving their mental, as well as physical, health is amazing and fulfilling work!
One bloke flew down from Central Queensland after prostate surgery, and had developed Peyronie's disease (a bend in the penis shaft). He also had some urinary incontinence as a result of the surgery. So he had it all going on. I sorted him out with a penile clamp, a vacuum erection pump, intracavernosal injections, and a device for his Peyronie's. It's rewarding to hear how much happier he is and how he's progressed over the past 6 months. He's feeling so much better about himself; and his relationship with his wife has improved, as he feels better about himself as a male.
But as much as what I do is about education and supplying solutions to the guys, it's about them having someone to share with and talk to about tut this stuff – that's what makes the difference.
How do you demonstrate person-centred care in your work environment?
By listening to the person, asking one more question to get more information, and listening for what is not said as much as what is said. My Mens Health Downunder blokes are all 'by appointment', so person-centred care is easy when we are in a CareClinic room. One of the first questions I ask is, 'What do you want to achieve from this appointment?', There's no point in me providing solutions to things that aren't problems. I've had younger guys who just want to keep their penis health and function, but are not interested in being sexually active. And I've also had a 92-year-old for whom being able to be sexually intimate with his wife was a very important outcome.
What's your advice for ECPs?
My advice for early career pharmacists is to aim to be good at all things, but choose to be great at one thing. Choose the area of pharmacy practice that has some attraction or meaning to you, and work to be the best in your locality at it. Don't just do a bit of wound care – offer the best wound care service, or the best diabetes service, or the best vaccination service.
You can still do the other things in a good way, but do one thing in a great way. Become known for it, and be the go-to person in your community.
A day in the life of Peter Fairgray MPS, Pharmacy Owner, Arana Hills, QLD
7.00am

The day starts

Arrive at the pharmacy, set up work for the day, start dispensing and caring for patients.

9.00am

Keeping up with shared care

Call a few Mens Health patients to help and adjust therapies. Solutions offered include a change in injectable dose, refresh in injection technique, additional education, check complicance with rehab. Call back a Mens Health physio or prostate nurse – in between dispensing scripts.

10.00am

Mens Health Downunder

Meet a bloke with erectile dsyfunction after recent prostatectomy who's been referred for penile rehab by his urolgoist. Enter the CareClinic and set out a treatment plan. Explain and demonstrate use of a vacuum erection device (penis pump), and how to give himself an intracavernosal injection. Answer questions. Show him clamps and cuffs that may assist. Once he understands treatments, he leaves happy, with a management plan and knowing he now has support for ongoing assistance. Send out an email to cover our discussion so there is a written record – shared with the urologist and GP.

1.00pm

Rural and remote telehealth

After lunch, telehealth with men and, often, partners as well, in remote and rural Queensland. Set out treatment plans and provide education. Organise to courier necessary equipment or medicines. Send video links on how to use devices correctly. Explain to one patient prescribed a PDE5 inhibitor how they work and why it probably won't work post-surgery. Contact prescriber to discuss injectable options.

3.00pm

Instructions for those products

Call back patients with appointments. Compile orders and pack compounded medicines for courier with written instructions on how to use products. Reply to patient using prescribed therapies who is thankful for the life change. After 5 pm, it is time to go home – and write up my notes for the day.