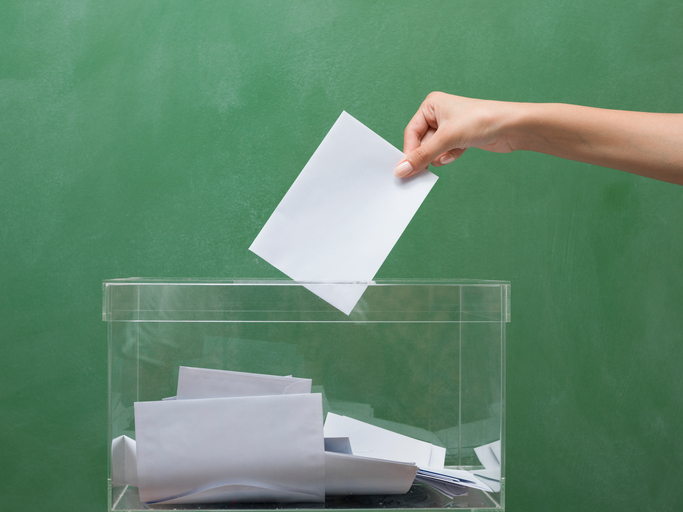 The 2017 PSA Branch Committee elections attracted a record voter turnout of 24% up from 17% in 2014.
For the first time, PSA offered an online voting platform for the Branch Committee elections, and it was encouraging to see most members used this online technology to have their say. The result was an influx of new blood with a 33% turnover in committee members, a good blend of experience and new enthusiasm.
In total PSA members elected 66 Branch Committee members across six states and the Australian Capital Territory (ACT) with 22 of these being new faces. Many familiar faces were also returned, including Professor Peter Carroll (NSW) who has previous served as a committee member.
Geographically, the new faces include pharmacists from across regional Australia with many of the newcomers hailing from places as diverse as Kalgoorlie in Western Australia, Newcastle and Forbes in NSW, Launceston in Tasmania, and Hervey Bay and Townsville in northern Queensland.
Of the 22 newcomers, 15 are early career pharmacists (ECPs) who have been registered for less than 10 years. More than half are women.
The gender breakdown is 30 women and 36 men on the incoming committees compared to 30 women, 34 men and two vacancies on the previous Branch Committees.
PSA CEO Dr Lance Emerson said the result followed an unprecedented number of nominations, including from women, ECPs and pharmacists from various cultural and regional backgrounds.
'PSA's election results are a fantastic reflection of the enthusiasm, dedication and rich diversity among PSA's membership – which is to be applauded and welcomed,' said Dr Emerson.
'I'm delighted to see such a strong cross-section of pharmacists being elected to represent the profession on Branch Committees who are committed to making a difference for the future.
'I welcome the new Branch Committee members and equally thank all of the nominees who put their hands up to help lead the profession. I also encourage members who were not elected to continue their engagement with PSA through other opportunities.'
The newly elected Branch Committee members will hold office for a three-year term, starting on 1 July 2017.
2017 PSA Branch Committee Members
Australian Capital Territory*
APOLLONI, Elise
BEARDMORE, Renae
KELLY, William
KHIANI, Seema
NAUNTON, Mark
REID, Patrick
ROITMAN, Daniel
SINCLAIR, Sarah
TODD, Lyn
New South Wales
BARWICK, Anna
BELL, John
BENRIMOJ, Shalom (Charlie)
BRONGER, John
CARROLL, Peter
CARTER, Stephen
LEWIS, Chelsea
MOLES, Rebekah
PLUNKETT, Warwick
RIGBY, Krysti-Lee
ROSE, Lachlan
Queensland
BLEE, Warren
CAMPBELL, Chris
CARSON, Susan
ELLIOT, Bruce
FREEMAN, Christopher
KIEL, Jacqueline
LAU, Esther
MACDONALD, Shane
SIMMONDS, Brett
TURNER, Sam
South Australia/Northern Territory
COULTHARD, Kingsley
EDWARDS, Susan
FARRIER, Robert
HASSOUROS, Sia
JOHNS, Robyn
JOHNSON, Jacinta
KARDACHI, Grant
KEITAANPAA, Samuel
SLUGGETT, Andrew
Tasmania*
BEREZNICKI, Luke
CRAWN, Jackson
HAYES, Katie
JACKSON, Shane
LEE, Kenneth
PEACHEY, David
SMITH, Lorraine
VAN TIENEN, Ella
Victoria
CROSS, Amanda
DEMARTE, Joe
GOWAN, Jennifer
JACKSON, John
LI, Dani
LYNCH, Michelle
MARCHANT, Benjamin
MCMAUGH, Jarrod
PAGE, Amy
ROLLER, Louis
Western Australia
BAILEY, Travis
BOLDEN, Georgia
BURTON, Lauren
DI FRANCO, Teresa
GELAVIS, Anna
PISANO, Alyssa
SCHMIDT, Matthew
SHENTON, Christopher
SIM, Fei
*Tasmania and the ACT did not go to ballot because, under PSA's Constitution, ballots are only required if the number of nominations exceeds the number of positions on the Branch Committee.
New faces, new leaders
Following the 2017 PSA Branch Committee elections, Australian Pharmacist spoke to some of the newly-elected committee members from around Australia to find out what motivated them to stand for election and what they hope to achieve over the next three years.
ROBERT FARRIER, SA
Adelaide-based pharmacist and pharmacy manager Robert Farrier recently completed the PSA ignite program and is working towards a Graduate Diploma of Health Administration. His greatest inspiration comes from the relationships he builds with patients, although as a manager he sometimes faces pressure to balance patient-centred care with the need to sustain a profitable community pharmacy business.
Robert told Australian Pharmacist he was inspired to nominate for the election by the recent push to involve younger pharmacists in committees and boards that help govern pharmacy's future. He was particularly influenced by the expansion and increased engagement of the ECP working groups.
'I feel like our profession is on the precipice of change, and I would like to contribute to the direction pharmacy takes into the future.
'It's humbling and an honour to have been elected as an ECP to the SA/NT Branch Committee. I think it demonstrates the building enthusiasm among younger pharmacists to be represented on the state level, and in turn on a national front.'
Over the next three years, Robert hopes to contribute to PSA's advocacy to government that pharmacists can and should be allowed to contribute to Australia's health through expanded roles. He also aims to help increase the involvement of all pharmacists, particularly ECPs, with PSA and to mentor the next generation of young leaders.
'I hope to create support mechanisms for new pharmacists that are transitioning from students to interns to fully qualified, and build networks for these peer groups, to help unify and spread a vision of what the future of pharmacy could look like.
'As a profession, we have a huge capacity to positively influence our communities as well as general healthcare in Australia. Budget constraints are among the many challenges we face, but I would urge all pharmacists that there is no better time to innovate and re-examine our wealth of clinical knowledge. If we can foster fresh thinking and new ideas, develop strong leadership, and above all, create a unified vision for pharmacy, we will empower pharmacists to best deliver the care our patients require.'
AMANDA CROSS, VIC
Amanda Cross is a PhD candidate at the Faculty of Pharmacy and Pharmaceutical Science, Monash University. She also works as a pharmacist at Chemist Warehouse Coburg Market and as a Home Medicine Review (HMR) pharmacist for Cross Check Home Medicine Reviews. Balancing these roles can be challenging, but they give Amanda the rare chance to support patients in the pharmacy as well as on a larger scale through her research.
'One of the most rewarding aspects of my work, both in the pharmacy and during home medicine reviews, is making a positive difference in someone's life,' Amanda said. 'This may be as simple as showing someone how to easily break their tablet in half or as complex as providing a comprehensive medication review.'
In 2015, Amanda started her PhD thesis on optimising medication use and medication management in older people with cognitive impairment. Her research explores the prevalence and impact of potentially inappropriate medications and how pharmacists can be involved in deprescribing them.
'While I love helping individual patients at Chemist Warehouse and during HMRs, I chose to do this PhD in the hope that I can make a difference on a larger scale.'
Amanda told Australian Pharmacist she felt excited and humbled to be elected to the Victorian Branch Committee, and was glad PSA members had voted to ensure the committee was more representative of the pharmacy workforce.
'I look forward to bringing an ECP perspective to the committee. I am passionate about pharmacy and I chose to nominate for the committee to help support pharmacists to make a difference in the lives of our patients as well as helping shape the future role of pharmacists in the community.'
'I hope to provide a voice for ECPs and work with PSA to unify the profession. I believe pharmacists from all areas of practice need to work together to ensure pharmacists continue to be a critical member of the healthcare team. I hope to reignite the passion and encourage clear career pathways for ECPs and improve community perceptions of the work pharmacists do.'
KENNETH LEE, TAS
Kenneth Lee is a full-time lecturer at the University of Tasmania (UTAS), dividing his time between teaching, research, locum pharmacy and PSA initiatives.
He teaches and coordinates a first-year pharmacy practice unit with a focus on developing good oral communication skills in a primary care setting. He introduces his students to the Australian healthcare system and the various pharmacy career pathways.
Kenneth conducts research in a variety of fields, with a keen interest in student and patient education as well as information behavior, particularly the concept of information overload. In his spare time he also locums as a community pharmacist.
'To ensure what I teach is contemporary and relevant to real-world practice, I supplement my locum community pharmacy work with managing a discussion forum for registered pharmacists and interns, facilitating TweetChats via @WePharmerOZ, and compiling practice-relevant news/tweets via @OZ_PharmUpdates.'
While working in community pharmacy, Kenneth enjoys making a difference in the lives of his patients – often small, but valued nonetheless.
'I think it's important to constantly remind ourselves that we're here to help patients. Spending an extra couple of minutes to listen to or counsel a patient could make a world of difference for them. Once a patient finds value in your efforts, I often find it opens a door to be able to further enrich patient care.'
Having only lived in Tasmania for one and a half years, Kenneth is honoured to be elected to the Tasmanian Branch Committee. This is the first time he will serve on a PSA Branch Committee, and he is excited to transition from his involvement in the ECP Working Group.
'I nominated for the TAS Branch Committee Branch because I felt it was time for me to progress to the next stage of giving back to the profession. I believe it is important for more ECPs to be involved in all levels of professional representation. My nomination was a first step towards this.
'I hope others will see me as an approachable person for voicing their professional needs or concerns, to be passed "up the chain" and actioned by the state and national committees. Finally, I would like to nurture succession planning for pharmacists on pharmacy-related committees and working groups to progress to the next stages of their involvement.'
CHELSEA LEWIS, NSW
Newcastle-based Chelsea Lewis has been a registered pharmacist for five years.
She grew up in Newcastle and completed her pharmacy degree at The University of Sydney. Since graduating in 2011, Chelsea has worked in various roles in Sydney and Newcastle, mostly in community pharmacy. However she has also worked in a Methadone Clinic. Presently she works for the Piggott's pharmacy group in Newcastle, teaches at the University of Newcastle and is studying for a Masters of International Public Health.
As part of her Masters, Chelsea is looking at the role of pharmacy in healthcare systems in Australia and overseas, which has given her a holistic view on 'what we do, why we do it and what drivers are influencing the changes to our profession.'
Chelsea said she was thrilled to have had the support of the Newcastle and Hunter Valley area in the election and appreciated the support of her employers.
'I am really optimistic that moving forward the committee represents a diverse range of attributes. I plan to work hard and bring the enthusiasm and energy of the ECPs to the table while also listening to my regional demographic and ensuring their voice is heard.
'I am also looking forward to working with the established and experienced figures that have spent time on the board already. I have a lot of respect for how much they have done for the pharmacy community to date,' she said.
The changes that have 'rocked the pharmacy community over the past decade' and the 'need to be able to adapt' were the catalyst for Chelsea deciding to stand for the NSW Branch Committee.
'When influenced the right way, change can have fantastic outcomes, but it's about having a positive, progressive focus and safeguarding the sustainability and continued trust of the pharmacy profession.
I want to ensure the changes that are shaping the future of our profession lead to opportunities for the next pharmacists and the ones after, and that the so-called "golden days" of pharmacy are not over – they may just have a different form.'
Chelsea intends to focus on engaging with younger pharmacists and helping drive the movement of pharmacy into non-traditional roles for pharmacists, including the expansion of services modelled on overseas precedent, and the creation of learning and connection building pathways for career development.
'I also want to highlight studies that support these moves and encourage further studies that recognise our ability to practise in non-traditional pharmacy areas as an important development to our healthcare system. Part of this includes building the relationship between pharmacists and other healthcare professionals as some of these movements would require collaboration and sharing of resources.'
SEEMA KHIANI, ACT
Over the coming three years, Seema Khiani intends to bring fresh ideas and new energy to the ACT Branch Committee by encouraging research and driving innovation with the aim of improving health outcomes for Australians through excellence in pharmacy practice.
Seema has only been registered since December 2016 but already has an impressive CV. Presently she works as a community pharmacist at Capital Chemist Charnwood, and at the Therapeutic Goods Administration.
She was born and raised in Canberra, and completed her pharmacy degree at Charles Sturt University (CSU) in Wagga Wagga. During her studies she was active in the National Australian Pharmacy Students Association (NAPSA) through the Pharmers' Society, the CSU pharmacy students organisation. In her final year of study she was a quarter finalist in the National Student Business Plan Competition and earlier this year was named as the PSA ACT/ NSW Intern Pharmacist of the Year.
'PSA has supported my learning all throughout my university studies and has enabled me to connect with other pharmacists and industry leaders. I welcome the opportunity to be a voice for our profession and look forward to working alongside other like-minded pharmacists.
'My nomination was based on my appreciation for the important role that PSA plays in representing pharmacists practising in all areas of pharmacy. PSA is the peak professional organisation for pharmacists and is a strong advocate for the continuous development of our profession.
'I am extremely humbled by the outcome. PSA is a highly respected organisation in the pharmacy industry and I am honoured to have been elected to the ACT Branch Committee.
'I love practising as a community pharmacist and am passionate about smoking cessation and paediatric health. More broadly, I am interested in the regulation of therapeutic goods in Australia and how we compare to our international counterparts.'
KRYSTI-LEE RIGBY, NSW
Rural pharmacists, female pharmacists and ECPs are three parts of the profession Krysti-Lee Rigby intends to represent and provide a voice over the next three years.
She has been registered for two years and lives and works in Forbes, NSW as a professional services pharmacist.
Her love of pharmacy started in 2008 when she was working as a pharmacy assistant while studying a Bachelor of Biomedical Science. Krysti-Lee soon realised how important pharmacists are in the healthcare team and the difference local pharmacists can make in a community.
'Being a country girl I didn't want to be too far from home and so chose Charles Sturt University in Orange as my university of choice in 2011.
'Having grown up in the Central West I understand the issues faced by pharmacists in rural areas and look forward to working with PSA to provide advocacy and support to pharmacists in these settings.
'It is an absolute honour to be recognised by fellow members of PSA and know they have faith in me to represent them on a national level.'
Krysti-Lee was motivated to nominate for the NSW Branch Committee because she felt it was important to represent PSA's broad membership profile on the committee to ensure 'all members feel they have a voice at the table and that the committee can be as productive as possible.'
'I also am a firm believer in the need for pharmacists to expand their professional services and in turn their careers which is evident in my everyday practice as a professional services pharmacist. I hope to provide advocacy for pharmacists and the viability of the future of pharmacy, in particular for ECPs and their career progression.'
Krysti-Lee's main areas of professional interest are professional services, particularly wound care and vaccination; support for ECP career progression; innovative models of pharmacy practice; policy; and advocacy.
'ignite' leaders take next step
Eight of the incoming Branch Committee members are former or current participants in PSA's ignite Pharmacist Leadership Program. New faces Robert Farrier and Matthew Schmidt join six ignite alumni already serving on committees:
Elise Apolloni
Anna Barwick
Katie Hayes
Jacinta Johnson
Benjamin Marchant
Lachlan Rose
PSA National Vice President Michelle Lynch said the ignite program enables passionate young pharmacists to reach their leadership potential in an ever-changing pharmacy landscape that continues to face challenges.
'ignite gives ECPs the tools and training they need to take the next step in their career,' Ms Lynch said.
Find out more about the ignite program at www.psa.org.au/short-courses/ignite-pharmacistleadership- program