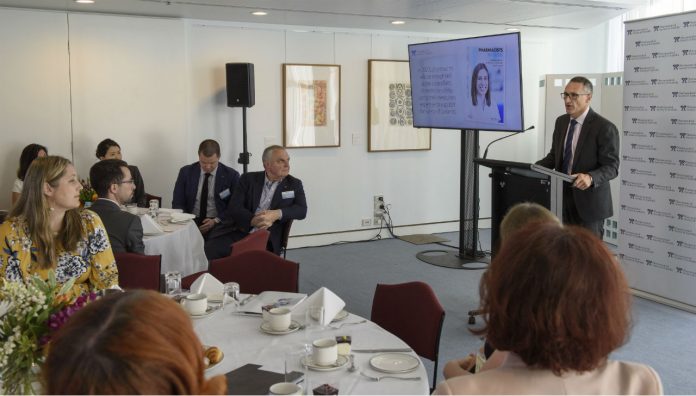 Pharmacists are underutilised in the Australian healthcare system and should be able to practise their skills to their full scope, says Dr Richard Di Natale, the leader of the Australian Greens.
Dr Di Natale, a GP before entering parliament, was speaking at last week's launch of PSA's Pharmacists in 2023 report.
'Pharmacists have always played a critical role in the healthcare system, but the profession of pharmacy is underutilised, and we need to do everything that we can to ensure that one of the most highly trained and respected healthcare professionals in the community are able to utilise those skills much more broadly,' Dr Di Natale said.
Referring to the Medicines Safety: Take Care report, Dr Di Natale said it was pretty remarkable that much of the burden of disease in our hospital system and emergency departments is the result of people experiencing adverse reactions from medicines.
Citing the $1.4 billion dollars spent annually due to medicine misadventure, Di Natale stated, 'Everytime we talk about supporting pharmacists in playing a more active role in this space, we keep talking about the cost involved in doing that, but never about the costs of not doing that – $1.4 billion dollars, however, is a huge cost to our healthcare system.'
Dr Di Natale noted that 2023, in fact, isn't that far away – and that the 11 key actions outlined in the Pharmacists in 2023 report need to be taken to allow pharmacists to do their job effectively.
'Pharmacists are well respected and trusted by the community, as well as being strong advocates for evidence-based policy. The 2023 report shows that pharmacists have a much bigger role to play within our healthcare system, and we do support expanding the scope of pharmacists.'
This support, Dr Di Natale stated, extends to funding.
'We do support the call in the report for additional funding to recognise the value that pharmacists bring, but we need to make sure that the funding model is transparent and makes it very clear what is being funded and the reasons behind it.'  
Dr Di Natale said that he looks forward to a continued relationship with PSA, and acknowledges the organisation's work in contributing to the national debate for evidence-based policy.
'Your voice in the debate as trusted healthcare professionals – people trained in science with a strong evidence-base and wanting to advance the cause of good public health policy – is so critical. I look forward to continuing on in that journey over the coming years.'
Also speaking at the launch was Emma McBride, Labor Member for Dobell. Previously a pharmacist for ten years in Wyong Hospital on the NSW Central Coast, Ms McBride was the deputy director of pharmacy for the Central Coast local health district prior to her election to parliament.
'I am delighted to join the launch of your report, Pharmacists in 2023: for patients, for our profession, for Australia's health system,' Ms McBride said.
'Pharmacy is a dynamic profession. As the report highlights, the rapid pace of change and advances in treatment mean that medicines are now the most common medical intervention in healthcare. Diseases that were life-threatening when I set out in my career 20 years ago can now be safely treated and managed. This makes the role of pharmacists as medicines experts critical to the health and well-being of all Australians.'
Ms McBride said that there has been a lot of consultation and discussion around healthcare, but, as specified in the Pharmacists in 2023 report, it is now time for action.
As previously reported, Federal Minister for Health Greg Hunt also commended PSA for the report, while announcing the PSA would be first time signatories to the Seventh Community Pharmacy Agreement (7CPA)
In a post-launch statement, Leanne Wells, CEO of the Consumers Health Forum of Australia, also spoke highly of the report. Ms Wells said that the Pharmacists in 2023 report, 'Advocates more patient-centric care which the Consumers Health Forum strongly supports. The role of the pharmacists as dispensers, quality use of medicines advisers and deliverers of aspects of primary health care is an important area of reform.'