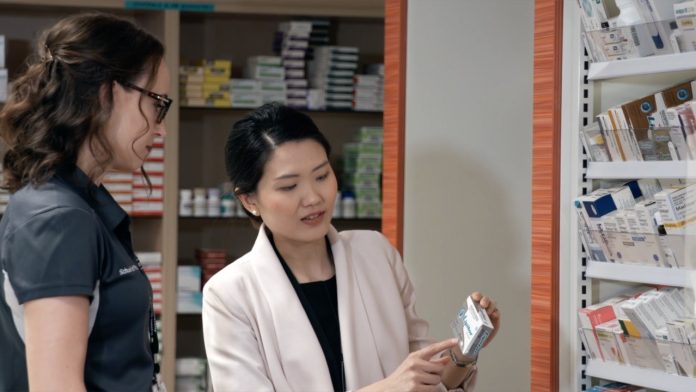 West Australian researcher, educator, advocate and community pharmacist Dr Fei Sim has been named PSA's Early Career Pharmacist (ECP) of the year.
'Dr Sim is one of the most accomplished and inspiring pharmacists I have encountered in over 35 years in the profession,' said Jennifer Dolzadelli, Senior Lecturer at Curtin University School of Pharmacy and Biomedical Sciences.
'She has achieved more in nine years than most of us achieve in a lifetime.'
Academic career
Dr Sim works as Senior Lecturer and Coordinator of International Engagement in the School of Pharmacy and Biomedical Sciences at Curtin University.
She has proven to be an innovative educator, working on the planning, design and implementation of integrated pharmacotherapy and pharmacology units in the restructured Bachelor of Pharmacy and Master of Pharmacy courses. Her contributions were recognised by Curtin University through receipt of the institution's prestigious Teaching Excellence and Innovation Award in 2014.
'In terms of teaching, with the approval and support from our school executive team, it's exciting that this year we have successfully integrated formal immunisation and mental health first aid training into our revised curriculum to ensure it meets the demands and expectations of pharmacists in the 2020s,' she said. 
'My research is about helping the pharmacy profession create evidence for the great work that pharmacists are doing – making sure that their skills are fully utilised, that their roles are well recognised and hopefully facilitating appropriate remuneration through the provision of high-quality, evidence-based professional services.'
Dr Sim is currently running a feasibility trial evaluating point-of-care C-reactive protein tests for managing respiratory tract infections in Western Australian community pharmacies. 
'Pharmacists have been making decisions based on symptoms that patients present with, but there currently isn't an objective test that is fully trialled, tested and integrated into the Australian community pharmacy setting,' she said. 
'The significance of the project is that we are trying to create a validated framework to support pharmacists managing minor ailments in the community pharmacy environment.
'It also includes facilitating formal referrals, when appropriate, and collaboration with GPs.'
Community service
Dr Sim is co-owner and operator of a number of community pharmacies.
'My week-night and weekend job is with the pharmacies that I co-own under the Caring Pharmacy group that my business partners and I established recently,' Dr Sim said.
'Our values form the acronym CARE where C is for community, A is for acceptance, R is for responsive and E is for engagement.'
Since 2017 Dr Sim has been PSA Western Australia Branch President.
'That's another way of contributing through engagement and advocacy,' she said. 'If there's anything that I can do in terms of contributing and advocacy it gets me very excited.' 
Dr Sim is a member on the PSA WA continuing professional development (CPD) Advisory Committee and Annual Gold Questionnaire Committee, an accredited Mental Health First Aid instructor and an immuniser pharmacist.
Despite her extensive contributions to the profession, Dr Sim said she was surprised to receive the PSA's ECP award.
'Even though it may seem like four jobs – teaching, research, clinical practice and professional engagement – to me everything is interlinked,' she said. 
'I really believe in teaching informing research, and research informing teaching, the professional engagement and advocacy work inspiring students, and of course practice informing teaching and forming demand-driven research.'
She added that she was 'very thankful for great mentorships' and the 'amazing teams' she works with.