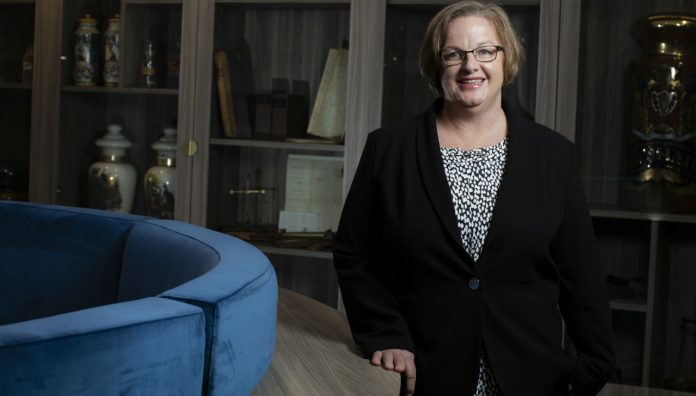 With her strong background in rural and remote health, Hannah Loller MPS was a natural choice to lead a project for PSA that embeds pharmacists into Aboriginal communities.
Tell us about your current role.
I'm working for PSA as the project manager for the Integrating Pharmacists into Aboriginal Community Controlled Health Services (IPAC) trial. I co-manage the project with another pharmacist, Megan Tremlett, and we both work remotely from our home bases.
We oversee the trial, which is funded by the Department of Health through the Sixth Community Pharmacy Agreement, in partnership with the National Aboriginal Community Controlled Health Organisation (NACCHO), James Cook University and PSA. I manage the governance responsibilities, contract reporting and budget oversight.
PSA's primary role in the 15-month trial has been the recruitment, training and ongoing performance management of the 22 pharmacists across the Northern Territory, Queensland and Victoria, in rural, remote and urban locations. We commenced the project with pharmacist training in July 2018. Data capture should be finalised by November this year.
What outcomes do you hope for?
The goal is to demonstrate that pharmacists working as part of the primary healthcare teams, within Aboriginal Community Controlled Health Services, can improve health outcomes for Aboriginal and Torres Strait Islander people with chronic disease.
While not directly supplying medicines, the pharmacists are working on patient-related activities, such as reconciliation of medicines, conducting medicines reviews and doing adherence assessments, as well as undertaking health service-based activities such as drug-use evaluations, staff education, looking at prescribing patterns, and prescribing appropriateness.
What are the difficulties and rewards that come with working in remote areas?
From a professional perspective, the rewards are that you can be given opportunities to progress your career at a much faster rate than if you remained in urban areas. When I did an initial three-month stint in The Kimberley earlier in my career, the chief regional pharmacist left soon after I got there, and I was given the opportunity to perform the role. In a metropolitan area, the position would have been taken by someone with a lot more experience.
It's also really interesting from a clinical perspective. You get exposed to a variety of diseases that you would never come across in urban areas, like melioidosis, and other tropical diseases if you are up north.
But there are challenges that need to be overcome. It can be hard to recruit pharmacists to come and work in these places, so that can be challenging from a managerial perspective. There's also a confronting reality about the conditions you see in some remote communities. Australia is a wealthy country, however people do live in Third World conditions in some areas. Many people in remote locations have never had the opportunity to have a conversation with a pharmacist. I love the opportunity to come up with practical and pragmatic approaches to see system-based changes that benefit rural patients.
You'll be speaking at PSA19. How can pharmacists help close the gap?
Health services are not homogeneous, so solutions need to cater to the varied needs of each health service. For pharmacists, medicines are our core business. Other professionals within healthcare teams have lots of other competing tasks when they are with a patient. Pharmacists, while being mindful of the whole person, are the ones who look at the patient through the lens of medicines access and optimisation.
Safe, sustainable and accessible pharmacy services are essential to closing the gap. Models may vary, however success relies upon services delivered in a culturally safe environment, underpinned by strong systems, with pharmacists at their core.
Further resources
Want to find out more about different career pathways for pharmacists? Visit www.psa.org.au/careerpathways  
A DAY IN THE LIFE of Hannah Loller, project manager, South Australia
8.30 am: Working day begins
I live on a farm, so getting to work involves walking 20 steps from the kitchen to the home office. I start by checking my emails, then plan an action list for the day and week ahead.
9.00 am: Catch up
I connect with Megan Tremlett, co-manager on the project. We check in on the previous day's actions and plan our team priorities for the week.
10.00 am: Meetings
We have a video conference with all the teams involved in the project. We discuss activity reports of the 22 pharmacists to ensure milestones required by the project are on track.
12.30 pm: More meetings
 We have our IPAC pharmacists monthly catch-up, where all the project pharmacists connect virtually. I provide them an overview of where the project is at and our priorities at the moment, e.g. moving from recruitment of patients to the follow-up phase. We share successful patient stories and handy tips.
2.00 pm: Checks
I check IPAC discussion forum posts to see the topics pharmacists have posted – for example, where to start with antimicrobial stewardship in a small Aboriginal health service? I respond with resources and comments if required.
3.00 pm: Planning
I plan a site visit, which entails checking a pharmacist's availability and scheduling time with key managers, doctors and health workers.
4.00 pm: Review
I review the project's expenditure and respond to emails. There's usually one hot topic to be managed on any given day – for example, the impact other trials may have on our project, such as Health Care Homes.
Hear from Hannah Loller on the impact pharmacists can have on Indigenous health at PSA19 from 26–28 July. Register now: www.psa19.com
Explore new paths at www.psa.org.au/careerpathways
Photograpy: Hilary Wardhaugh