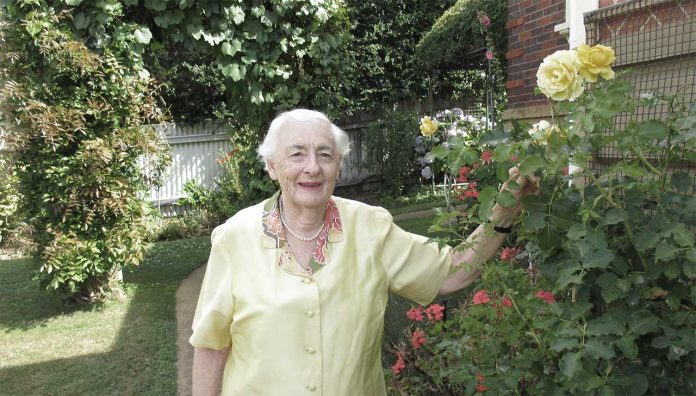 Jocelyn Watson, a PSA life member, was awarded an Order of Australia medal in January for services to Launceston and contributions to her church, horticultural society and her industry.
Where and when did you start your career in pharmacy?
In 1956, I started as an apprentice in the Ballarat pharmacy. I would work during the day and study a correspondence course in the evenings. I was interested in the medicine side of the profession and wanted a career where I could help people. Although attracted to nursing, I felt pharmacy was a better fit. In those days, as now, pharmacy was a good career choice for a woman because of the flexible hours.
What attracted you to community pharmacy?
When I graduated, I worked at the Royal Melbourne Hospital, which was good training for a young person. It exposed me to the full range of services a pharmacist provides. Then I went to a large pharmacy in Mildura. I preferred it because there was more contact with the community and I could see how we were helping people. When I got married, my husband and I moved to Launceston, which is where he was from. Again, pharmacy proved to be a good career choice. When we started a family, I was able to pick and choose my hours. I worked one day a week in different pharmacies whenever someone needed a locum.
What advice would you give early career pharmacists?
I would advise them to take every opportunity and keep learning. It is a rewarding business. I would advise them to leave some of their learning until after they have done some practical work. That way they can apply the things they read in books to the things they see in the workplace. A hospital pharmacy is a great place to learn. Another thing I would recommend is to become a specialist in a particular area you are interested in. I was interested in wound management and dermatology and got to learn a lot about these fields. And finally, keep your eyes open. Pharmacists can learn a lot from their clients. No two are the same.
I think closely monitoring patients, especially people being discharged from hospitals, is a vital role for pharmacists. You need to see how people are doing with their medicines. They usually get only a week's supply on discharge and often there are questions or mistakes when they go to their doctors for new prescriptions. Hospital admission for medicine misuse is a significant issue.
What changes were the best in the profession between when you started and your retirement?
Computerisation was unquestionably the best thing that happened to pharmacy. It made such a huge change to the way we did business day to day. The other big changes that affected me were the changes in the legal requirements. When I started, we used our judgement a lot more, especially around the dispensing of things like codeine and pseudoephedrine. There are definitely more opportunities for pharmacists these days, including new contributions in healthcare and hospitals.
What is your next project?
I plan to enjoy my retirement. We want to do a bit more travel after going to the west coast of Tasmania a few months ago. We are restricted because of COVID-19, but we have plans ready to visit our grandchildren in Brisbane, Adelaide, Melbourne and in the United States. I like gardening and to keep fit at the PCYC. I'm a School for Seniors member, I do singing for pleasure and Scottish country dancing, but they have been cancelled because of the virus. I'm on the pastoral committee of the Pilgrim Uniting Church in Launceston.
The other thing I like to do, which is what I always did as a pharmacist, is to stay in touch and care for people wherever I can.