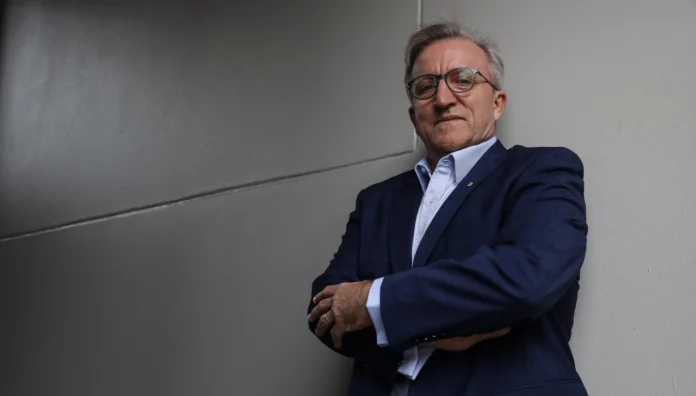 Paul Sinclair MPS has become the first Australia International Pharmaceutical Federation (FIP) President, his duties starting early ahead of the FIP Congress in Brisbane this month.
What initially attracted you to pharmacy? 
My father, Brian Sinclair, was a pharmacy owner in rural NSW and I grew up "in and around" community pharmacy in Narrabri. I saw first hand how engaged pharmacists became with both their profession and their local community and having the benefit of my father as a mentor made my decision to become a pharmacist that much easier.
As a 27-year veteran of community pharmacy when you first became involved, what interested you in FIP? 
Introduced to FIP by well-known PSA stalwart Patti Payne OAM FPS, I had the opportunity to become involved with the Community Pharmacy Section and saw this as a way of better understanding global trends in pharmacy and how practice was evolving outside of Australia.
Professional services were just starting to be delivered by Australian pharmacists and FIP involvement opened the door to engage with pharmacists already doing so in other countries.
Why is FIP important to member organisations like PSA and how does it help PSA deliver for local pharmacists?
As a global, member-based organisation, FIP is in a unique position to understand the practice of pharmacy in all its forms, in all places.
Information, reports and advocacy to promote and advance pharmacy can be shared with member organisations to the benefit of their members. FIP has formal relations with the World Health Organization, and this gives FIP a unique opportunity to advocate for pharmacists' and pharmaceutical scientists' roles in the global health agenda. 
Policy statements, reference papers and reports developed by FIP assist PSA in its advocacy locally, and in development of resources bespoke to their membership.
What do you want to achieve during your term as president? 
I wish to continue to build the One FIP philosophy which has strengthened FIP as an organisation during and since the COVID-19 pandemic.
Increased advocacy on behalf of all our member organisations for increased scope of practice for pharmacists will be a priority, along with strengthening our membership value proposition.
How can involvement with FIP, its committees and congress help individual Australian pharmacists? 
I would encourage all pharmacists to engage with their profession via FIP representation.
FIP involvement offers entrée to a global network of pharmacists where exchange of ideas, practice outcomes and health policy initiatives can inform and strengthen your own professional development. I have made many wonderful friendships through my involvement with FIP and look forward to our annual FIP Congress each year to catch up with and learn from those colleagues.
Given your decade-long experience with the Pharmacy Council of NSW (the state pharmacy regulator), what
'
s your advice for young pharmacists?
Pharmacy is a highly regulated profession and many young pharmacists get into trouble because they have a very poor understanding of the legislation and guidelines which should act as a blueprint for our practice.
Understand the legislation and guide your practice by adhering to professional guidelines. If something looks wrong – it most likely is wrong.
Stand up and call it out. Don't compromise your registration and your livelihood. 
What's one of your best experiences as a pharmacist? 
I have two, actually. One was watching my eldest daughter, Sarah, graduate as a pharmacist. The other has been having the privilege of looking after the health of three generations of many families in my community pharmacies in Ingleburn. 
What's your advice to your younger self? 
Always strive to be the best practitioner you can be – engage with your colleagues and your profession. Pharmacy is offering an increasing scope of practice which was not available in my early career.
These opportunities will take pharmacy to the front line of primary health care within our communities and offer younger pharmacists professional challenges and satisfaction.