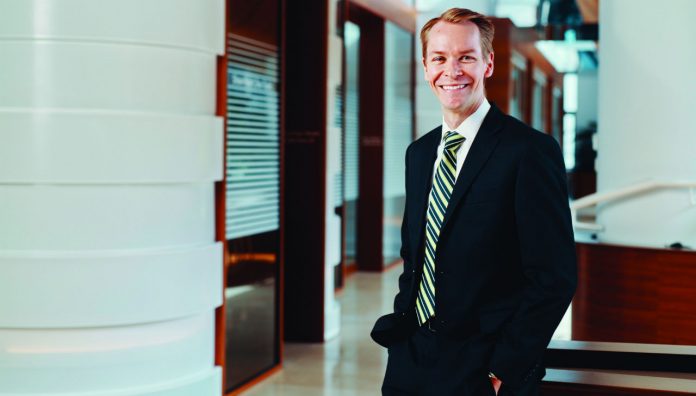 Daniel Gilbertson is a pharmacist with a mind for business. Now the head of healthcare operating models at Medibank, he previously worked as a community pharmacist and hospital pharmacist.
Tell us about your current role.
I oversee the design of new healthcare services for our customers, identifying areas where we think we think we can have a positive impact and how we want our services delivered. Currently, I'm working on our at-home clinical services and telehealth businesses – estimating how many employees we need, the locations we need to service – and ensuring we can deliver affordable care with the best possible patient experience.
You've had an interesting career path. How did your start in pharmacy help you get to this point?
I've always had a desire to help people and improve their health and wellbeing – and pharmacy is a great way to be able to do that. I have both a hospital and community pharmacy background, and I started working in a community pharmacy as a student in my first year of uni. I completed my intern year at The Royal Melbourne Hospital and then continued to work there as a full-time pharmacist while also working at a community pharmacy at night and weekends. Overall, I worked in community pharmacy for over 15 years and hospital for nine years.
I believe this made me quite a well-rounded pharmacist with broad experience. Hospital and community pharmacy are, at their core, still very similar to each other. Both roles are about dispensing the right medicine for the right patient at the right time, ensuring they understand how to use it, and giving them appropriate counselling and advice.
But the questions that patients ask in community and hospital settings are quite different. In community pharmacy, you're asked much more about primary care and over-the-counter medicines. In a hospital, you are often involved in the decisions to start medications and you're able to provide patients with a lot of information, which they are generally very receptive to.
After nine years at Royal Melbourne and having completed a Master of Business Administration through the University of Melbourne, I decided that I would benefit from a change in roles and I joined the healthcare consulting team at PricewaterhouseCoopers. Here I was able to use my experience of working in a hospital and community pharmacy while working on projects that changed the health system at a state and national level.
Now at Medibank, I can bring all of this experience to the design and running of a broad range of health services.
How do you apply your pharmacist skills in your role every day?
I think pharmacists are very good problem solvers, which is probably one of the best ways to describe the work we do. Essentially, we have a set of problems which are analogous to a patient coming in and describing a set of symptoms. We will ask questions to determine how severe the symptoms are, and if there is anything else that might be associated with it – such as when a patient comes in for a cough, and we ask if they also have a fever or runny nose.
Asking the right questions at the right time really does help in terms of trying to understand a problem. While I might be describing some slightly different problems now, the steps that I learned and the processes I went through as a pharmacist are still very applicable now.
Then there's the collaborative aspect of pharmacy – how you can interact with general practitioners, specialists, nurses, physios or occupational therapists etc. For me, it's about how the entire system can be brought together to improve the health outcomes for individual patients. I'm just doing that on a larger scale now.
From what you have observed, what advice would you offer pharmacists?
To be really bold and think about where you can use your skills to best meet the needs of your patients. One of the challenges I think we have is public recognition of the value of pharmacists bring beyond the dispensing of prescriptions.
Pharmacists need to differentiate themselves. Shout it out from the rooftops that pharmacists are delivering high-quality professional services. It's just being upfront and advertising how good we really are. We need to make people aware of the effort pharmacists put in that often goes unnoticed.
Further resources
Want to find out more about different career pathways for pharmacists? Contact PSA at careerpathways@psa.org.au
A DAY IN THE LIFE of Daniel Gilbertson, operational pharmacist, Melbourne
 8.10 am: Preparation
The day starts by reviewing documents for meetings that day with senior Medibank team members and making any last-minute adjustments.
9.00 am: Collaboration
Meet with various teams, both Medibank and external customers, to discuss the progress of current work for services we already have as well as new opportunities that we are exploring. This includes identifying the role of pharmacists within our in-home services such as chemotherapy and palliative care.
12.30 pm: Pitstop
Grab some lunch and review emails and messages that have come in during the morning, including operational issues and specific questions about how our services should be delivered.
1.00 pm: Forward looking
Meet with the finance team to discuss current performance and plans for the next few years.
3.00 pm: Check-in
Review the to-do list for the day and week and make sure that everything is on track and prepared for the next day's meetings.
5.00 pm: Catch up
Respond to emails that have come through during the day and share information with colleagues – either about specific projects, pharmacy-related questions or new service opportunities.
6.00 pm: Finish
Head home for the day to enjoy family time and exercise.
Explore new paths at www.psa.org.au/careerpathways
Photography: Damien Pleming