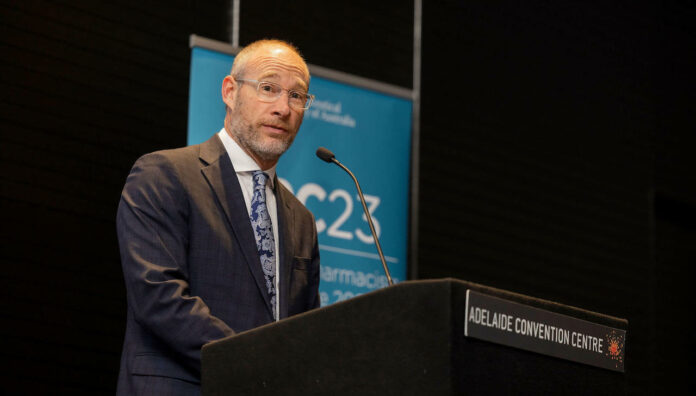 Accredited pharmacists have been thrown a lifeline, with the announcement the looming expiry of their provider numbers would be postponed until new APC standards are finalised.
All Medication Review Numbers (MRNs) were set to expire on 1 July 2023, ceasing government funding for accredited pharmacists to deliver services such as Home Medicines Reviews (HMRs) and Residential Medication Management Reviews (RMMRs).
David Laffan, Assistant Secretary, Pharmacy Branch of the Department of Health and Aged Care, made the announcement at PSA's first Consultant Pharmacist Conference, held last weekend (5–7 May 2023). 
After so much uncertainty in the sector, the MRN continuation announcement was a 'positive step forward', said PSA National President Dr Fei Sim FPS.
'Mr Laffan confirmed that accredited pharmacists will be able to continue delivering these effective HMR and RMMR services and accreditation will remain valid until the new APC standards are finalised, or to 30 June 2024,' she said.
The On-site Aged Care Pharmacist program was also discussed, with accredited pharmacists still reeling after Federal Minister for Health and Aged Care Mark Butler announced it would be delivered through community pharmacy.
#CPC23 @DrcarolynH presenting current issues in aged care – all key reasons why the aged care pharmacist has to be 'on the ground'. #medicinesafety #clinicalgovernance #AMR #transitionsofcare #highriskmedicines #deprescribing #psychotropicstewardship pic.twitter.com/mBYFYPv5JE

— Manya Angley (@ManyaAngley) May 5, 2023
The proposed funding will allow a pharmacist to be on-site in an aged care facility, for 1 day a week for every 50 residents. This equates to a full-time pharmacist, 5 days a week, for every 250 beds. However, Dr Sim said the profession must be involved in the implementation of the program. 
'The program must meet the recommendations from the Royal Commission into Aged Care Quality and Safety to facilitate quality use of medicines through the work of accredited pharmacists,' she said.
Broader lessons
CPC23 featured clinical sessions and workshops on a range of topics, including aged care, diabetes, heart failure and medication reviews in mental health.
The conference was officially opened by Debbie Rigby FPS, one of the first pharmacists to become accredited. While acknowledging the legacy of the Australian Association of Consultant Pharmacy and ConPharm, Ms Rigby welcomed the new PSA-led era of accreditation, encouraging participants to learn, meet, mingle, network, have fun and make memories.
Sessions included the psychosocial model of pain led by Emeritus Professor Jeff Hughes, who spoke about the importance of tailoring pain management to the individual.
Psychological aspects of pain include coping, stress, catastrophising, expectations, cognition and mood, while social determinants could incorporate economic factors, work situation, cultural beliefs and the activities of daily living.
'Pain is not just a singular presenting symptom,' said Prof Hughes. 'There are many other contributing factors to consider for the individual patient's perception of their pain.'
Joy Gailer presenting HFpEF in clinical practice at #cpc23 – whilst sharing similar clinical symptoms these are distinct syndromes not a continuous spectrum of disorders with 50% of individuals diagnosed and proportion increasing 🫀 pic.twitter.com/pWf5gpRMeS

— Raymond Truong (@truryAdelaide) May 6, 2023
Meanwhile, in a fireside chat on deprescribing, co-presented by Senior Lecturer at Monash University Dr Justin Turner and consultant pharmacist Dr Peter Tenni MPS, attendees were encouraged to think of deprescribing as 'good prescribing'.
Introducing the concept of deprescribing at the time of prescribing sets up the expectation that 'drugs and doses should be reviewed, and reviewed often'.
Great respectful approach to multidisciplinary care by nurse Michael Page – acknowledging the value of #pharmacist #collaboration #CPC23 #agedcare #medicinesafety pic.twitter.com/xLcztwnWSD

— Debbie Rigby (@DRugby56) May 6, 2023
A new role for pharmacists in disability care
On the last day of CPC23, a session on Teamwork in Disability Care addressed the overreliance on psychotropics to manage behavioural issues in people with cognitive disability.
A key issue is a lack of oversight after psychotropics are initiated, said University of Newcastle pharmacy lecturer Dr Hayley Croft MPS, who co-presented the session with Advanced Practice Pharmacist Manya Angley FPS, and Simone Boag, Managing Director of NDIS-registered support organisation I Can Jump Puddles.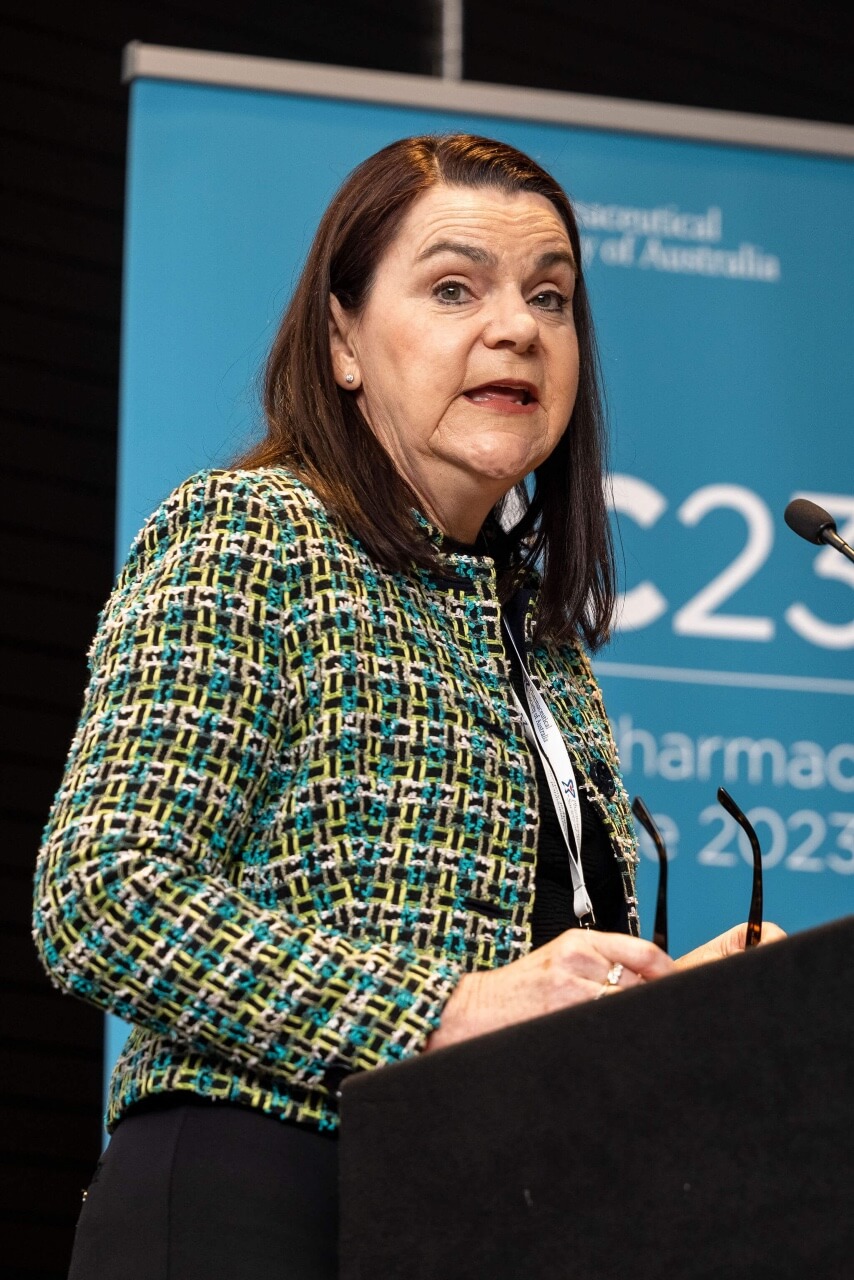 A multidisciplinary approach is required to get the best outcome for NDIS patients, with consultant pharmacists 'well placed' to support Positive Behaviour Support practitioners.
'Positive Behaviour Support practitioners are very focused on supporting patients in terms of any behaviours of concern, but they [also] rely on bringing in more experienced personnel when medicines such as psychotropics are involved,' said Dr Croft.
'Pharmacists can identify: does this medicine need to be continued? If so, what monitoring needs to be in place? Is it okay to use this medicine with any other medicines that might be initiated? And if the medicine doesn't need to continue, how do we safely deprescribe?'
Should pharmacists identify any issues with medicines that may be used as chemical restraint, they can discuss options with the Positive Behaviour Support practitioner, including phasing out the medicine, possible withdrawal effects, or risks of behavioural concerns returning.
'Pharmacists can weigh up the effects of remaining on that medicine versus coming off it, and be part of that conversation in terms of the patient's overall management,' said Dr Croft.
Dr. Chris Bollen talking about #frailty this morning at #CPC23

Four Pillars of Frailty Prevention and Management: nutrition, exercise, social networks and you guessed it, MEDICINES#multidisciplinarycare WILL keep people in their own homes longer@BMPConsulting @PSA_National pic.twitter.com/xFQvd2ORcr

— Brooke Shelly (@BrookeShelly87) May 7, 2023
Pharmacists can also inform Positive Behaviour Support practitioners about the potential adverse effects of psychotropic medicines.
'We know antipsychotics carry a risk of metabolic adverse effects including increased glucose levels, weight gain and lipid levels,' she said. 'Pharmacists can play an important role in suggesting non-drug strategies that can help counteract some of those adverse effects.'
Attendees then learned about a new model developed by I Can Jump Puddles and Pharmacists Optimising Medicines for People with Intellectual Disability and Autism, which involves accredited pharmacists registering as Positive Behaviour Support practitioners specialising in chemical restraint. 
While the model is a work in progress, with Dr Croft managing the research arm and Ms Angley becoming the first pharmacist to become a Positive Behaviour Support practitioner specialising in chemical restraint, it's a potential pathway for pharmacists interested in working in this space. 
'Pharmacists have the expertise, but they also need an understanding of the NDIS, so we must work collaboratively with our Positive Behaviour Support practitioners and their teams around the individual,' added Dr Croft.
Parting words
As the conference came to a close, Dr Sim highlighted what accredited pharmacists need to ensure their patients use medicines safely and effectively.
The PSA will continue to advocate for caps on HMRs and RMMRs to be removed, telehealth to be reinstated, and funding for pharmacists to participate in multidisciplinary case conferences.
And lastly, a 'Flexible model for on-site aged care pharmacists with MAXIMUM time on the ground'.