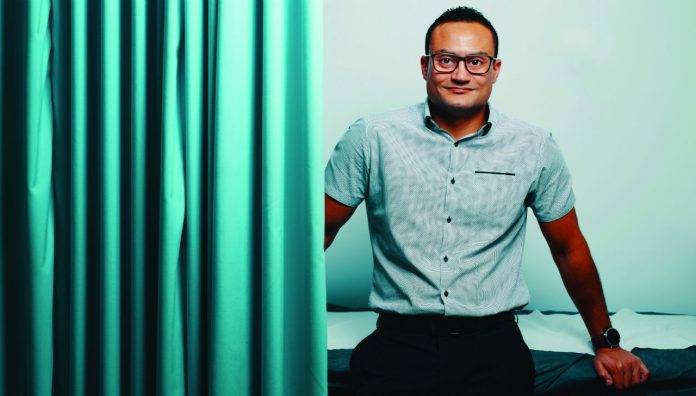 Mina Naguib MPS is a General Practice Pharmacist, Aged Care dispensing Pharmacist and Medication Management Review Pharmacist, placing him on the frontline of medicines safety.
Describe your work as a General Practice Pharmacist.
I am a consultant pharmacist who works as part of a general practice team to improve the quality use of medicines and the health outcomes for patients. I work at two general practice clinics in outer North West Melbourne. Patients are referred to see the General Practice Pharmacist by the doctors working in the clinics. They are generally people on multiple medicines living with chronic diseases.
How did you begin working in general practice?
I first registered as a pharmacist in 2007, and since then I have worked in community pharmacy. Around 2015, I decided that I wanted to develop my clinical knowledge, so I undertook a Graduate Certificate of Diabetes Education and Management at Curtin University. I then began the journey of becoming accredited with the Australian Association of Consultant Pharmacy. During 2016, I volunteered one day a week at a GP clinic in Maribyrnong, Victoria to talk to patients about diabetes and diabetes medicines. The doctors at the clinic soon started referring patients, with or without diabetes, to me. After I became accredited, I became the GP clinic's Medication Management Review Pharmacist.
In 2018, the lead GP joined two clinics in Melbourne's north-west taking part in a PSA-managed General Practice Pharmacist pilot funded by the North Western Melbourne Primary Health Network. I was given a role in the pilot as the General Practice Pharmacist due to my history with the clinics. This is one of a number of pilot projects that integrate General Practice Pharmacists into GP clinics. Pharmacists are also employed in GP clinics outside of these pilot programs. These pilots have helped demonstrate the value of General Practice Pharmacists, who will become a part of the Workforce Incentive Program from 1 July 2019.
There are new PSA General Practice Pharmacist training and practice support tools in the works. What do they entail?
There are three new sets of General Practice Pharmacist service delivery guidelines under development. Apart from the current foundation stage training, PSA will also offer an advanced stage training program for General Practice Pharmacists that will allow pharmacists to adjust the course to suit their own professional development needs.
There is also a range of practice support tools to assist pharmacists who are working in the general practice setting. The tools address areas such as scope of practice, position and role descriptions and general practice needs assessments in this space. The General Practice Pharmacist is a relatively new phenomenon in Australia. General practice staff often don't know what pharmacists do apart from dispensing. The support tools will help to inform practice teams about what pharmacists can do as well as support General Practice Pharmacists in similar pioneering roles to integrate into the general practice team.
The Pharmacists in 2023 report strongly recommends embedding pharmacists in aged care and general practice. Why is this a positive move?
From my experience as a dispensing pharmacist in aged care, there's a lot that goes unnoticed in terms of medicines reconciliation. Having a pharmacist doing rounds with the doctors assists appropriate and quick decision-making. It's also important to have a pharmacist to conduct chart audits and medicines reconciliation – ensuring that the chart is accurate, and what the residential care chart says is actually what the patient takes. In general practice, having a pharmacist with their expert knowledge about medicines as part of a healthcare, primary care or general practice team improves the quality use of medicines. We get a lot of queries from doctors who are consulting with patients who need on-the-spot medicines information before they write a script.
Further resources
Want to access new General Practice Pharmacist training and practice support tools? Visit www.psa.org.au/s/article/GPPharmacist
A DAY IN THE LIFE of Mina Naguib, General Practice Pharmacist
9:30 am – The working day begins
I arrive at the clinic. I go through my appointments and examine the records and notes of the patients that I will see that day.
9:50 am – Consultations
I start seeing patients. During these consultations, I conduct medication reconciliation and medicines reviews. My interventions may include identifying a medicine interaction or use of an inappropriate medicine. I'll then suggest an alternative therapy or better dosage form, and recommend an indicated but missing therapy, pathology reviews and patient education in terms of disease state and medicines use.
1:00 pm – Networking
This part of the day is spent conducting medicine use evaluations, participating in case conferences, answering medicine queries and reviewing hospital discharges.
2:00 pm – Checking in
I liaise with community pharmacists to identify discrepancies between the clinic's records and what the patient actually gets dispensed. Community pharmacists are one of the most accessible health professionals in Australia and having a discussion with them is valuable in identifying what might or might not work for a particular patient.
3:00 pm – Wrapping up
I go through my emails and finalise my recording notes in patient files.
3:30 pm – Making rounds
I'm done at the GP clinic for the day. Now I'm off to conduct some Medication Management Reviews.
5:30 pm – After hours
This is a time for me to write up reports of the Medication Management Reviews that I've conducted that day, or I head to the community pharmacy where I regularly work if I'm needed there.
Explore new paths at www.psa.org.au/careerpathways