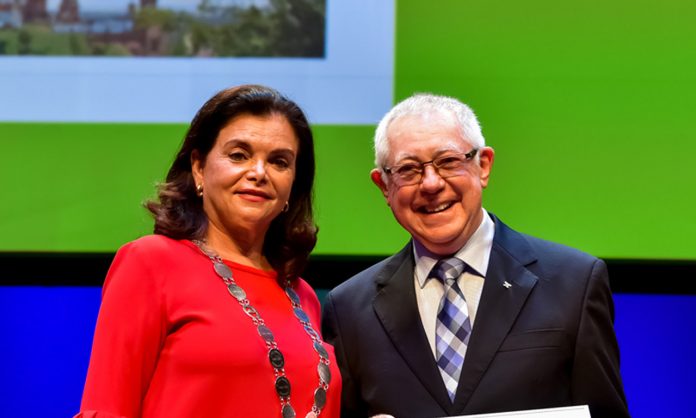 Australian pharmacy professionals have received top honours at the 78th FIP World Congress of Pharmacy and Pharmaceutical Sciences in Glasgow, while PSA has been named co-host for the FIP Congress in 2021.
PSA members Tina Brock MPS and John Bell FPS were awarded Fellowship of the International Pharmaceutical Federation (FIP) at the conference, reflecting their years of dedication to the profession at academic, executive and career development levels.
Dr Brock is the Professor of Pharmacy Education and Practice in the Faculty of Pharmacy and Pharmaceutical Sciences at Monash University. She has had an international career in pharmacy leadership curriculum design in academic institutions including University of California San Francisco, University of London and University of North Carolina at Chapel Hill.
Mr Bell served as the NSW and National PSA President and now works as a community pharmacist in Sydney and specialist practitioner/teacher in primary health care at the Graduate School of Health, University of Technology Sydney.  
He is a PSA NSW Branch Committee Member and sits on the boards of Diabetes NSW/ACT and the Australian MedicAlert Foundation, and is a member of the Global Respiratory Infection Partnership, an international multidisciplinary group established to address antibiotic resistance.
PSA National President Dr Shane Jackson said he was delighted to hear of Mr Bell's achievement.
'John has worked tirelessly for the profession both in Australia and on the international stage, from highlighting the role of pharmacists in our healthcare system to delivering continuing education and mentoring Early Career Pharmacists,' he said.
'It's hard to overstate the extent of his ongoing contribution not only to PSA but to the practice of pharmacy in Australia and overseas.'
Mr Bell said he was humbled by the recognition.
'I feel honoured to have joined an eminent group of Australian pharmacists who have been similarly honoured by FIP,' Mr Bell said.
'It's been a privilege to have represented FIP as a vice president for eight years and also to have worked internationally with the Commonwealth Pharmacists Association, especially in the areas of pharmacist management of TB, malaria and HIV/AIDS.'
Mr Bell received the honour in recognition of his strong international leadership, contribution to the advancement of the practice of pharmacy and service to FIP.
The 2018 Andre Bedat medal, FIP's highest pharmaceutical practice award, was awarded to Emeritus Professor Lloyd Sansom FPS from the Australian Pharmacy Council. With a distinguished career in education, research and policy, Prof Sansom has advised the Australian Government and World Health Organisation on pharmaceutical policy.
Dr Jackson said Prof Sansom was recognised nationally and internationally as a visionary leader of the profession, and as one of pharmacy's 'leading lights'.
'Lloyd is a tireless advocate for the role of pharmacists in the healthcare system and we can trace a large number of activities and services that pharmacists deliver now to the leadership shown by Lloyd,' he said.
'Over more than five decades he has had a huge influence on the quality use of medicines in
Australia, contributing to almost all aspects of pharmacy practice, from research and education to leadership and policy.'
The FIP conference also saw the election of Swiss pharmacist Dominique Jordan as president of FIP. Mr Jordan, a community pharmacy owner and former chief executive officer of the Swiss Association of Pharmacists (pharmaSuisse), has served FIP for over a decade including as chair of the federation's Board of Pharmaceutical Practice since 2014.
As a president of pharmaSuisse for 12 years, Mr Jordan led advances in the pharmacy profession in Switzerland, which included the introduction of a postgraduate title for hospital and community pharmacists, the introduction of a number of remunerated new pharmacy services and the implementation of an International Organisation for Standardisation compatible quality management system, allowing the evaluation of pharmacies.
Meanwhile, Australia has been announced as the host for the 2021 FIP World Congress of Pharmacy and Pharmaceutical Sciences, with Brisbane to play host city. PSA, in collaboration with the Society of Hospital Pharmacists of Australia and the Australasian Pharmaceutical Science Association won a consortium bid to host the major international event at the Brisbane Convention & Exhibition Centre.
Combined, the host organisations represent over 20,000 members across Australia in community and hospital pharmacy, academia and the pharmaceutical sciences.