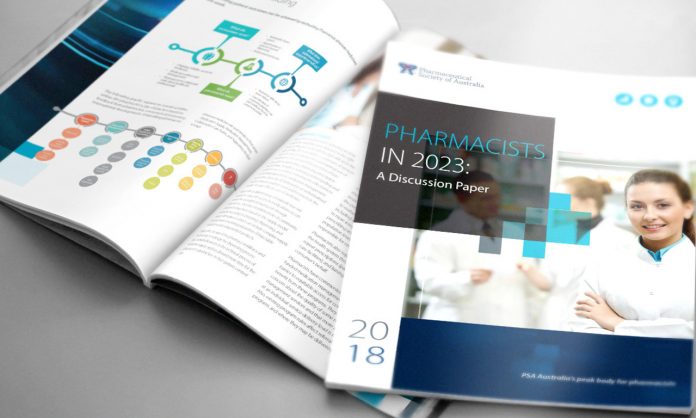 Realising the full potential of pharmacists requires a reimagining of how the profession fits into the wider healthcare model, and PSA wants to harness the imagination of its members in this vision.
Overwhelming feedback from our members and the wider profession has shown change is more urgent for pharmacists to be able to retain their best and brightest in the profession and to be truly regarded as medicines experts. Based on that feedback we have determined we need to have delivered signi­ficant change for the pharmacy profession by 2023.
PSA has released the Pharmacists in 2023 discussion paper with the ultimate objective of having an empowered pharmacy workforce across healthcare, from hospital to community pharmacy and in the broader primary care sector.
The opportunities PSA is suggesting for the future require feedback from the profession to guide PSA's next steps in developing the role of pharmacists in community pharmacy, and in the broader primary care arena. In particular, we are asking respondents to submit their views on the following questions:
Can a funding model be proposed that shifts the retail/medication supply focus to a clinical decision making and chronic disease management focus?

Should the Community Pharmacy Agreement transform to a framework that supports future models of pharmacist care? How?

How do we ensure and measure quality and standards of practice of pharmacist-delivered services and 'raise the bar' in delivery of care?
We seek the views of our members, the pharmacy profession, consumers and key stakeholders in providing input into this discussion paper so we can realise the true potential for pharmacists in the future.
I look forward to consulting with a broad range of people and organisations in delivering our action plan for pharmacists in 2023 by the end of 2018.
Pharmacists in 2023 seeks to go beyond outlining pharmacist services to uncover the barriers and identify the system changes required to better utilise pharmacists in delivering health outcomes.
This will require pharmacists to be enabled through appropriate funding mechanisms and quality assurance programs, equipped through suitable training and recognition programs, and embedded wherever medicines are used.
While community pharmacy is the most common setting where pharmacists work and services are delivered, there are many other environments in which pharmacists can – and do – contribute to consumers' health.
Change is inevitable if we are to realise the objective of having pharmacists seen as medicines experts across healthcare and as responsible and accountable for medicines safety and effectiveness.
The discussion paper, built upon the views of pharmacists and consumers, highlights the need for pharmacists to transition to a consultation-based, patient-centric and collaborative model of care, whereby pharmacists take responsibility and accountability for medicines management.
PSA sees a future where improved patient outcomes can be achieved by enabling system changes so that the role of pharmacists is recognised, that they practice to their full scope and are appropriately remunerated.
PSA's vision has pharmacists delivering services tailored to consumer need, at the right time, by the pharmacist with the right skill set in the right setting. We should see services form a continuum from dispensing through to comprehensive medication review, delivered in an individualised manner based on patient need and focused on the quality use of medicines.
PSA has extended the deadline for member submissions to Friday 14 September. Submissions can be lodged at pharmacistsin2023@psa.org.au or via mail, at Pharmacists in 2023, PO Box 42, Deakin West, ACT 2600.