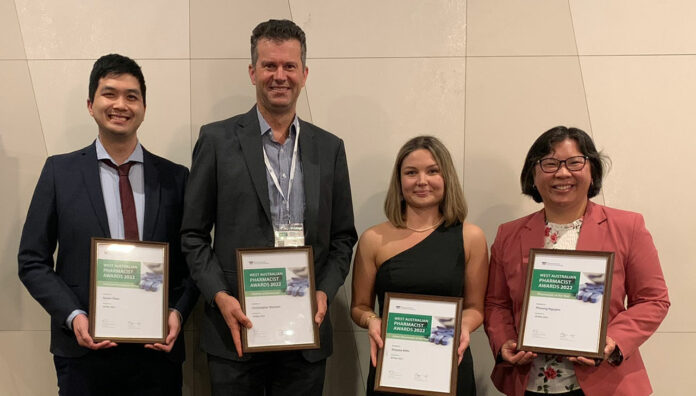 Four pharmacists were crowned the best of the west at PSA's West Australian Annual Therapeutic Update (ATU) last weekend.
PSA WA Branch President Keegan Wong congratulated the recipients on their dedication to the profession during a turbulent year.
'These pharmacists have gone above and beyond to demonstrate their leadership and commitment to the health and wellbeing of their communities,' he said.
Opening the ATU, Mr Wong said it had been a 'crazy 12 months' for pharmacists and that fair remuneration remained a pressing issue.
'Hard borders, vaccinations, boosters, more boosters, daily updates, RATs, work shortages – the list goes on and on,' he said.
'We need to continue to speak up and challenge the status quo … PSA has been working tirelessly to continue to advocate for pharmacists who are smart, willing, ready and able to practice to our full scope.'
Meet the winners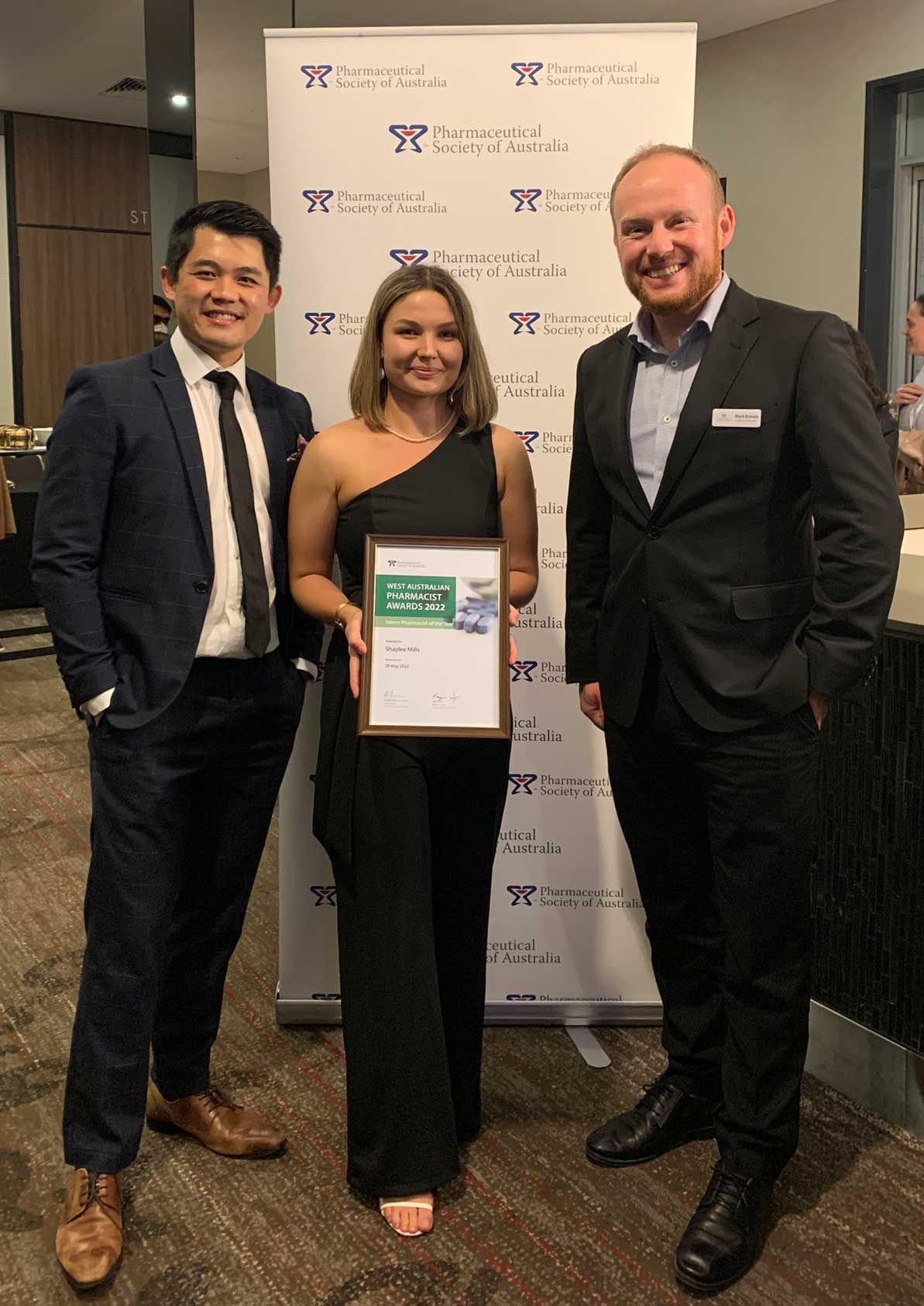 Intern Pharmacist of the Year
Shaylee Mills, Intern Pharmacist, Kimberley Pharmacy Services
Amid a major COVID-19 outbreak in the Kimberley region as her internship began, Shaylee Mills made a significant contribution to improved health and wellbeing of vulnerable Indigenous populations as a core vaccinator – at a time when scabies, skin infections and head lice were problematic. 
In a public health project to ensure medicines met labelling and counselling requirements when pharmacists could not attend clinics, she prepared a range of dispensing labels, dosing charts and CMIs on 25 medicines to 11 Aboriginal Health Services with pictures, colour codes and medical language used by patients.
Early Career Pharmacist of the Year
Aaron Chan MPS, Sir Charles Gairdner Hospital
A strong advocate for medicine safety, antimicrobial stewardship and advocating health promotion in his community, Aaron Chan served his internship at Pharmacy 777, Applecross Village in suburban Perth and showed then he was a driving force for recognition for pharmacists as experts in medicine while collaborating with doctors and educating on medicine harm minimisation.
The outgoing PSA WA ECP Chair and member of the ECP Communities of Specialty Interest leadership group, he is seen as an inspiration to the career development of ECPs by improving education, collaboration and reflection on the quality use of medicines.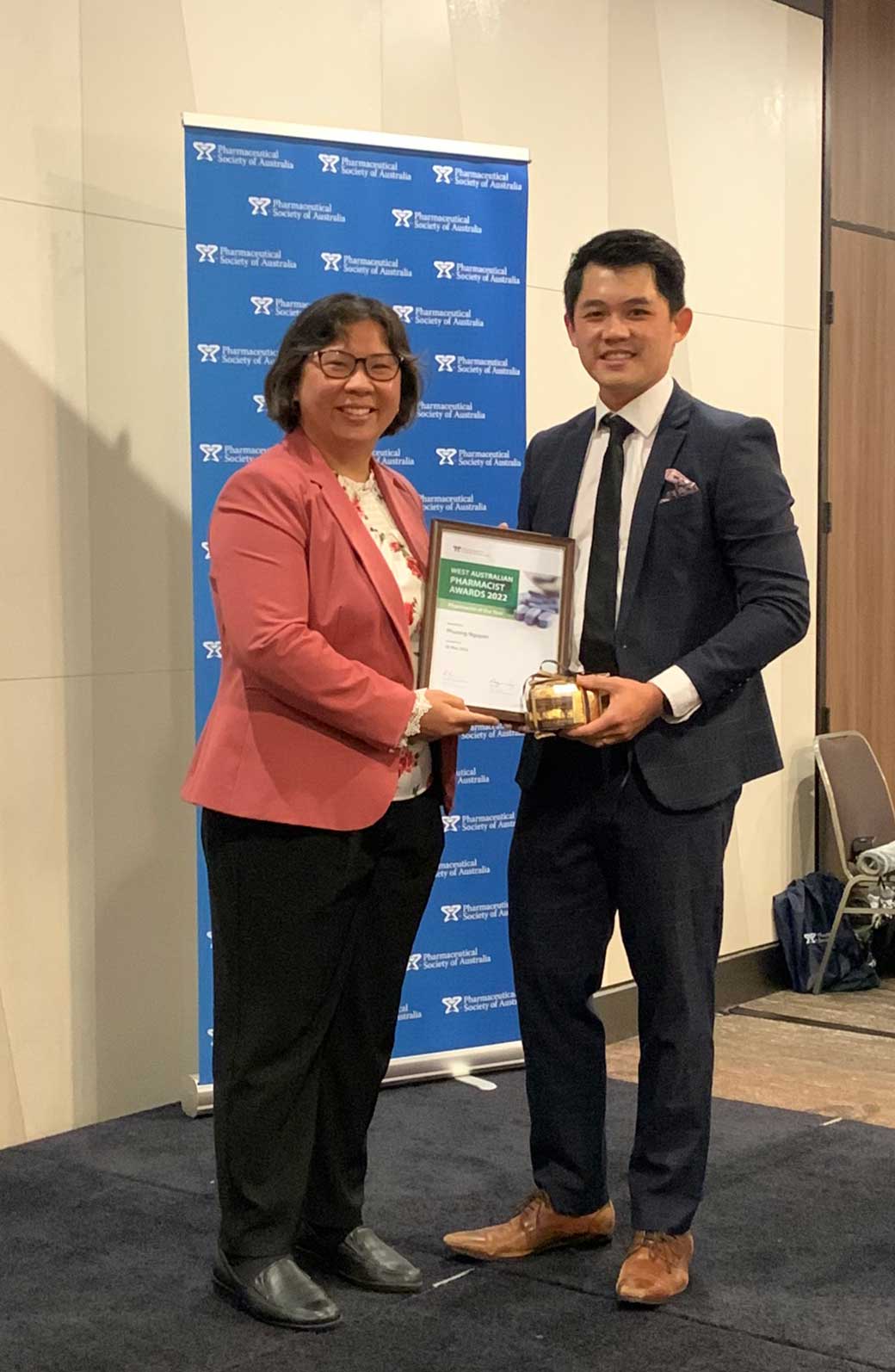 Pharmacist of the Year
Phuong Nguyen MPS, Consultant, PwC Australia
Her ability to be innovative, creative and visionary led to Phuong Nguyen's research on asthma adherence and support pathways for cardiovascular medication clinical trials design, which were key to the implementation of those studies. 
She also designed a tertiary education course targeting healthcare professionals in leadership and management by integrating business insights and economics with a healthcare focus – the Graduate Certificate in Health Leadership and Management at UWA.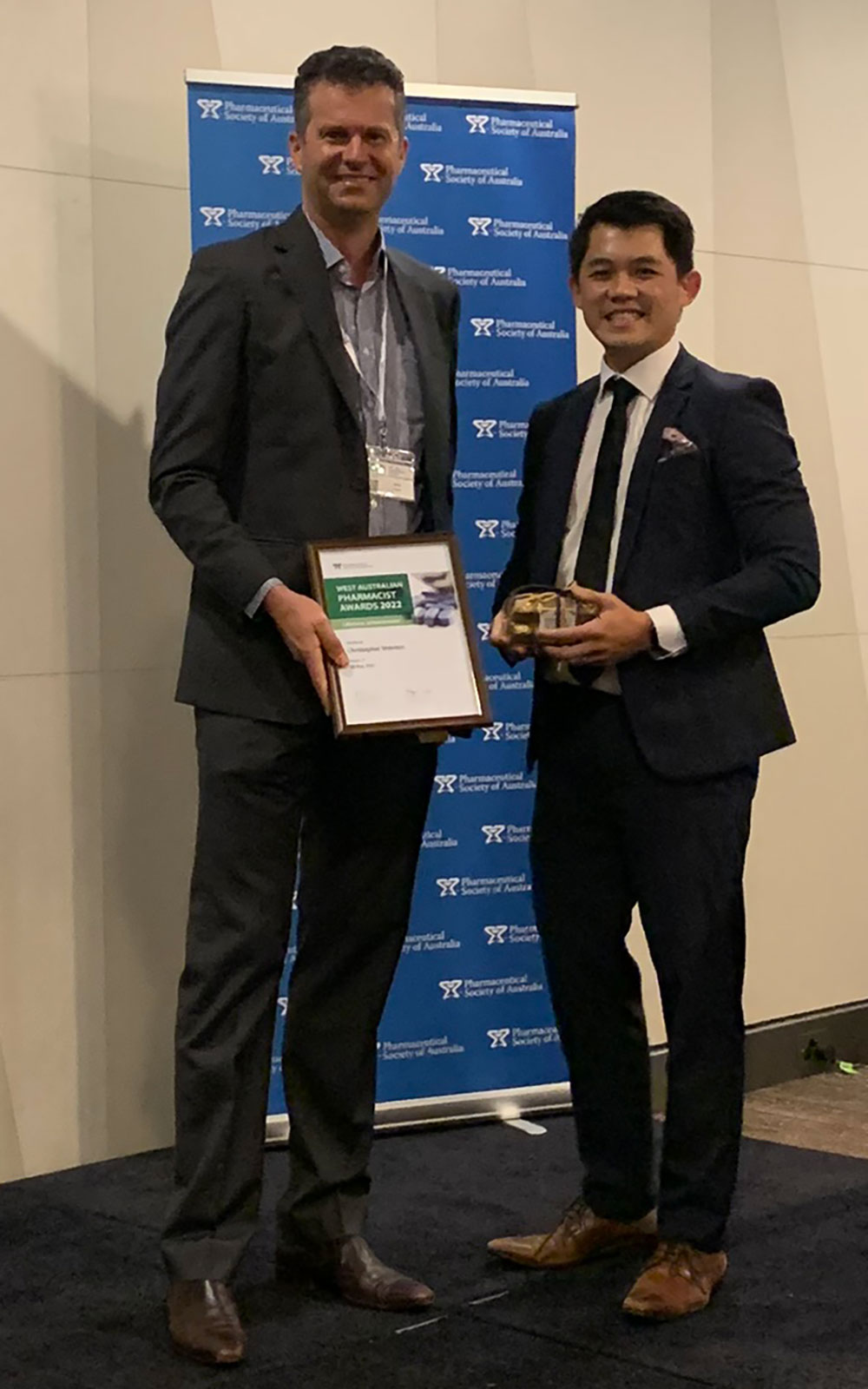 Lifetime Achievement Award
Chris Shenton MPS, Managing Partner/Director, Joondalup Hospital Pharmacy
In a career spanning community pharmacy, large-scale aged care and hospital pharmacy – and more recently home IV services, Chris Shenton, the WA Branch Committee Vice President, has had a large impact on pharmacy services in Western Australia. 
He established a pharmacy at the Royal Perth Show, volunteered on the medical team at the Sydney 2000 Olympic Games and is a Director at the SouthWest Hospital Pharmacy at St John of God Hospital in Bunbury. 
A generous mentor, he and business partner Travis Bailey MPS established PureIV, a TGA-approved sterile injectable compounding manufacturer.
Medicine safety messages
The PSA's state and territory ATUs are an opportunity for pharmacists to expand their knowledge and connect with colleagues and subject matter experts. Sessions at the WA ATU included information on treatments for COVID-19, a clinical update on chronic obstructive pulmonary disease and a discussion about the link between rheumatology and dermatology. 
During a panel session on medicine safety, PSA National President Associate Professor Chris Freeman remembered back to the start of the pandemic, when the decision was made to expedite the rollout of electronic prescribing. 
'I was sitting in a room with representatives from various health bodies, and when they announced it everyone went silent,' he said. 'At that stage it was about 6 years off and it was reduced to 6 months.'
Although there are still workflow challenges to iron out, A/Prof Freeman said the quick rollout 'shows what can happen with the right stimulus'.
'I think we have some way to go, but the Active Script List is going to be beneficial for people who have multiple medicines and in aged care settings,' he said. 
While electronic prescriptions are a 'positive step forward for medicine safety', A/Prof Freeman said pharmacists 'need to be vigilant about medication errors, particularly from a prescribing point of view'.
For example, rather than simply trusting the pre-populated data, pharmacists must remain alert to prescribers selecting the wrong medicine and ensure they check the patient's history.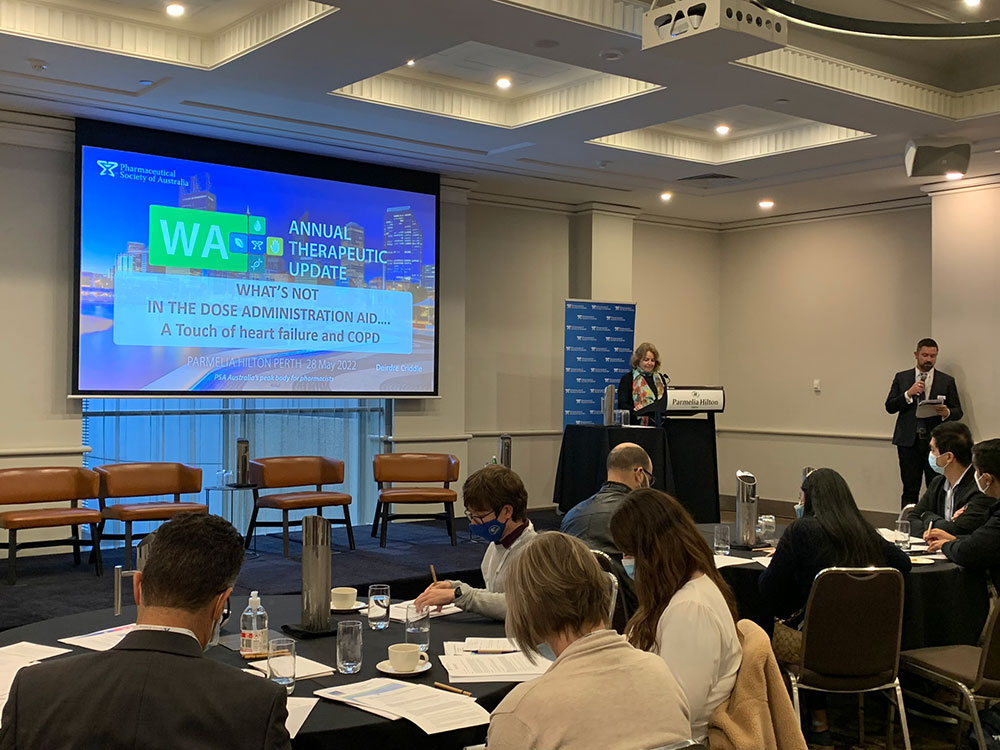 Clinical pharmacist Deirdre Criddle MPS also spoke about medicine safety during her talk on dose administration aids (DAAs).
She said community pharmacists have a 'valuable and perhaps underappreciated role' as care coordinators who can make a tangible difference for their patients, for example, promoting deprescribing. 
'Deprescribing is not something that should be done in hospitals, this is a community thing,' she said. 'It has to be done with GPs and community pharmacists because you will be looking for changes.'
If there is unintentional non-adherence due to short-term memory loss or a complex regimen, Ms Criddle said the first step is to simplify it.
'Don't just convert the person's existing regimen to a DAA,' she said. 'Have we simplified the regime? Are the medicines actually suitable? And remember – not everything can be packed. For example, if someone is prescribed dabigatran, that can't be put in a DAA, so how will you make sure it can be administered?'
Did you attend the WA ATU? Spot yourself in our photo gallery below.