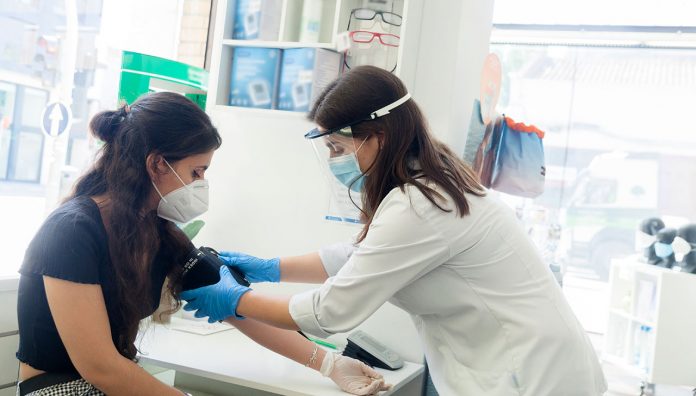 Queensland's Chief Medical Officer has advised pharmacists in metropolitan Brisbane and the Ipswich region to wear face masks, following a new cluster of COVID-19 cases in the state.
Key points:
There are currently 16 active cases of COVID-19 in Queensland.
PSA now recommends all pharmacists in metro Brisbane and Ipswich wear a surgical mask while at work, and eye protection when within 1.5 metres of patients.
Australia now has

25,209

confirmed COVID-19 cases,

almost 20,000 recovered

and

549

deaths.
There are currently 16 active cases of COVID-19 in Queensland. Many of these are linked to the Brisbane Youth Detention Centre, where at least five staff members and five close contacts have contracted the virus. 
The advice for pharmacists from Professor Keith McNeil came after Chief Health Officer Dr Jeannette Young announced all staff, patients and visitors to hospitals in the Metro North, Metro South and West Moreton regions of the state were required to wear face masks.
'Community pharmacies in these regions, as highly accessible primary healthcare providers, are similarly encouraged to consider undertaking appropriate PPE [personal protective equipment] precautions,' Prof McNeil wrote in a letter to pharmacists on Monday.
'While there is not yet evidence of widespread community transmission of COVID-19 in these regions, pharmacy staff may wish to consider undertaking PPE precautions in line with moderate to high risk of community transmission.'
In line with this, PSA now recommends all pharmacists in metro Brisbane and Ipswich wear a surgical mask while at work, and eye protection when within 1.5 metres of patients. This includes pharmacists conducting in-person Home Medicine Reviews where appropriate social distancing cannot be maintained. If a patient or member of a household is self-isolating or unwell, accredited pharmacists should offer a telehealth consultation where appropriate, or reschedule the appointment. 
It is important to note that face masks are an additional protection against COVID-19, and that physical distancing, hand hygiene and staying at home remain essential to prevent transmission. 
Speaking to Australian Pharmacist today, a Brisbane pharmacist said it was helpful to have an official recommendation on PPE, but that finding the right equipment was proving difficult.
'I think it's very important that as medical professionals pharmacists wear PPE, definitely,' she said.
'It's good that Jeannette Young gave the recommendation, but we're also not sure where to purchase eye protection. Anxiety levels in the pharmacy have increased.'
Speaking to media yesterday, Dr Young reassured Queenslanders there was plenty of PPE available, and recommended doctors and pharmacists in primary care access commercial stock. Primary Health Networks could provide support if primary care providers were having difficulty, she added.
Premier Annastacia Palaszczuk said yesterday the government was working to transition 'a whole new workforce' into the youth detention centre over 24 to 48 hours to ensure it continued to operate.
She announced new restrictions on Saturday in response to the cluster, limiting gatherings in Brisbane, Ipswich, Logan, Scenic Rim, Moreton Bay and Redlands to 10 people indoors and 30 outdoors, while 30 people are allowed at gatherings in the rest of the state.
Across the country
Australia now has 25,209 confirmed COVID-19 cases, including almost 20,000 recovered and 549 deaths. The majority of cases (18,464) and deaths (438) are in Victoria, which reported 149 cases and 24 deaths in the last 24 hours. 
Victorian aged care residents continue to make up the majority of the deaths reported each day. There are currently 1,600 active cases across 126 Victorian residential aged care facilities (RACFs), or 16.4% of all RACFs in the state.
More than 700 Frankston Hospital staff in Melbourne 
are reported 
to have been in isolation in the past few days after potential exposure to coronavirus following an outbreak that has infected more than 50 staff.
It comes a day after the Victorian government conceded that between 70–80% of healthcare workers infected with COVID-19 during the state's second surge of infections caught it at work.
New South Wales is the second most-affected state, with 3,991 cases of COVID-19 and 52 deaths to date. The state government last night moved 366 returned travellers from Sydney's Travelodge Hotel to other hotels in the city, after an audit by police found conditions at the Travelodge did not meet the expectations of authorities, according to the
ABC
.