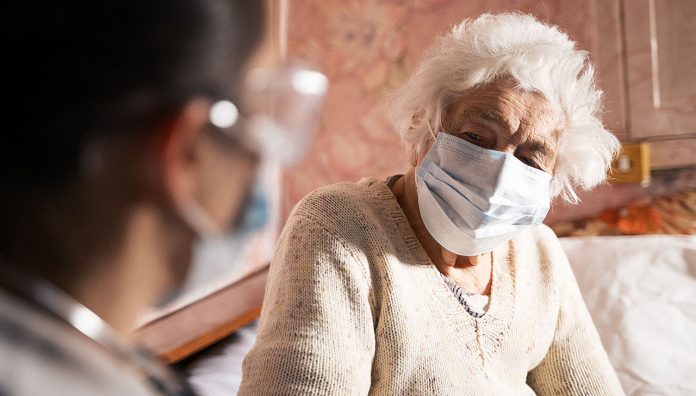 Nearly 800 residents in Victorian residential aged care facilities (RACFs) have tested positive for COVID-19, taking the state's total number of cases to 9,049.
Aged care residents represent about 7% of all new coronavirus cases reported in Victoria since 1 July, and 5% since 1 April, Federal Health Minister Greg Hunt said today.
A further nine people have died of the virus, which has taken Victoria's death toll to 92. Premier Daniel Andrews said today that seven of those nine new fatalities – two aged in their 90s, five in their 80s and one each in their 70s and 60s – were linked to private sector aged care.
A total of 295 cases were identified in the previous 24 hours, down from a record of more than 500.
The national death toll is now 176 with more than 5,000 active cases, mainly in Victoria and New South Wales. Two 19-year-old Queensland women who travelled to Queensland via Melbourne and Sydney have also tested positive for coronavirus prompting extensive contact tracing.
Mr Andrews also revealed more than 150 residents in aged care had been, or were being, transferred to hospitals.
That included 34 people from the Epping Gardens Aged Care facility in Epping in Melbourne's north – one of more than 50 RACFs whose residents have been exposed to the coronavirus. Despite the increase in RACF cases, Mr Hunt said the aged care sector was 'immensely prepared'.
'Prior to the Victorian outbreaks, less than half a percent of aged care facilities were affected,' he said.
'Importantly, there has been real progress in cooperation and protection in relation to our older Australians, and Victoria has reported progress in the numbers today.' 
Mr Hunt said the aged care infections were a result of community transmission, 'which we know affects workplaces'.
'Offices, meatworks, school environments, hospital environments – any sector can be vulnerable,' he said.
His comments echoed those of Prime Minister Scott Morrison, who spoke yesterday about the 'very complex' situation. 
'You have a combination of the community transmission, which is widespread in Melbourne, finding its way into many facilities and in particular it has found its way into the aged care workforce,' Mr Morrison said.
The Federal and Victorian governments have now launched the Victorian Aged Care Response Centre to manage the pandemic across RACFs. The Australian Defence Force (ADF) has also been called in, with ADF nurses taking on shifts in facilities where staff have been forced into self-isolation.
Consultant pharmacist Neil Petrie MPS told Australian Pharmacist last week he had seen a decline in the Residential Medication Management Reviews he conducts in aged care homes since the second wave of the virus.
Pharmacies to distribute masks to vulnerable Victorians
With new restrictions requiring residents in Melbourne and the Mitchell Shire to wear a face mask when leaving home, the Victorian Government will distribute 2.1 million reusable face masks to vulnerable people within the state.
Victorians who meet the eligibility criteria – such as those with chronic conditions, people living with disability and people living in public housing or who are homeless  – can collect masks from a number of local government and community health services, including community pharmacies. 
PSA Victoria Branch President John Jackson welcomed the announcement, which he said made sense as community pharmacists were the most accessible healthcare professionals.
'Pharmacists can make a judgement themselves on the resourcing they have available to participate,' he said.
'It is important that people with symptoms of COVID-19 do not present to the pharmacy to collect a mask and that they send someone else to do so.'
Following feedback from members, PSA has called on the Victorian government to ask the public not to enter a community pharmacy while displaying any symptoms of the virus or while waiting on results from a COVID-19 test.
This comes after Premier Daniel Andrews reported 90 per cent of people did not self-isolate between showing symptoms and getting tested, and 53 percent did not self-isolate while awaiting test results. 
Mr Jackson said it was critical those who are in isolation do not present at a pharmacy. Pharmacists are encouraged to discuss contactless services – such as home delivery – for those who require essential medicines. 
'Our members have told us that people who are self-isolated are confused as to whether they are to go to a pharmacy to access health care,' he said.
'To stop community transmission and to protect the health of pharmacists and pharmacy staff, if members of the community have been tested or are in self-isolation – do not go out into the public.'