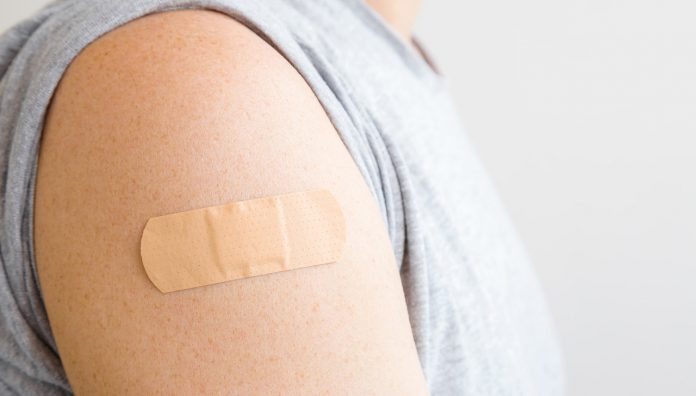 The COVID-19 pandemic makes it more important than ever for Australians to access influenza vaccinations and pharmacist immunisers are ready to help protect the community.
Key points:
Vaccinations could help avoid a 'double whammy' of COVID-19 and influenza
Pharmacist immunisers can reduce risks for patients and themselves
Vulnerable patients should be referred to GPs for vaccinations
Pharmacists can find more information on COVID-19 and vaccinations here
In a webinar hosted by PSA last week, PSA National President Associate Professor Chris Freeman and RACGP Chair Associate Professor Charlotte Hespe discussed how to reduce the risks for both pharmacists and patients when providing influenza vaccinations this year. 
'The whole point of "flattening the curve" is so the health system can cope with increased demand,' A/Prof Hespe said.
'We don't want to, by preventing flu, present any risk of transmission of COVID-19.'
Taking precautions
A/Prof Hespe said some GPs were currently seeing patients and not using personal protective equipment (PPE) – generally when they can avoid physical contact.
'Most GPs are ramping that up so any physical contact with a patient does require them to be using PPE,' she said.
'As a pharmacist you need to decide whether you regard all vaccinations in that category or whether you feel comfortable giving a vaccination in the same way you normally would.'
A/Prof Freeman said he had seen pharmacies implement changes that include cordoning-off areas to separate people entering the pharmacy for vaccinations.
'Pharmacists are also using IT very well,' he said.
'For example, using an online booking system … [that provides] pre-screening questions such as whether you are unwell or have any symptoms of COVID-19. And telling people not to present at the pharmacy if that is the case.' 
Other ways pharmacists can reduce the risks to themselves and patients while performing vaccinations include:
Thorough hand washing and/or using hand sanitiser between patients

Changing gloves, if wearing them, between patients

Sitting to the side of a patient rather than directly in front

Minimising time spent in the room, while maintaining a good clinical standard

Ensuring patients have a safe place to wait during their 15-minute observation period after receiving a vaccination.
Vulnerable patients
A/Prof Hespe recommended pharmacists refer patients who are particularly vulnerable to COVID-19 infection – such as Aboriginal and Torres Strait Islander people, those with asthma and other respiratory conditions and elderly and frail people –  to a GP for vaccination. 
'I don't think it's easy to provide a setting [in a community pharmacy] where you can guarantee there is no risk for them to be exposed to COVID-19,' she said.
'This isn't your fault – it's the nature of having a shop with people coming and going.
'This year we are saying to GPs they must give vulnerable patients vaccinations in a completely clean environment. In other words, a clinic setting that is completely washed down, disinfected and has no access for other patients.'
A time for collaboration
In jurisdictions that don't require pharmacist immunisers to only perform vaccinations in a community pharmacy, A/Prof Freeman said pharmacists could partner with GPs to perform vaccinations and help protect as many Australians as possible. 
'For example, pharmacists could provide non-NIP [National Immunisation Program] vaccinations in collaboration with GPs,' he said. 
There is also an opportunity for pharmacists to perform vaccinations that would usually be done in a workplace, A/Prof Hespe said.
'There won't be mass vaccinations on-site this year, but there will still be large numbers of employees and bosses who will fund it – maybe that's an opportunity to go looking for.'
Both acknowledged the importance of the professions working together to provide critical services.
'As pharmacists and GPs we are in a prime position to make a huge difference to our communities during this pandemic,' A/Prof Hespe said.
'Our role to educate them, decrease anxiety and make sure everyone is doing the right thing so we can get through this with as few deaths as possible.' 
For more information, watch the COVID-19: Your Immunisation Questions Answered webinar.