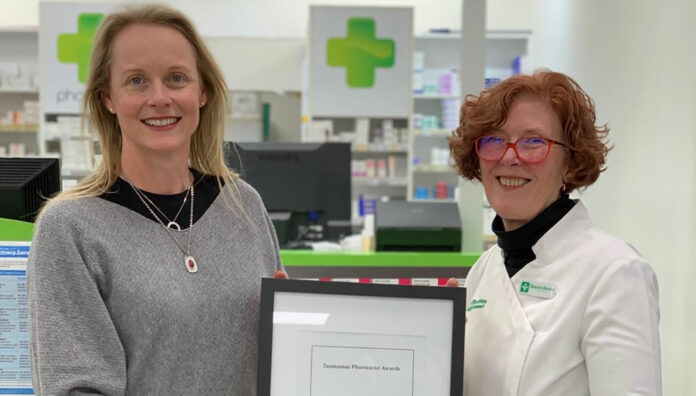 Community pharmacist Dianne Brown MPS has helped many patients achieve better health outcomes during her four-decade career. The secret? Building strong relationships and a desire to help. 
Ms Brown, who recently received the Lifetime Achievement Award at the Tasmanian Pharmacist Awards, said forming connections had been the highlight of her 42 years in pharmacy.
'Building that relationship of trust and knowing patients well enough to know when things are wrong have been the main things I have enjoyed,' said Ms Brown, owner of TerryWhite Chemmart Ravenswood in Launceston.
'We had a gentleman in a few weeks back who hadn't been feeling very well and we sat him down and took his blood pressure. It was 200/120. 
'He's now on medication and very grateful.
'We were also recently able to help two long-term customers to get a dose administration aid … It's about knowing your customers, knowing how to approach them and sometimes trying different things.'
Changing times
Ms Brown, now 65, said it was a very different work environment when she began her pharmacy career. 
'We were writing in prescription books,' she told Australian Pharmacist.
'Having everything on the computer has been a huge step forward. 
'It has also brought with it a whole slew of information – continuing education and health apps, for example.'
Technology has impacted pharmacy in other ways, she said.
'I remember using huge glucometers to test customers' glucose levels,' Ms Brown said. 
'Now we use tiny ones and we can offer people cholesterol testing, vaccinations, health checks and pharmacist-prescribed medicines too.' 
While the positives of progress are many, Ms Brown said everyone has become busier.
'Way back when you rang a surgery to talk to a doctor, you could get an answer within 30 seconds,' she said. 
'Now it's almost impossible to speak to a GP.'
A challenging year
As with many pharmacists, COVID-19 has made this year the most challenging of Ms Brown's pharmacy career.
'Many people were not sure what they were supposed to be doing – seeing the doctor, calling the doctor, turning up at surgery – and that was complicated by prescriptions being faxed and the quick introduction of e-scripts,' she said. 
'The real battle was just keeping up with paperwork and marrying everything up.'
Her hope for the future is for a more integrated health system.
'It is so fragmented and people get confused about who they are supposed to see,' she said.
'There doesn't seem to be a clear path, especially for people with a definite illness.
'Pharmacy could play a big part in that. 
'There needs to be someone on the ground who can have a conversation with patients in a non-threatening environment.'
Ms Brown currently works 50 hours a week and, while she has no plans to retire, would like to spend more time outside the pharmacy.
'I'd like to walk more with friends, cook, read and travel – I'm seeing quite a bit of Tasmania.'
Ms Brown was presented with her Lifetime Achievement Award by the Tasmanian Minister for Health Sarah Courtney. Ilwoo Park claimed the Early Career Pharmacist of the Year Award, presented by PSA Tasmania Branch President Dr Ella van Tienen.