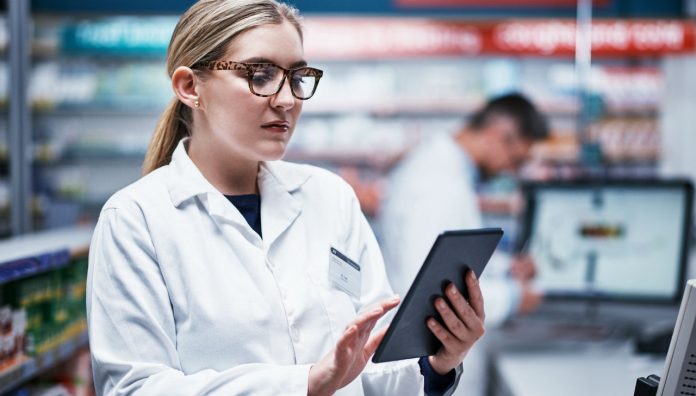 Pharmacists should be actively contributing to patients' My Health Record (MHR) in order to unlock the full potential of digital transformation, said Dr Kenneth Lee, a Clinical Reference Lead, pharmacist and Digital Health Leader for the Australian Digital Health Agency (ADHA).
'Signing up to the system is an important first step. However, patient records are only as useful as the information contained within them,' said Dr Lee, who is also a senior lecturer in pharmacy practice at the University of Western Australia's Faculty of Health and Medical Sciences.
'While the majority of pharmacies have registered to access the MHR system, only about half of these pharmacies are actively contributing information to the system.'
PSA's Pharmacists in 2023 report emphasises the importance of empowering pharmacists to be responsible and accountable for medicines safety (action item 1). This can be achieved in part through embracing digital transformation (action item 11).
Dr Lee said digitally transformed pharmacies that are synced up to MHR will see far-reaching rewards.
'They will be able to reap the benefits of a rich repository of clinical information by enabling their pharmacists to use the system to make well-informed clinical decisions,' he said.
MHR will give pharmacists the ability to see medicines that have been dispensed; fuller histories will help reduce errors from decisions made in silos and improve shared health summaries. However, the record cannot be assumed to be a complete and accurate record of a patient's health information.
'In turn, we as a profession could play a greater role in reducing preventable hospital admissions – improving quality of life and fulfilling our mandate as custodians of the quality use of medicines.'
But that's just the beginning, Dr Lee suggested.
'Over time, with a greater demand for more active contributions to the MHR system by pharmacists, pressure can be exerted on software vendors to enable pharmacists to contribute to a patient's MHR,' he said.
Dr Lee said that an ideally transformed pharmacy in terms of MHR should have the following:
patient privacy and data security policies and procedures in line with legislative requirements

pharmacists that actively contribute to and make clinical use of the system

regular training to ensure all staff are aware of the requirements around data security, patient privacy, and (for pharmacists) clinical utility.
For those making the transition to MHR, resources are widely available.
PSA has published MHR Guidelines for Pharmacists, Accessing MHR via Conformant Software, Accessing My Health Record via the National Provider Portal,  Information Security Guide for small healthcare businesses and Frequently Asked Questions booklet, and offers various training modules including: overcoming barriers to MHR implementation in pharmacy, MHR for accredited pharmacists and Digital Health modules.
'PSA, the Pharmacy Guild, and the ADHA have online training resources that range from videos and computer simulations demonstrating various aspects of the system, to more traditional topic presentations,' Dr Lee said.
'There are also face-to-face training sessions that are available throughout the year, and pharmacists can contact their local PHNs (Primary Health Networks) for additional support.'
Dr Lee said the full benefits of the system will be realised in coming years.
'Over time, more information will populate, to the point that the MHR system will become an invaluable additional source of clinical information. However, the system should not replace communication with patients and other healthcare professionals.'
'As many pharmacists and pharmacies currently operate in a relative information vacuum, the gap in quality of care provided between status quo and digitally-transformed pharmacies will widen over time, leading to greater divides between quality healthcare delivery.'
Dr Lee said pharmacies must 'move with the times' in order to ensure 'equity in healthcare delivery'.
'We simply cannot provide the best possible patient care when our clinical decision-making is based on limited clinical information,' he said.
'Even something as fundamental as the indication of a prescribed medicine is often not readily available to pharmacies who are not synced up to the MHR system; access to a patient's MHR will allow us to see this information, and so much more.'