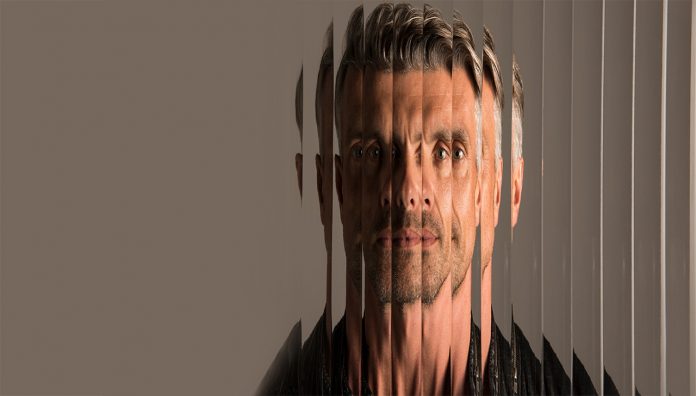 Pharmacists are the most approachable of all health professionals. This means they have a powerful role to play in addressing community mental health challenges.
Dr Claire Kelly was in her late teens when a pharmacist at her university campus asked a simple but powerful question.
'The pharmacist took me aside and said "I've been filling your [antidepressant] scripts for a while but I'm not seeing a lot of improvement, do you want to talk about it?"' she recalled.
'I was floored. I thought that being able to get out of bed – even if I couldn't feel anything – was about as good as it could get.' The subsequent discussion with her pharmacist empowered her to seek better treatment.
'With a mental illness like depression – where it's so difficult to get by day-to-day and you often feel like you're in a fog – the thought that anybody is paying attention enough to say something to you about it is quite extraordinary,' she said.
Today Dr Kelly is the Director of Research and Curriculum at Mental Health First Aid International (MHFA) – an organisation that has trained more than 3 million people worldwide.
The need for better care
Almost half of all Australians (45%) will experience one or more episodes of mental ill-health during their lifetime1 and one in five Australians has experienced a common mental disorder in the past 12 months.2
The University of Sydney Pharmacy School's Dr Claire O'Reilly FPS says only 35% of Australians are seeking any professional help for their mental health concerns.
'This highlights an important opportunity for pharmacists to intervene when they recognise potential signs and symptoms of mental ill-health and refer on appropriately,' she says.
In 2018-19 as many as 39 million mental health-related prescriptions were provided to more than four million Australians (17.1% of the total population).2
Of those prescriptions, the majority (62.7%) were subsidised by the Pharmaceutical Benefits Scheme and Repatriation Schedule of Pharmaceutical Benefits and antidepressants were the most common, making up 70.9% of all mental health-related prescriptions.2
Statistics like these have prompted the federal government to make mental health a key priority of its Long-Term National Health Plan3 unveiled last year.
The plan commits to the development of Vision 2030 for Mental Health and Suicide Prevention, which will be 'a blueprint for mental health in Australia which outlines the goals and objectives for mental health and the systems or services which may meet these'.4
Productivity Commission inquiry
In the meantime, the Federal Government Productivity Commission has been conducting an inquiry into the state of the nation's mental health, with a view to helping deliver a system that meets current and future needs.
The commission's draft report was handed down in October 2019 and revealed that mental ill-health and suicide cost Australia up to $180 billion per year.5
'Mental ill-health has huge impacts on people, communities and our economy but mental health is treated as an add-on to the physical health system. This has to change,' Productivity Commission chair Michael Brennan said at the time.
The draft report recommended five reform focuses but the Pharmaceutical Society of Australia (PSA) was disappointed to note that it did not address medicine efficacy and safety.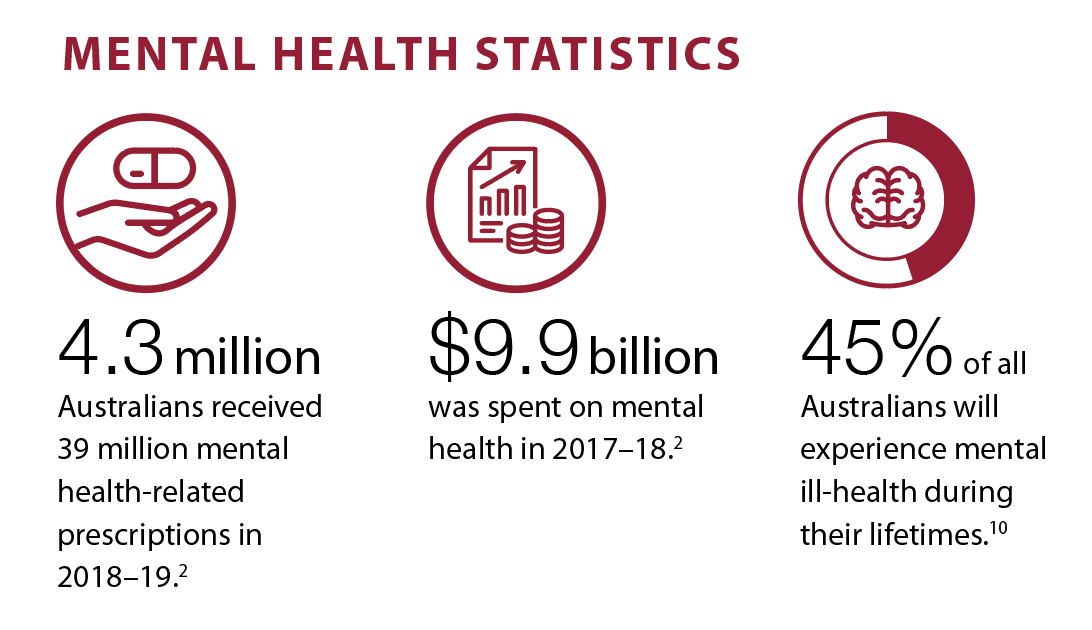 PSA National President Associate Professor Chris Freeman hoped the final report (due 23 May) would recommend funding to allow for an expanded role for pharmacists in mental health.
'Medicines are a major treatment modality in most mental illnesses so it is disappointing the draft Productivity Commission report failed to question how we can improve medicine efficacy and safety,' A/Prof Freeman said.
'Utilising the medicine expertise of pharmacists in the multidisciplinary care team, tailoring medicine therapies and reviewing patient's medicine management can positively impact adherence, effectiveness of medicines prescribed and safe use of medicines.'
Pharmacists' role
Capital Chemist Wanniassa's Elise Apolloni MPS said pharmacists may already have a bigger opportunity to improve Australians' mental health than they realised.
'We are trained to communicate effectively, counsel patients, provide advice and education and refer if needed. That is universal to any interaction we have in our primary health care role.'

But Ms Apolloni said pharmacists needed to remember to put that training to use in the context of mental health.
'In any year, one in five Australians experience a mental health condition but only one in three seek help,' said Ms Apolloni, a mental health first aid trainer who has trained about 200 pharmacists and pharmacy assistants.
'Pharmacists – being at the health care front line – are the most likely touch point with the health system if someone is suffering. We need to make that contact count each and every time.'
PSA NSW President Professor Peter Carroll added that pharmacists were a particularly important mental health support in rural and regional settings.
'It's important everywhere, but in rural and regional areas it is often much more difficult for people to gain quick access to a general practitioner or other medical services, because there simply aren't as many health professionals as there are in the city,' he said.
'Compounded on that has been bushfires, drought and floods in rural communities in recent times – and we know that these kinds of tremendous pressures can lead to or exacerbate mental illness.'
Mental Health First Aid
Helping improve mental health often starts with a conversation like the one the on-campus pharmacist had with Dr Kelly.
But raising the topic of mental health can be daunting admitted Leigh Moore, who has worked as a community pharmacist in most major regional centres in the Northern Territory.
'I was always sad to see how stigma around mental illness would prevent people getting the help that they needed – people bringing in a prescription for antidepressants and crying because they didn't want their partner to find out, or feeling like they're a failure if they accept that help,' she said. So when the opportunity to do a Mental Health First Aid course came up Ms Moore took it.
'I found the training a really useful framework for basing interactions around and improving my knowledge about the services available,' said Ms Moore who is now a MHFA instructor herself.
'It gave me a lot more confidence that I was doing the best I could for the people that I came across at work. But it also helped me to understand my limitations and not feel like I had to fix everything for everybody.'
MHFA Australia's Dr Kelly said the training was not about diagnosis or providing therapy, but 'recognising the cluster of symptoms that suggest that there could be a problem and starting a supportive and kind conversation with someone who might be in need of help'.
'Listening and communicating nonjudgmentally is really the cornerstone. Mental health first aid is the help that's given to a person who's developing a mental health problem, experiencing a worsening of an existing mental health problem, or who is in a mental health related crisis.'
Medicine safety
Improving medicine safety is another key role for pharmacists, with four million Australians receiving, on average, nine mental health-related prescriptions each year.2
Pharmacists' Support Service Executive Officer Kay Dunkley MPS said medicine safety was a very important consideration for people who were experiencing mental ill-health for a number of reasons. 'They may be at increased risk of taking an overdose, either intentionally or by misunderstanding how to take their medication,' she said.
'Some of these mental health-related medicines have a higher risk of toxicity when taken in overdose, or have side effects which can impair judgement and decision making. 'Many medicines used to treat mental health conditions can cause increased sedation and this can create risks in relation to driving or operating machinery.'
Medicine safety is another topic that's under the national spotlight at the moment, after Health Minister Greg Hunt announced in November 2019 that Medicine Safety and the Quality Use of Medicines (QUM) would be the 10th National Health Priority Area. Later that month a review of the National Medicines Policy was announced.
Self-poisoning with medicines is common in suicide attempts, either with prescription or over-the-counter medicines. Pharmacists are gatekeepers to the supply of many of these medicines. Hence, pharmacists are well placed to respond when presented with someone expressing signs of, or who is at risk of suicidality.
Community pharmacist and Tasmania-based mental health first aid instructor Mandy Cooper said there were many strategies pharmacists in all settings could use to improve medicine safety.
'It's about using Medschecks and offering HMRs and really listening to your patients. Staged supply is a really good program – providing tablets daily, or every couple of days, to make sure they patient is not going to overdose on medicines,' said Ms Cooper, who owned pharmacies in Wagga Wagga for 17 years.
She added that her mental health first aid training had been incredibly useful for Home Medicines Reviews (HMRs). 'I use my Mental Health First Aid training every single time I do a HMR,' she said.
In fact, research has shown that HMRs typically identify four mental health medicine-related problems per patient.6
Innovative interventions
While pharmacists take informal steps to improve mental health every day, some have developed more formal approaches.
Pharmafriend
In Canberra, Capital Chemist Wanniassa pharmacist Kayla Lee MPS has introduced a mental health program called Pharmafriend, which is aimed at boosting medicine compliance and improving access to therapies.
'The program ensures follow up and individual consultations with mental health patients starting on new medicines. In these individual consultations we check in with the patient (in person or over the phone sometimes), and provide information about other ways they can help their mental health – all evidence based of course,' Ms Lee said.
'The aim is to improve compliance for mental health medicines, which in turn improves outcomes and reduces the risk of relapse. 'We have had lots of positive outcomes and feedback from the program, and all of them essentially boil down to empowering the patient with information to make informed decisions regarding their mental health.'
On-site counselling, social work
At Pharmacy 777 Nollamara in Perth's north an onsite counsellor and social worker, Natalie Elphick, is available three days a week.
The pharmacy manager and owner, Somayyeh Atagazli, said the service complemented pharmacists' roles – pharmacists regularly referred patients when they presented with a new script, or when they were being titrated off medicine. 'We actually renovated the whole pharmacy to enable us to focus on mental health – we built a private consulting room for Natalie where patients can directly come and see her. That's helped a lot of our patients transform massively,' Ms Atagazli said.
Ms Atagazli said that Ms Elphick was employed by the pharmacy and had tailored her services to community needs.
'Natalie provides bulk-billed pregnancy counselling and sessions for mums who have gone through the loss of a baby. And we also have quite a big elderly community – so Natalie provides adjustment to retirement and grief counselling.'
NSW funding mental health training
Meanwhile, the New South Wales the state government has committed $1 million to train pharmacists in regional areas to identify and assist patients with mental health issues.
The funding was announced in October 2019 and PSA NSW's Professor Carroll said planning to implement it was underway.
'I think the government feels that there is great potential for pharmacists, right at the early stages, to identify people who would not otherwise be identified, and support them,' he said.
'They're not going to become psychologists or diagnosticians but they will be trained to triage people and recognise those who may become more depressed or have other mental health issues.'
Next steps
Community pharmacists have increasingly supported public health campaigns related to mental health, such as participating in R U OK? Day (suicide prevention), Movember (mens' health and suicide prevention) or beyond blue's Anxiety and Depression Awareness Month.
In many cases in-pharmacy displays, messaging and events (such as fundraising morning teas) have helped raise community awareness of the prevalence of mental health conditions and increased community knowledge of how to access support to people who may need it. And despite onerous initiation and monitoring regimens, some community pharmacies have embraced clozapine and clopine dispensing, helping hundreds living with schizophrenia.7
The PSA will continue to lobby the Productivity Commission inquiry into mental health with its five key recommendations to:
Develop and implement regular reviews of medicines for people with mental ill-health.
Implement pharmacogenomic testing in primary care, supported by the expertise of pharmacists, to personalise medicine therapies.
Integrate pharmacists in suicide prevention strategies and support pharmacists in the triage role they play.
Support pharmacists to provide early identification, triage and support for people with mental ill-health.
Ensure pharmacists have the required expertise, such as Mental Health First Aid.8
In the meantime, pharmacists could take matters into their own hands, said Ms Apolloni. 'More and more, Australian pharmacists are choosing to undertake Mental Health First Aid training, suicide prevention training and even study postgraduate courses related to this area,' she said.
'Pharmacists are regularly coming into contact with people at risk of suicide, yet often report feeling uncomfortable with the way they handled these interactions,'9 Dr O'Reilly says.
'This highlights the need to better support pharmacists in identifying and responding to people at risk of suicide in their communities.'
Tools and resources
Mental Health First Aid Training
www.mhfa.com.au
03 9079 0200
MHFA has instructors all around the country and offers a standard 12-hour course with resources specifically tailored to pharmacies. MHFA also has a 'blended pharmacy' course combining eLearning and a follow-up four-hour face-to-face session for pharmacists and front line pharmacy staff.
Pharmacists' Support Service
www.supportforpharmacists.org.au
1300 244 910
The Pharmacists' Support Service is available to all members of the pharmacy profession – from student to pharmacist – and pharmacists can seek anonymous and confidential support about their own mental health or debrief when needed after assisting a member of the community with mental health issues.
Lifeline Australia
www.lifeline.org.au
13 11 14
beyondblue
www.beyondblue.org.au
1300 22 4636
References
Australian Bureau of Statistics. National Survey of Mental Health and Wellbeing: Summary of Results. 2009. At: www1.health.gov.au/internet/publications/publishing.nsf/Content/mental-pubs-m-mhaust2-toc~mental-pubs-m-mhaust2-hig~mental-pubs-m-mhaust2-hig-pre#fig1
Australian Institute of Health and Welfare. Mental health services in Australia. 2020. At: www.aihw.gov.au/reports/mental-health-services/mental-health-services-in-australia/report-contents/mental-health-related-prescriptions
Australian Government Department of Health. Australia's Long Term Health Plan. 2019. At: www.health.gov.au/resources/publications/australias-long-term-national-health-plan
Australian Government National Mental Health Commission. Connections: Vision 2030. 2019. At: www.mentalhealthcommission.gov.au/Mental-health-Reform/Connections
Australian Government Productivity Commission. Mental Health Draft report. 2019. At: www.pc.gov.au/inquiries/current/mental-health/draft
Pharmaceutical Society of Australia 2019. Medicine Safety: Take Care. Canberra: PSA.
Hoey J. Clozapine dispensing in a mental health pharmacy practice. Australian Pharmacist 2020;39(1):76–79.
Productivity Commission Report on Mental Health. PSA Submission. 2019. At: https://my.psa.org.au/s/article/Productivity-Commission-Mental-Health-Interim-Report
Murphy AL, O'Reilly CL, Ataya R et al. Survey of Australian and Canadian Community Pharmacists' Experiences With Patients at Risk of Suicide. Psychiatr Serv. 2019.