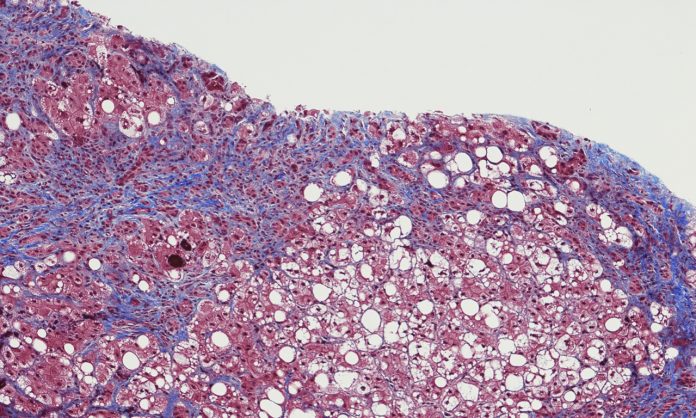 The introduction of direct-acting antivirals therapies for hepatitis C in 2016 has contributed to a 20% decline in deaths attributed to the disease, but a drop in the number of people accessing the cure has public health authorities worried.
This week, Professor Greg Dore from the Kirby Institute presented new data reflecting the impact of new hepatitis C treatments on liver-related mortality.
'The data … directly relates to the estimated 70% of people with hepatitis C related-liver damage that have started treatment since 2016, so we can expect to see further reductions in mortality,' he said.
'But, more broadly, only 30% of people living with hepatitis C in Australia have been treated, so we need to continue to raise awareness about these life-saving treatments.'
Hepatitis Australia CEO Helen Tyrell said although 60,000 Australians had been cured since new generation antivirals were added to the PBS in 2016, more than 170,000 Australians are still living with the virus.
Fewer people accessed new cures in recent months, she said, suggesting that many people remain unaware of the benefits of new cures.
'It is a tragedy that hundreds of thousands of Australians are missing out on life-saving therapies which can cure hepatitis C in a matter of weeks, with few side effects, when these cures are readily available with a prescription from GPs,' Ms Tyrrell said.
'The new investment will support the roll-out of a hepatitis C Test, Cure, Live campaign to  encourage people with risk factors to be tested or to come forward, if they know they are living with the virus, rather than delay commencing treatment.
'People may be feeling well even if their liver is progressively being damaged. Early treatment supports people to live longer, healthier lives, free from the worry of hepatitis C.'
The Federal Government has committed $1 million to boosting community awareness of hepatitis C treatments, which Hepatitis Australia will use to support the roll-out of the Test, Cure, Live campaign.
Meanwhile, on August 1 a new treatment for the virus was added to the PBS. Maviret is a pan-genotypic, ribavirin-free treatment that combines glecaprevir (100 mg), an NS3/4A protease inhibitor, and pibrentasvir (40 mg), an NS5A inhibitor. It is dosed once-daily as 3 oral tablets, for 8 weeks. The PBS listing is for adult treatment-naive non-cirrhotic chronic hepatitis C patients.
Capital Chemist Group Business Manager Andrew Topp said community pharmacists often have direct contact with people who may be unaware they have hepatitis C or that treatments are available.
'Pharmacist conversations with at-risk groups, such as those who have a history of injecting drugs, can provide an important bridge that leads to the diagnosis and successful treatment of hepatitis C,' he said.
'By understanding the latest treatments available, pharmacists can encourage people living with and/or at risk of contracting hepatitis C to seek advice from GPs and specialists, as appropriate.
'In 30 years as a pharmacist, the recent advances in hepatitis C treatment count as some of the most amazing advances in treatment I have witnessed. This can be life-changing therapy for patients with hepatitis C and it is a privilege to be involved in the cure process.'
In new data analysis presented at the Australasian Viral Hepatitis Conference in Adelaide this week, Dr Jennifer Iversen from the Kirby Institute said the proportion of people who inject drugs with hepatitis C who have initiated treatment has increased dramatically over the past two years, from 10% to 41%.

'This, combined with the reductions in prevalence of active hepatitis C infection, tells us that people who inject drugs are not only taking up hepatitis C treatment, but that they are also seeing their treatment through, and being cured of hepatitis C,' Dr Iversen said.
'This is life-changing news for the individuals who've been cured of hepatitis C, but it has important population-level impacts, because when there are fewer people with hepatitis C infection, there is a decreased risk of transmission occurring.'