At the first face-to-face International Pharmaceutical Federation (FIP) World Congress in 3 years, Australian pharmacists demonstrated their commitment to the profession and improving global health.
Opening the Congress, held in Seville from 18–22 September, FIP president Dominique Jordan said the COVID-19 pandemic proved that 'pharmacists and pharmacies are integral to a well-functioning healthcare system'.
While the profession increased its scope at an 'unprecedented rate', pharmacists need to be better utilised to address healthcare challenges compounded by the pandemic.
'If universal health coverage is to become a reality, growth in the provision and use of essential health services through pharmacy must accelerate further,' he said.
Here are some of the ways Australian pharmacists are striving to advance the profession.
Aussie's take on the 80th World Pharmacy Congress in Seville! 💥 Representing @PSA_National with @DrFeiSim #FIP2022 pic.twitter.com/Ejfaj29PoU

— Sarah Dineen-Griffin, PhD (@sarahdgriffin) September 19, 2022
New FIP President promises bright pharmacy future
Community pharmacist and PSA member Paul Sinclair AM was elected as the first Australian president in FIP's 110-year history, with his 4-year term beginning in September 2023.
Mr Sinclair was nominated for the role by PSA, which he acknowledged in his election speech as the peak body for the Australian pharmacy profession.
'I am both excited and humbled to be elected president of FIP and to be the first Australian president reinforces the global reach and importance of our federation,' he said. 
FIP Council elects the federation's first president from Australia: community #pharmacist Paul Sinclair pic.twitter.com/xgMKKE1uwO

— FIP (@FIP_org) September 17, 2022
Mr Sinclair has served FIP since 2014 and has held several official positions with the Pharmacy Council of New South Wales and the Australian Association of Consultant Pharmacy.
Acknowledging the challenges of COVID-19, Mr Sinclair said he helped to adapt FIP's business and practice models to ensure the federation weathered the pandemic storm.
'I see the challenge ahead as building on our successes over the past 2 years to make FIP an even stronger and a more member-facing organisation,' he said.
Looking forward, he promised to advocate for pharmacy 'in all its forms', and to further advance the profession worldwide.
'Our smallest member organisation will always be an important cog in the wheel that drives FIP forward,' he said.
Australians win FIP awards
Each year, the FIP awards recognise those who have made significant contributions to pharmacy practice, pharmaceutical sciences and pharmaceutical education to improve global health.
In 2022, Australian pharmacists clinched two of 12 awards presented at the FIP World Congress.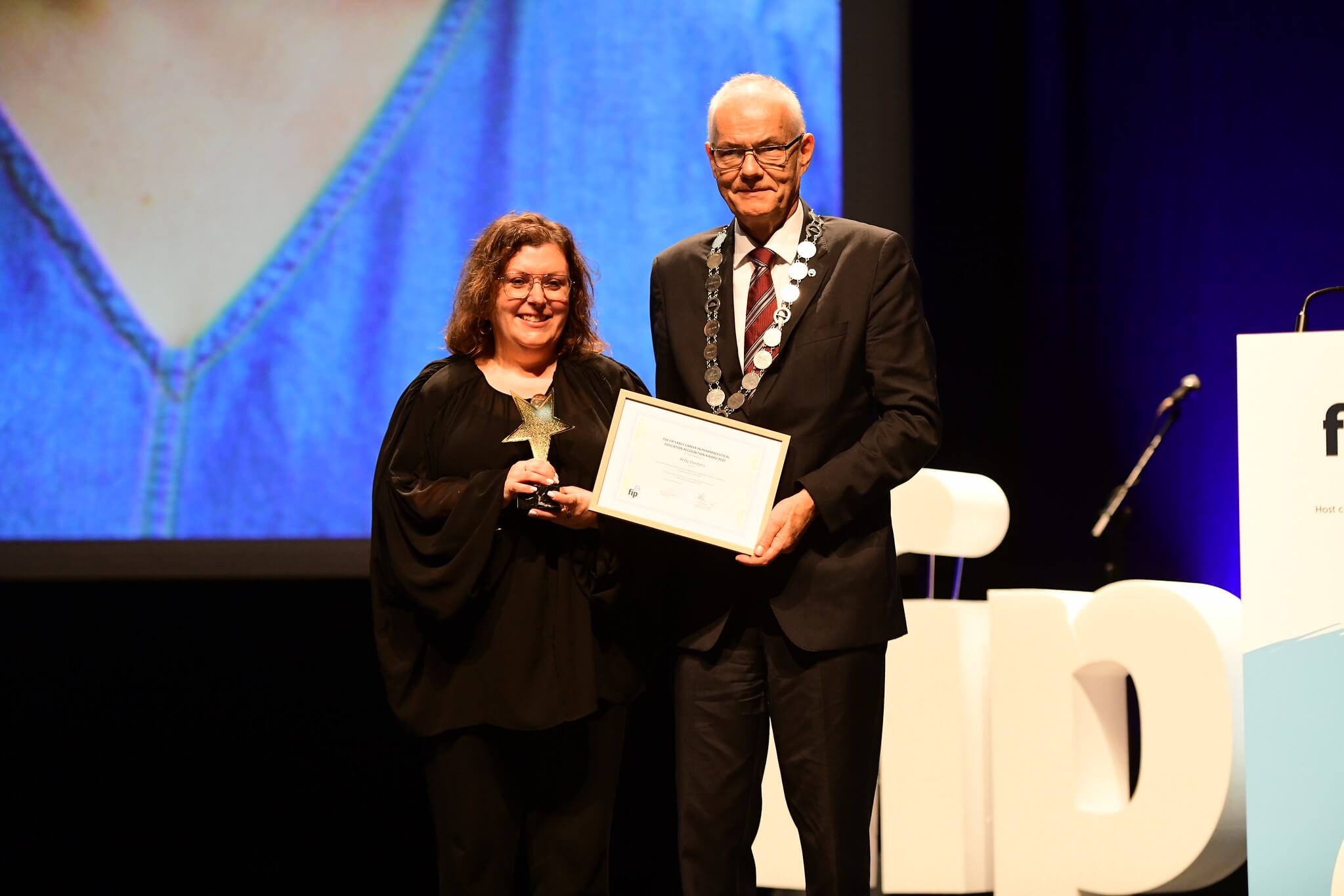 Among them was Monash University's Dr Betty Exintaris, who was acknowledged for her commitment to pharmacy education by winning the prestigious FIP Pharmaceutical Education Recognition Award (early career).
University of Sydney Senior Lecturer in Pharmacy Practice Dr Carl Schneider received a FIP Fellowship among nine other pharmacists.
Lessons on approaching a pandemic
In a session on 'Defining the role of pharmacists in future public health emergencies', PSA National President Dr Fei Sim outlined Australia's unique approach to the pandemic.
Advising attendees to 'never waste a good crisis', Dr Sim explained how Australia's COVID-19 strategy relied heavily on pharmacists, who administered over 8.6 million COVID-19 vaccine doses. 
During the pandemic, pharmacists were able to vaccinate in more locations and were able to immunise children aged 5 and up against COVID-19 and influenza.
'We all know pharmacists have played a huge role in the COVID-19 vaccination rollout and this has only proven how valuable pharmacists are to the community and the health system,' Dr Sim said.
When free 'funded' influenza vaccines became available during a challenging winter season, pharmacists administered 2.6 million doses, an increase of over 140% from previous years, Dr Sim said.
Dr Fei Sim presenting on our Australian experience during COVID at FIP 2022. Great to share strategies across countries, so many commonalities. #FIP2022 @UQPharmacy pic.twitter.com/55PHxXRZUE

— Sarah R-T (@rtsarahj) September 20, 2022
Other crucial COVID-19 initiatives spearheaded by pharmacists included providing funded or supervised rapid antigen tests, medicine substitution, continued dispensing, funded deliveries and telehealth medication reviews.
Despite these triumphs, there is still a way to go in terms of remuneration and practising to the top of scope.
Dr Sim outlined PSA's advocacy work in this space, including a campaign to introduce a Medicare Benefits Schedule payment to pharmacists for administering National Immunisation Program (NIP) vaccines.
'COVID-19 has demonstrated pharmacists [are] skilled vaccinators, yet when it comes to payment, pharmacists are treated as second-tier,' she said.
'As COVID-19 becomes normalised into regular care, we need a sustainable and fair payment system for pharmacist vaccination – wherever it occurs. 
'And while we are at it – the financial penalty patients currently face for choosing a pharmacist vaccinator for other NIP vaccines needs to be removed too.'
Leading the charge in health literacy
Meanwhile, University of Sydney Professor of Medicines Use Optimisation Parisa Aslani FPS, led a session on empowering pharmacy-based self-care with health literacy, with a focus on over-the-counter (OTC) medicines.
'You can't just improve health literacy by increasing knowledge,' said Prof Aslani, who is also Vice President of FIP and part of the federation's Australian-led working team. 'It's more than just reading and understanding leaflets, [or] making appointments.'
In fact, poor health literacy becomes a silent risk factor in all health conditions, she said.
Without knowing how to seek the right information, health services can't be accessed as readily.
'People with poor health literacy don't know who they need to talk to or where to get the medicines they need,' Prof Aslani added.
Thank you. Great to be presenting in person. #FIPcongress #FIP2022 @Sydney_Uni @syd_health https://t.co/KJO60qnmaC

— Parisa Aslani (@ParisaAslani3) September 19, 2022
Interacting with healthcare professionals can also be challenging.
'[They] have difficulty figuring out the questions they need to ask … and they tend to be more passive in healthcare professional interactions,' she said. 
With 60% of Australians having poor health literacy, their ability to appropriately use OTC medicines is impaired.
'[That means] 60% of the population has difficulty going into a community pharmacy, identifying a box of paracetamol and being able to understand the instructions on the side of the box,' Prof Aslani said.
How pharmacists can help
There are several steps pharmacists can take to build health literacy, including improving communication and education.
'We have to take the patient-centred approach [and] think about … how we tailor communication to the needs of the patient and their level of health literacy,' Prof Aslani told the conference.
Educating patients is not just imparting information but providing it in a way that patients can understand and act on.
'This completely changes that dynamic of how pharmacists counsel,' she said.
'We don't just give information, we check their understanding, and make sure they know how to apply that information in their own self-care.'
Another thing to consider is how easy the information is to use.
'Is it something that people can look at easily, find the information and navigate?' she asked.
Importantly, pharmacists should keep testing to ensure the message is getting through.
'You might think as a pharmacist that your information is understandable. But give it to consumers to check or ask them to look for information in a document to see how they navigate it,' Prof Aslani said.
Pharmacists are in an ideal position to help improve health literacy, whether for individual patients coming into pharmacies, or through community and public health initiatives, such as improving the health literacy of students.
'That's where a lot of effort should go in,' she said. 'As literacy is improved, health literacy should be improved as well.'
Join in the action
The FIP Congress continues today and tomorrow (Thursday CET) and updates can be followed on Twitter with some live sessions available here.

On the last 2 days of the Congress, Australians John Jackson, Peter Guthrey and Dr Sarira El-Den will chair, speak and sit as panel members on sessions about enabling life-course immunisation through pharmacy-based vaccination, social media and pharmacists' roles in the infodemic and reinventing primary health care, reinventing pharmacy.
See you in Brisbane at the FIP World Congress 2023!