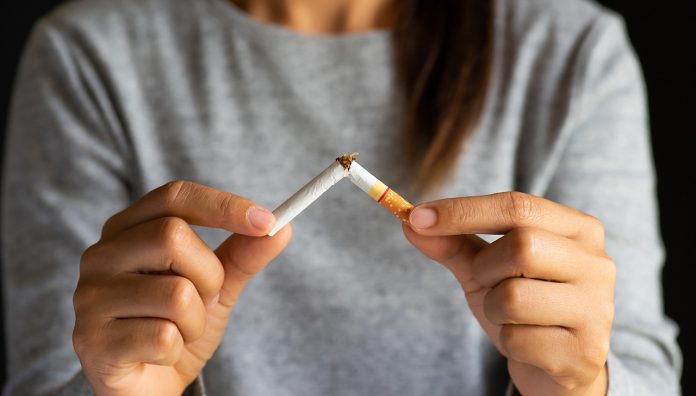 The number of Australians attempting to quit smoking has skyrocketed during the COVID-19 pandemic.
Key points:
Downloads of My Quitbuddy app up 310%. 

Evidence suggests people who smoke are at greater risk of COVID-19.
Pharmacists can provide evidence-based support for people looking to quit smoking.
Downloads of the federal government's My Quitbuddy app jumped 310% between January and May this year, according to Health Minister Greg Hunt
There is growing evidence to suggest that people who smoke are at greater risk from COVID-19. In a recent study of coronavirus patients in China, researchers found 'smokers were 1.4 times more likely to have severe symptoms of COVID-19 and about 2.4 times more likely to be admitted to an intensive care unit, need mechanical ventilation or die compared to non-smokers'.
While there is insufficient evidence to suggest people who smoke are at higher risk of contracting the coronavirus, strong evidence indicates smokers are more at risk of acute respiratory tract infections generally, including bronchitis and influenza.
Tobacco use is also 'a major cause of cardiovascular disease, at least 16 types of cancer, respiratory disease and type 2 diabetes, and COVID-19 patients with these health conditions have been observed to suffer worse outcomes', according to the Australian Health Protection Principal Committee.
Mr Hunt said it was encouraging that the My Quitbuddy app had been downloaded more than 24,000 times in the past five months.
'Irrespective of the relationship between smoking and COVID-19, quitting smoking at any age is beneficial to a person's health,' he said.
'There is no safe level of tobacco consumption.'
Smoking rates have declined significantly in Australia over the past two decades, from 22.3% of the population in 2001 to 13.8% in 2017.
Mr Hunt said the government wants to reduce this further, with an aim of achieving less than 10% by 2025 as part of its 10-year National Preventative Health Strategy.
As part of this, the government has committed $31.6 million over four years (from 2019–20) to reduce the prevalence of smoking. This includes $20 million to develop a new National Tobacco Campaign to encourage smokers to quit.
'The campaign will increase people's understanding of the benefits of quitting smoking, the health impacts of smoking, and promote the support tools available to help people quit,' Mr Hunt said.
Pharmacists and smoking cessation
Pharmacists have the knowledge and skills to help people quit smoking, by providing tailored advice about nicotine replacement therapy (NRT) and counselling patients on the correct use, optimising how effective the replacement therapy will be.
This is particularly important as a significant challenge of NRT is people rarely using enough nicotine to properly suppress cravings.
In a 2018 survey conducted by Quit Victoria and PSA's Victorian Branch, 90% of pharmacists said they had succeeded in their efforts to influence a person's smoking. However, just 10% reported that their advice was often sought by customers who wanted to quit.
Quit Victoria Director Dr Sarah White said it was important to increase the number of supportive conversations in pharmacies.
'Pharmacists are highly respected in the community and could play an even bigger role in helping smokers to quit,' she said.
'International research has shown there are good strategies for improving quitting conversations, such as displaying resources to trigger interested customers to inquire about quitting methods.'
Dr Jacinta Johnson MPS, a Lecturer in Pharmacy at the University of South Australia, said pharmacists could provide evidence-based support.
'There are lots of myths around quitting out there,' she said.
'As pharmacists, we can really add value to smoking cessation conversations because people know the information and advice we provide is reliable and can be trusted.'
Pharmacists can also direct customers to Quitline (13 78 48) for information and support from a trained counsellor.
Resources: