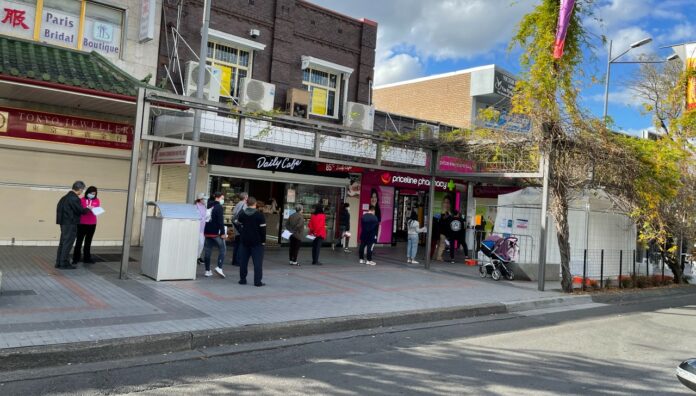 The first doses of Moderna's COVID-19 vaccine (Spikevax) will be delivered to 1,200 community pharmacies at the end of next week, with more pharmacies coming on board over the next 3 weeks, reaching 4,000 locations before the end of September. 
The Moderna vaccine has been hailed as the 'new weapon' for fighting COVID-19.
By year's end, there will be 10 million doses of the vaccine available in community pharmacies. The first shipment of the vaccine will contain 1 million doses, with a further 3 million arriving per month until the end of the year.
While patients will be able to choose a preferred vaccine, it is suggested that people over the age of 60 continue to receive the AstraZeneca vaccine. This will ensure Spikevax stock can be allocated to those who aren't eligible to receive the AstraZeneca vaccine, such as adolescents and children.
COVID-19 cases at a glance
Victoria recorded

221 cases today

. Over 60% of Victorians have had at least one dose of the COVID-19 vaccine.

NSW had

1,480 new cases, including 9 more deaths. Inner Sydney suburbs are now on alert after a rise in case numbers.

The Australian Capital Territory recorded

20 new cases

today, with at least 7 infectious in the community. 
Pharmacists won't only be administering the Moderna vaccine to patients in a community pharmacy setting. It is anticipated there will be vaccination programs run in high schools, Aboriginal and Torres Strait Islander communities and aged care facilities.
In preparation for the rollout, pharmacists are advised to complete the Moderna vaccine training now.
Current Spikevax regulations
Earlier this week, the Therapeutic Goods Administration (TGA) provisionally approved Spikevax for children aged 12–17, with the Australian Technical Advisory Group on Immunisation's advice on the administration of the vaccine to this age cohort expected soon. 
There are currently different minimum patient age regulations across the states and territories, however. While most have approved Spikevax for patients aged 12 and up, NSW, Queensland and Tasmania are not yet aligned to the national standard.
At present the minimum age for patients to receive the Moderna vaccine is 16 in Queensland and 18 in NSW. Tasmania has not yet listed Spikevax as an eligible vaccine. 
While welcoming the National COVID Vaccine Taskforce's confirmation that Spikevax will be available to children aged 12–17, PSA called on these states to immediately update their standards and regulations to ensure the rollout is not disrupted.
'With community pharmacists exclusively set to receive the first doses of Moderna around the country, it is crucial that they can administer the vaccine to individuals aged 12–17 years from day 1,' PSA National President Associate Professor Chris Freeman
'This is a race, and pharmacists, as one of our most accessible healthcare workforces, must continue to play a key role in vaccinating younger Australians.'
Pharmacists across all practice settings should be allowed to administer every TGA-approved vaccine, A/Prof Freeman added.
PSA's preferred approach to address this is to simply change approval to any COVID-19 vaccine administered consistent with TGA approval and ATAGI advice. PSA is working with state governments to achieve this.
Pharmacists prepare to deliver Moderna
When his Moderna stock arrives later this month, Cabramatta-based pharmacist Quinn On MPS expects more patients to come through the pharmacy to get vaccinated, after a recent lull due to Pfizer vaccine preferability.
'We're hoping [the vaccine] will come by the end of September, but maybe it will even come a bit earlier,' he said.
Dale Richardson MPS, who has been administering the AstraZeneca COVID-19 vaccine to patients in his Central Coast, NSW pharmacy for over a month, has been fielding several inquiries per day about the Moderna vaccine.
'As soon as NSW Health gets that update done, I [think] it's going to be quite busy,' he said.
'Most of the [calls] are from parents asking when they can get their kids [vaccinated].'