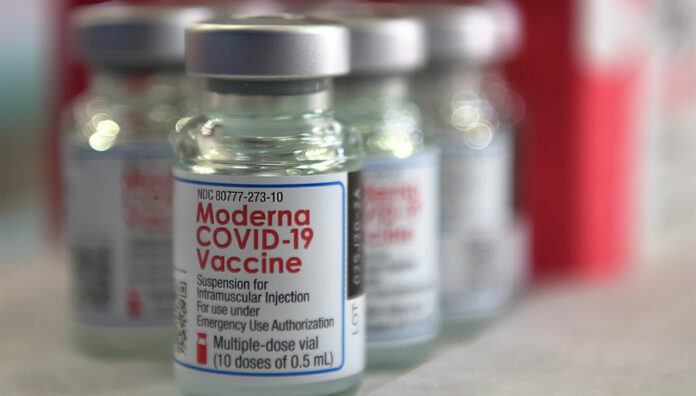 With state barriers now removed and extra stock on the way, the rollout of the Moderna vaccine is set to start with a bang.
Following news that the Australian Technical Advisory Group recommends the Moderna vaccine to everyone aged 12 years and over and that the nation is expecting an additional shipment of doses, PSA National President Associate Professor Chris Freeman said community pharmacies will be ready to administer the vaccine 'into arms from 20 September'.
Speaking on ABC Radio National Life Matters yesterday, A/Prof Freeman said: 'The first 1,800 community pharmacies across the country have been strategically picked based on their location and where they are in relation to a hotspot, but also based on the demand data driven from the uptake of other vaccines.'
National COVID-19 updates
A/Prof Freeman said a further 1,800 pharmacies will come online on 27 September, following the 'very good news' of an additional 1 million Moderna doses expected this month.
While areas with high vaccine demand have been targeted, A/Prof Freeman explained this is not at the exclusion of other areas where uptake has been lower.
'For example, we're making sure that in rural and regional areas there are points of presence from community pharmacies to be able to deliver that vaccine,' he said, 'acknowledging that it has been a bit more challenging for people in regional areas to try and get access to a vaccine of any type.'
Discussing the initial state and territory barriers to pharmacists being able to administer the Moderna vaccine to patients aged 12 and over, A/Prof Freeman said: 'The very good news is, having worked with each of those states and jurisdictions, we have now got pharmacists from a legislative point of view able to do that.'
'From next week, we will be ready to go, all pharmacists will be hands on deck, making sure the vaccines are there for people who need and want them,' he added.
Pharmacists are already reporting a surge in demand for COVID-19 vaccines as they brace for the Moderna rollout to commence.
Newcastle-based pharmacist Anthony Piggott, who is set to receive his Moderna stock within 2 weeks, said demand is already exceeding supply.
'I'll be getting 700 doses between my pharmacies, but my demand is much larger than that. It's probably more than 5,000 people at the moment,' Mr Piggott told the ABC this morning. 
Pharmacies in the first tranche of the Moderna vaccine rollout had until 14 September to place initial orders, with those who missed the first distribution opportunity likely having to wait another fortnight to receive stock.
Moderna vaccine readiness
Queensland-based pharmacist Melissa Acton MPS, based in Miles, 340 kilometres west of Brisbane, placed an order for 500 Moderna vaccines earlier this week.
With supply issues a challenge to obtain the Pfizer vaccine in Miles, Ms Acton predicts Moderna's availability will have a 'significant' impact on her community.
'From what I can see people are wanting to get the vaccine, it's just hard to get it,' she said. 
'So I think it will really aid in getting our percentage of the population vaccinated.'
To prepare for the arrival of her Moderna vaccine stock, Ms Acton has updated the pharmacy's policies and procedures. 
At this stage, they will continue administering the AstraZeneca vaccine 1 day per week, with most patients now coming in for their second dose. 
The pharmacy plans to scale up to a 5-day per week Moderna clinic, depending on demand.
A filing system for two separate streams of paperwork has been created, one for patients aged over 60 receiving AstraZeneca and another for the 12–59 aged patient cohort eligible for Moderna.
'[They have] all of the relevant screening questions and aftercare paperwork that are required, plus some of our admin information that the pharmacists need to do, such as rebooking second appointments,' she said. 
Vaccine preparation
In a letter to PSA members this week, A/Prof Freeman stressed the importance of mitigating the risks that come with offering multiple vaccines.
'All vaccine settings have experienced incidents where offering multiple vaccines has led to errors and near misses – including administration of a wrong vaccine,' he wrote.
'Ahead of commencing Moderna vaccination, community pharmacists should establish, test and refine systems to reduce risk of error. These include clear processes for reducing risk of error, including a recommendation from the Department of Health to "separate the administration of different vaccines by time or space".'
Tips to reduce risk and prepare for the Moderna vaccine
'Separate the administration of different vaccines by time or space' consistent with Department of Health guidance
Verbal checks are vital, use talkback techniques to triple-check you have the correct vaccine
Adopt strict labelling protocols, including the colour coding of syringe labels, to avoid potential confusion
Consider placing protocols for each vaccine on the wall where doses are drawn up. The Moderna and AstraZeneca vaccines have different expiry considerations
Ensure pierced vials are replaced in the original box in the fridge with the lid closed to protect from light.
Before rolling out the Moderna vaccine, Ms Acton said she was taking care to differentiate between the AstraZeneca and Moderna vaccines in terms of preparing the vial, drawing up doses and the expiry dates once the vial is opened.
'[For Moderna] it's a significantly smaller window once you open your vial to when it expires,' she said. 'So planning your appointments and everything around that is key.'
At the outset, Ms Acton plans to fill 1 day of bookings before opening another, to ensure no Moderna doses go to waste.
To ensure her staff are up to speed, Ms Acton prepared a document to be kept for viewing in the vaccine preparation area, which includes a breakdown of temperature storage and how long the different vaccines keep at room temperature.
The breakdowns depend on whether it's an unopened vial, open vial, drawn syringe and what the expiry is for each different brand. 
Separate storing containers in the fridge for the different vaccines should also help to prevent pharmacists from accidentally picking up the wrong vial or drawn syringe.
'Having systems to reduce errors [such as] choosing the wrong vaccine, or having the wrong expiry date listed on the vial, is a key thing to implement,' Ms Acton warns.
Pharmacists turbocharge vaccine rollout
Meanwhile, as pharmacists wait to join the Moderna vaccine rollout, data from the Australian Immunisation Register revealed that over 500,000 COVID-19 vaccines have been administered in community pharmacies in a few short weeks.
A/Prof Freeman praised the effort of the pharmacist immunisers for their dedication to protecting their communities, particularly those risking exposure in hotspot areas.
'With Moderna becoming available exclusively in community pharmacies over the next few weeks, and with pharmacists now allowed to vaccinate those over the age of 12 with Moderna, we expect these numbers to grow rapidly,' he said. 
'As the data shows, pharmacists have put a significant dent in vaccination targets already – and with increased vaccine choice, they will play a significant role in further reducing the ambivalence and hesitancy amongst their local communities.'