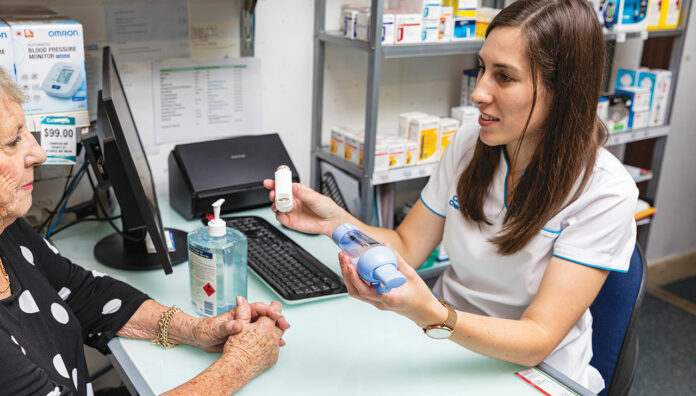 Amendments to the Schedule 3 entry for salbutamol during COVID-19 were rolled back from 1 October 2023, coinciding with a new treatment guideline around asthma relievers.
The Therapeutic Goods Administration announced the removal of restrictions made during the height of the pandemic, amid unprecedented stockpiling of short-acting beta agonists (SABAs).
Updates to the Poisons Standard in 2020 restricted pharmacists to supplying one pack of salbutamol per person to patients known to have asthma, chronic obstructive pulmonary disease (COPD), exercise-induced bronchoconstriction, or a history of salbutamol use.
When the restrictions were first introduced, pharmacists bore the brunt of patient frustrations and 'abuse'.
Now that they have been lifted, this doesn't mean pharmacists should supply multiple metered-dose inhalers of salbutamol on request, said PSA Senior Professional Practice Pharmacist Carolyn Allen MPS.
SABA overuse is increasingly linked to poorly controlled asthma, severe asthma flare-ups and increased risk of asthma-related death.
'Pharmacists must use their professional judgement when prescribing salbutamol to patients,' she said. 'Overreliance on SABAs isn't safe, and they're not always an appropriate treatment for an asthma flare.'
SABAs or ICS-LABA for flare ups?
Up until recently, bronchodilators such as salbutamol and terbutaline were relied on for quick relief of asthma symptoms. However, in the last decade, there has been increased awareness of the underlying issue causing asthma symptoms to flare.
'There's an understanding that the real problem is inflammation in the lining of the airways,' said Ms Allen. 'The foundational treatment for asthma should be inhaled corticosteroids (ICS) to reduce the inflammation and swelling, which controls the asthma symptoms.'
SABAs should only be used occasionally, if at all – particularly with medicines on the market that provide relief and are more effective than SABAs in preventing asthma flare-ups progressing to severe flare-ups.
'With long-acting beta agonists (LABAs) used in combination with ICS, patients have a fast but long-acting bronchodilator and an ICS that reduces inflammation in the lining of the airways,' she said. 'This combination is much safer and more effective for relieving asthma symptoms during an attack or flare.' 
But that leaves the National Asthma Council (NAC), via the Australian Asthma Handbook, with the challenge of educating the public, patients, and GPs about the dangers of overreliance on SABAs.
'Overreliance on SABAs isn't safe, and they're not always an appropriate treatment for an asthma flare.'

Carolyn Allen MPS 
Pharmacists must therefore shift their practice when it comes to asthma management, and should refer to PSA's recently updated treatment guideline in the Australian Pharmaceutical Formulary and Handbook (APF) digital site for prescribing salbutamol and terbutaline inhalers to patients with asthma.
New APF guideline
Aligning with the NAC's position on the dangers of SABA overuse, pharmacists should refer to the updated guideline to understand:
the symptoms of asthma

the risk of asthma flare-ups

how to recognise when flare-ups are mild, moderate or severe.
'If a patient is seeking [a] SABA, pharmacists should refer to the guideline to decide if it's appropriate to supply, or whether the patient should be referred to a doctor for a review of their asthma management,' said Ms Allen.
Pharmacists should also consult the guideline to ascertain whether a patient has good or deteriorating asthma control.
'Frequent or increasing use of SABAs can be a sign of suboptimal asthma symptom control, which increases the risk of severe asthma flare-ups,' she said.
The structure of the new guideline makes it easy for referral and extraction of information by pharmacists at the point of care. 
'The guideline is in the same structure as the reimagined Professional Practice Standards of gathering patient information, assessing the patient's needs, and agreeing on a management plan with the patient,' said Ms Allen.
Treatment approach
For effective asthma control, almost all adolescents and adults with asthma should use an ICS – every day – with or without LABA.
'Some children and a very small sub-group of adults and adolescents can use SABA as their only asthma treatment,' Ms Allen said. 'But no one should use it as an everyday treatment.'
Using three or more SABA inhalers in a year, irrespective of ICS use, increases the risk of severe asthma flare-ups, with 12 or more canisters in a year linked to increased risk of asthma-related death.
To that end, the APF stipulates pharmacists should record every SABA supplied.
'That way, after a patient has picked up three SABAs in a year, you can advise them of the risks of overreliance on SABAs and suggest they go to their GP to have their asthma reviewed,' she said. 
The Australian Asthma Slide Rule is a tool that can help stimulate conversations about over-reliance on SABAs.
'You should also discuss the benefits of a prescription for an ICS/LABA, which can provide rapid relief from symptoms and reduce inflammation in the airways.'
Referral advice
Knowing when to withhold SABA supply and refer a patient is an essential triage role for pharmacists.  
Referral lists in the APF guidelines include:
the clinical need for SABA has not been confirmed by a medical or nurse practitioner

the patient is using a medicine that interacts with SABA

the patient has used three or more SABAs in the previous 12 months 

the patient is using SABA more than 2 days a week (not including before exercise) 

the patient's asthma symptom control was not good at times within the previous 4 weeks

last medical review of the patient's asthma was more than 6 months ago

a patient with asthma does not have a current personalised written asthma action plan.
'If a timely referral is not practicable, you might supply [the] SABA,' said Ms Allen. 'But you should still advise the patient to have their asthma reviewed.'
According to the new treatment guideline, pharmacists should check patients' adherence to preventers and their inhaler technique at every opportunity.
'Some people think "My asthma has been really good, so I'm going to stop all my inhalers",' she said.
'There's a lot of misunderstanding among patients about the purpose of inhalers, how they should be used, and when they should use them – all essential education for pharmacists to do.'
Pharmacists should also inquire whether patients have an asthma action plan that explains: 
how to recognise the signs of worsening asthma

what to do in response

when to increase their ICS dose. 
'Pharmacists should inform all people with asthma that they need a personalised, written (includes printed, digital or pictorial) asthma action plan,' she said.
All pharmacists should familiarise themselves with the updated guideline, available in APF Digital.
PSA Professional Practice Standards applied in this article: