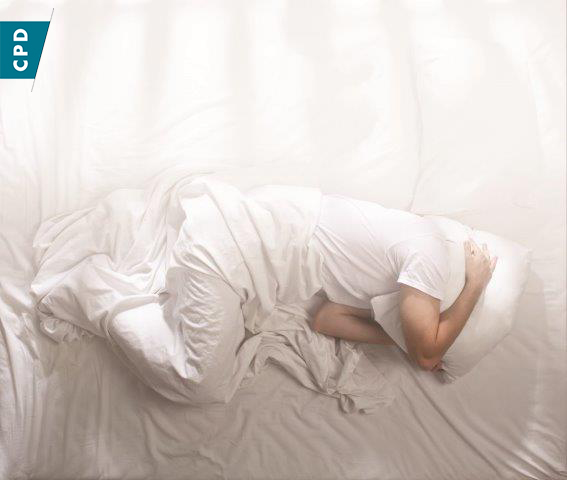 Obstructive sleep apnoea (OSA) is characterised by repetitive, partial (hypopnoea) or complete (apnoea) occlusions of the upper airway during sleep, resulting in frequent arousals and sleep fragmentation.
Learning objectives 
After reading this article, pharmacists should be able to:
Describe the pathophysiology of obstructive sleep apnoea.
Identify treatment options for the management of obstructive sleep apnoea.
Discuss the role of the pharmacist in supporting patients at risk of, and diagnosed with, obstructive sleep apnoea.
Competencies (2016) addressed: 3.1.1, 3.1.2, 3.2.2, 3.3.1, 3.6.1, 3.6.2, 3.6.3.
Competencies (2010) addressed: 6.1.1, 6.1.2, 6.2.1, 6.2.2, 6.2.3, 6.3.2, 6.3.3, 7.1.1, 7.1.2, 7.1.4.
 Case scenario  
Angelo is a regular patient of your pharmacy. He is in his mid-50s, and gets prescriptions for Coversyl (perindopril) and Lipitor (atorvastatin) dispensed every month. He comes in today and talks about his snoring. His wife has been complaining about his snoring for years, and lately he is more tired than usual and doesn't feel well rested in the morning. He knows he needs to lose weight (Body Mass Index (BMI) 33 kg/m2 and waist circumference 109 cm), and is planning to start an exercise program at the gym. He wants to know what else he can do to sleep better and feel more rested.
Want to learn more? PSA members can access the full article and assessment questions here to earn up to 1.5 Group 2 CPD credits.
Not a PSA member? Find out why more than 18,000 pharmacists choose PSA to support, advance and create opportunities for the pharmacy career and the greater pharmacy profession. Click here to join today.