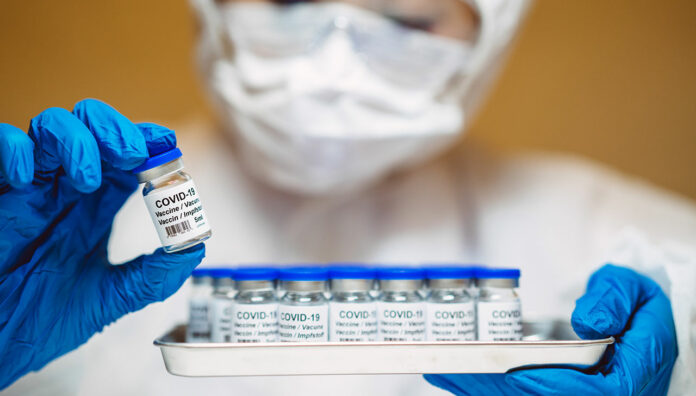 The University of Oxford/AstraZeneca vaccine, which is easier to transport and cheaper to produce than other candidates, is 'highly effective', late stage trials of the vaccine have shown.
Oxford University researchers found the vaccine to be on average 70% effective in a trial of 11,636 people. However, this jumped to 90% efficacy when the vaccine was given as a half dose followed by a full dose at least 1 month apart. 
A second testing regimen showed 62% efficacy when the vaccine was given as two full doses at least 1 month apart. 
Key points
The University of Oxford/AstraZeneca vaccine is 90% effective when given as a half dose followed by a full dose at least 1 month apart.
Australia will have access to at least 30 million doses of the vaccine.
Unlike Pfizer's COVID-19 vaccine, which requires a -70 °C cold chain, AstraZeneca's vaccine can be stored at 'normal refrigerated conditions' for up to 6 months.
The Australian Government has already agreed to purchase 33.8 million doses of the vaccine. Early next year, the first 3.8 million doses will be imported and delivered to Australia with the remaining 30 million doses to be manufactured locally by CSL.

The Therapeutic Goods Administration will need to review and evaluate the data before it approves it for use in Australia. 
Scientists cannot yet fully explain why the regimen that includes a half dose gave more protection, but the Chief Investigator of the Oxford Vaccine Trial Professor Andrew Pollard said it could be that the smaller first dose '[primes] the immune system differently', setting it up to respond. 
The findings were 'intriguing' and would mean 'we would have a lot more doses to distribute', Prof Pollard said, as only the equivalent of 1.5 doses would be needed per person.
'Excitingly, we've found that one of our dosing regimens may be around 90% effective and if this dosing regimen is used, more people could be vaccinated with planned vaccine supply,' he said.
An 'immediate impact'
AstraZeneca's announcement follows Pfizer's report last week that its vaccine is 95% effective against COVID-19. However, unlike Pfizer's mRNA-based vaccine, the AstraZeneca vaccine does not have to be stored at -70 °C, making it easier to distribute. 
'The vaccine can be stored, transported and handled at normal refrigerated conditions (2–8 °C) for at least 6 months and administered within existing healthcare settings,' AstraZeneca said in a statement.
AstraZeneca CEO Pascal Soriot said the vaccine would 'have an immediate impact on this public health emergency'.
'This vaccine's efficacy and safety confirm that it will be highly effective against COVID-19,' he said.
'Furthermore, the vaccine's simple supply chain and our no-profit pledge and commitment to broad, equitable and timely access means it will be affordable and globally available, supplying hundreds of millions of doses on approval.'
Federal Minister for Health Greg Hunt said the results presented a 'pathway to not just a COVID-safe Australia, but a fully safe Australia – a return to normal'.
'Subject to approval, this means that Australians are very much on track for first vaccines in March,' Minister Hunt said.
The analysis included data from the COV002 Phase II/III trial in the United Kingdom and COV003 Phase III trial in Brazil.
Clinical trials are also underway in the United States, Japan, Russia, South Africa, Kenya and Latin America, with planned trials in other European and Asian countries. In total, AstraZeneca expects to enrol up to 60,000 participants globally.
The full analysis of AstraZeneca's results will be submitted for publication in a peer-reviewed journal.
Australia has recorded 27,848 cases of COVID-19 with 25,350 people recovered. There have been 907 deaths. Globally, 59,658,035 cases have been recorded with 1,406,697 deaths.
Meanwhile, Victoria, Australia's hardest hit state, recorded its 26th day of no new coronavirus cases or deaths today, and is on track to officially eradicate the virus, when no new cases emerge after 28 days.