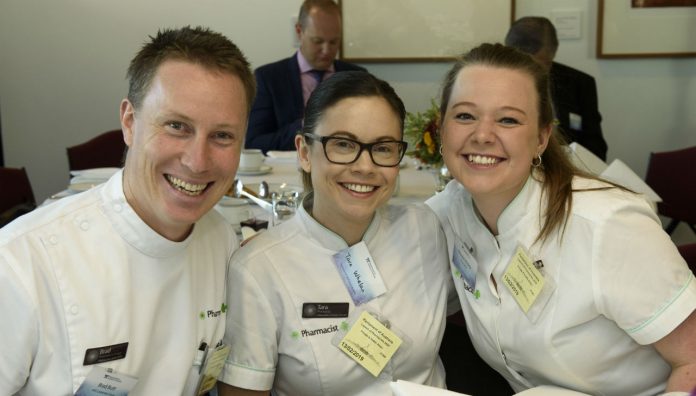 Canberra pharmacist Brad Butt was awarded the Australian Patients Association's Most Outstanding Community Pharmacist of the Year at its awards night in Melbourne on 25 July.
This is the first year the Australian Patients Association has given the award to a pharmacist for outstanding achievement.
Of his award, Mr Butt said: 'It's a real honour. I was ecstatic, it's marvellous. When I was told that I'd not only been nominated, but that I've been awarded the inaugural Outstanding Community Pharmacist of the Year Award, I was in disbelief.'
Mr Butt began his career as a junior shop assistant in Armidale NSW in 1996.
He attended Charles Sturt University where he undertook significant clinical placements in Broome – assisting with the management of the Kimberley Standard Drug List, remote supply of medicine and health advice before becoming registered in 2007.
More recently, Brad worked in New Zealand at Wanganui Base Hospital in a clinical ward pharmacist role. He returned to Armidale briefly and in 2013 became the managing partner of Cooleman Court Pharmacy in Canberra. Today he heads up a team of four pharmacists and two 'amazingly capable' pharmacy interns.
Mr Butt transformed the practice at Cooleman Court, increasing the number and level of services provided to the community.
'We've worked incredibly hard over the last five or so years towards becoming a health destination. We refitted the shop late 2018 – it was completely gutted and rebuilt from the ground up, ensuring our offering sang health and wellbeing.'
The practice now has consultation rooms built to a standard akin to that of a specialist room, Mr Butt said, and importantly workflow procedures were reviewed when designing the new pharmacy with the help of Pharmacium in Melbourne – resulting in the pharmacy now having an automated dispensing system which allows their staff to spend more time with patients. They also wanted to ensure that the retail offering was that of a health destination – accordingly the pharmacy doesn't stock any cosmetic or beauty products, only those related to health and wellbeing.
These changes allowed the practice more opportunity to specialise in areas such as men's health, maternal and infant health, cardiovascular health, immunisation, incontinence, diabetes, asthma management and other disease states.
'Re-fitting the pharmacy in October last year was really the catalyst for us to ram home to our local community that we are a health destination and not a general retailer.'
Men's health
Mr Butt has been working in men's health since he took over operations at Cooleman Court, primarily treating patients with prostate conditions.
'We look after all number of men with prostate cancer and associated conditions. This includes erectile dysfunction, Peyronie's disease, premature ejaculation.'
The feedback that Mr Butt gets from patients is that men's health and prostate conditions are an under-focused area of healthcare.
'There are a lot of men in not only urban but regional and remote areas, that have very little support. It's hard for their General Practitioner to be across everything and thats where we as pharmacists can help. To be an expert in the mens health area, you really need to have worked with a lot of patients – particularly in the delivery of rehabilitation services where it can get more complex.'
Maternal and infant health
Mr Butt concedes that he used to be nervous talking to new mums due to lack of experience. But after having three children of his own over the last five years, this area of healthcare has become a real focus for him.
'I could see that often new mums weren't getting all the help that they needed. New mums have a lot of questions – like why their child isn't sleeping, why they have reflux and how they can manage it.'
Mr Butt said that beyond that, it was interesting and helpful to talk to both mums and dads about how they were feeling.
'Post-natal depression is really prevalent. For mums to know that they can talk to myself or one of my staff about how they are feeling and where they can get help is really important. We do a lot of work with PANDSI [Post and Ante Natal Depression Support and Information Inc.], and it was nice to be able to help these mums and dads in need.'
It's important for community pharmacy to be working in this space because new parents are a vulnerable group whose health concerns can be well-addressed by pharmacists, Mr Butt said.
'It's not always practical to take the kids in to see a doctor. With pharmacists working throughout the pharmacy, we are highly accessible and this is perfect for the management and referral process when it comes to childhood and maternal health.'
Transforming your practice
Mr Butt provided some valuable tips for pharmacists looking to move towards a service-based practice:
Put yourself out there. It's very easy to get caught up in the dispensing side of the business, which may be what you're comfortable with. But if that's the case, enlist the new recruits coming out of university who are more well-equipped to deliver professional services. Employ pharmacists that you can mentor and who can work within a non-dispensing role in the pharmacy.
When employing new recruits, ask about their interests, this may help identify a service your team refine, develop and implement. Often the ideas will come to you through your staff, so be sure to engage the whole team.
Beyond your staff, listen to your patients. They will equally identify issues where a pharmacist's skill set might be of assistance and if you can identify an area where one person needs help, there will likely be others.
Be sure to deliver both positive patient and positive business outcomes. While it's incredibly important to focus on improving community health through services, without delivering business outcomes longevity may be limited. Consider this before rolling the service out.
Mr Butt acknowledged that his win is very much due to the help of his team.
'For me, it's been about building the team around me so that I've got good people working with the patient. It doesn't even have to be the pharmacist – we have a team of 30 junior staff that are school and university aged and they work hard to ensure that the pharmacy looks and feels inviting by cleaning the pharmacy, getting stock on the shelves, greeting the patients and of course being the first port of call for advice when patients come in,' he said.
'Without those team members, we wouldn't have won the award – it's attributable to the whole team.'