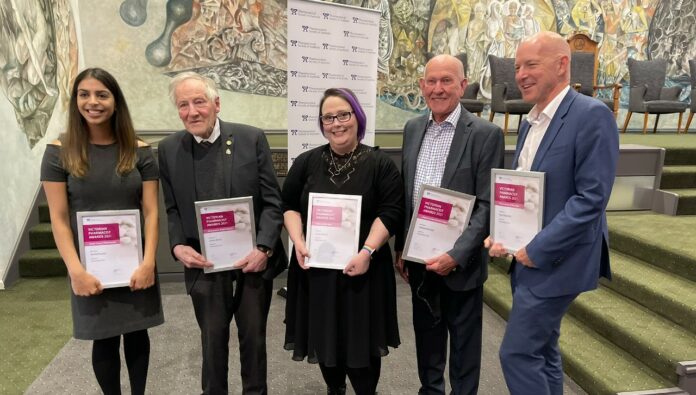 Last week, pharmacists in the ACT and Victoria were honoured with PSA Pharmacy Awards for hard work and dedication, through the COVID-19 pandemic and beyond.
The awards highlighted the 'incredible talent' across the profession, said PSA ACT Branch President Renae Beardmore, who presented them at the ACT ceremony.
'Whether developing and empowering the staff around them, working collaboratively within healthcare teams, providing support and education to the next generation of pharmacists or improving medicine safety holistically – this year's winners have exemplified pharmacy practice,' she said.
'After two of the toughest years in living memory for Victorian pharmacists, the commitment of these winners to their patients and to the safe and effective use of medicines is extraordinary,' said PSA Victorian Branch President John Jackson. 
'The awards illustrate both the amazing achievements of some of the long-standing
icons of the profession, but also the abilities and enthusiasm of pharmacists new to the profession.'
The 2021 award recipients include:
Samantha Forge MPS, ACT Intern Pharmacist of the Year

Brooke Veasey MPS, ACT Early Career Pharmacist of the Year

Chris Lawler MPS, ACT Pharmacist of the Year

Dr Gabrielle Cooper OAM MPS, ACT Lifetime Achievement Award

Laura Carfrae MPS, Victorian Intern Pharmacist of the Year

Shefali Parekh MPS Victorian Early Career Pharmacist of the Year

Paul Naismith MPS, Victorian Pharmacist of the Year

Bill Horsfall FPS, Victorian ACT Lifetime Achievement Award

Jim Burns MPS Victorian Pharmacist Medal
Pharmacist innovation at its finest
As the CEO of FRED IT Group and chairman of PDL and APPCO, Victorian Pharmacist of the Year Paul Naismith has helped make software user-friendly for community pharmacists. 
'[My] main aim is to improve medicine safety in the country,' he told Australian Pharmacist. '[So] it's an honour for me that my colleagues at PSA recognise the work I've been doing in technology.'
Frustrated with existing dispensing software when working as a community pharmacist, Mr Naismith decided to create his own.
'I thought we could do better,' he said. 'I wanted systems that would make pharmacists more professional, so that's what I did.'
From its inception in 1991, FRED now employs more than 200 staff, 20 of whom are practicing pharmacists. The company has developed systems including Fred Dispense and pharmacy-specific management systems such as Fred Office. 
Mr Naismith worked as a community pharmacist until the sale of his two pharmacies last year.
'If you're not practicing, it's hard to know what the challenges are and how to improve practice,' he said. 'So making sure I can use the systems and test the ideas is paramount.' 
When COVID-19 first struck, Mr Naismith helped to expedite electronic prescribing, improving access for people in isolation and GPs working via telehealth. Over 20 million electronic prescriptions have been issued since the system was launched in May 2020.
'The COVID-19 changes fast-tracked the legislation and approval, which enabled us to get the final sign-off on what specifications we were able to do,' he said. 
Next year, Mr Naismith's focus will be finalising the real-time prescription monitoring rollout across the country, which he helped to introduce via Victoria's SafeScript in 2019.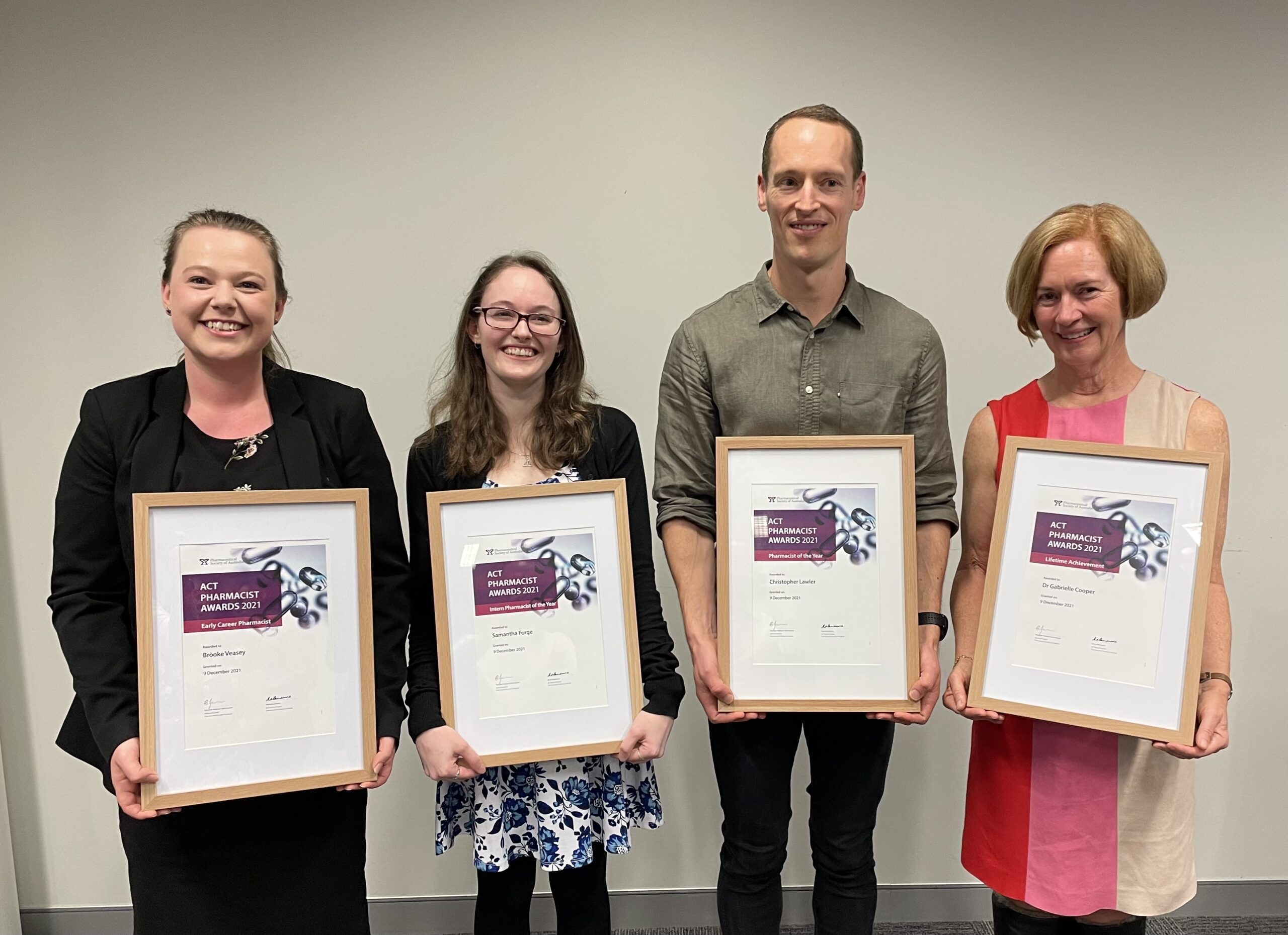 Dedication to medicine safety and care
ACT Pharmacist of the Year Chris Lawler has spent his career providing care and support to vulnerable people, including 100 patients per day on opioid dependency treatment. 
His approachable manner allows him to cultivate a rapport with patients that supports continuity of care, leading to better patient outcomes and reduced risk of opioid abuse and misuse.
Working with the Canberra Alliance for Harm Minimisation and Directions ACT, Mr Lawler has helped to mitigate the risk of overdose by providing naloxone to patients.
He also provides a safe place for patients seeking treatment or prevention of HIV and Hepatitis C. Working closely with the local general practice, Mr Lawler built a collaborative care model, which ensures support and treatments are provided to patients in a non-judgmental environment.
ECPs with experience beyond their years
To support upcoming pharmacists during the pandemic, ACT ECP Pharmacist of the Year Brooke Veasey took on the responsibility for all intern pharmacists and pharmacy students across 11 Life Pharmacy sites in the ACT and NSW.
Ms Veasey developed an internal intern training course to complement the formal program, including organising lectures from special interest pharmacists and matching up interns with pharmacists to practice oral exams. 
'While their preceptor was still heavily involved, we felt that connecting pharmacists and interns across the group would provide a more holistic learning environment and allow an array of feedback from different perspectives,' she told AP. 
In collaboration with a NSW-based colleague, Ms Veasey also drove professional pharmacy services across the group, including leading weekly teleconferences which allowed pharmacy staff to troubleshoot issues as they arose. 
'We wanted to make sure our pharmacies were abreast of changes to COVID-19 vaccines, restrictions, PPE, claiming for services etc. as they happened, rather than leaving it up to already-strained pharmacists to figure out for themselves,' Ms Veasey said. 
'Holding teleconferences enabled all pharmacies to forward on information they had or find solutions to problems, and it genuinely felt like we were working together as a group to share wins and struggles.'
Another rising star in pharmacy, Victorian ECP Pharmacist of the Year Shefali Parekh is committed to developing her own practice into more specialised areas.
Working as a hospital pharmacist, Ms Parekh completed a nicotine replacement therapy credential at The Alfred, allowing her to assess nicotine dependence and prescribe replacement therapy as appropriate. 
At the Austin Hospital's haematology and medical oncology health service, Ms Parekh's duties include handling cytotoxic manufacturing for inpatients, clinical trials and day oncology, inpatient ward-based clinical pharmacy services, discharge counselling and dispensing oral chemotherapy. 
She is also committed to developing the next generation of pharmacists. Ms Parekh completed the Monash Clinical Educator training program and learnt about educational theory to adopt a more formal preceptor role in the future.
She sits on the continuing education committee at the Austin, helping to facilitate practitioner development and pass on topics of interest to the wider ECP community through its Communities of Specialty Interest forum.   
Interns step up to the plate
While undertaking her internship in the middle of the pandemic, ACT Intern Pharmacist of the Year Samantha Forge took the opportunity to train, develop and empower pharmacy staff.
Under her leadership, a collegiate approach to collaborative care led to improvements in the safe and appropriate use of medicines for some of the most vulnerable patients.
Her keen interest in drug formulary inventory management was used to refine the team's ordering protocol and improve the accessibility of medicines for her patients, despite the ongoing challenges of serious medicine shortages.
She also took on a role in managing the pharmacy's mental health clients from the local clinic, including supporting a fortnightly clozapine clinic.  
Victorian Intern Pharmacist of the Year Laura Carfrae is an emerging pharmacy leader, serving as Education Chair of the RMIT Association of Pharmacy Students in 2019–2020 and is a valued member of PSA's Victorian ECP working group.
Many of her ideas informed PSA offerings, including a 'Turbocharge your Career' webinar. 
She has also improved practice in her workplace through designing and implementing new processes, including developing an incident reporting log for errors and near misses.  
A lifetime of dedication
ACT Lifetime Achievement Award recipient Dr Gabrielle Cooper has demonstrated a career-long commitment to the pharmacy profession. After graduating from the University of Tasmania in 1983, she worked as a clinical pharmacist at the Royal Canberra Hospital, St Vincent's Hospital, Hospital for Sick Children in London and the University of Tasmania. 
She was appointed Director of Pharmacy at Canberra's John James Memorial Hospital in 1995, and became the Director of Pharmacy at Calvary Hospital from 2002–2003. 
An interest in drug overdose led her to undertake a PhD in clinical toxicology resulting in changes to clinical practice, including the restricted use of activated charcoal in drug overdoses. 
After transitioning to academia, Dr Cooper established the Discipline of Pharmacy at the University of Canberra in 2003, where she was promoted to Full Professor in 2010. During her tenure, she secured funding to allow pharmacy students to undertake placements in what was then a novel environment – general practice.
Dr Cooper was also made President of the PSA ACT Branch, remaining on the Branch committee until  2016.
Victorian Lifetime Achievement Award recipient Bill Horsfall is one of the most well-known pharmacists in Victoria. He was PSA Victoria's Director of Continuing Education for 23 years, producing the most well-attended lectures, seminars, and courses in Australia. 
Mr Horsfall started out as a hospital pharmacist in Townsville while also working as an Officer in the Army Reserves, eventually settling in Melbourne where he owned two community pharmacies. 
As an educational leader, he sought out key interest groups and worked with a group of over 20 pharmacists and academics, who actively contributed to running the courses in areas such as private hospital pharmacy, counselling and mental health, and sports medicine.
In 2003, Mr Horsfall moved into GP education. He has worked for NPS MedicineWise for 18 years as an Educational Visitor, presenting clinical sessions using evidence-based information to assist with best practice. 
Aged 85, Mr Horsfall is one of the oldest working pharmacists, raising practice standards by example over a lifetime of dedicated practice.  
A community stalwart
Victorian Pharmacist Medal recipient Jim Burns has owned and operated a pharmacy in Croydon for over 60 years. Now in his 90s, he continues to work 5.5 days a week, including operating a methadone clinic that has supported hundreds of people since its inception in the mid-1980s.
Mr Burns also advocates for treatment to be more holistic by incorporating counselling and access to community services.  
The much-beloved Croydon native was recently honored by local artist Andy Drewitt in a local street art installation titled 'The Chemist' for helping people in the community who often fall through the cracks.