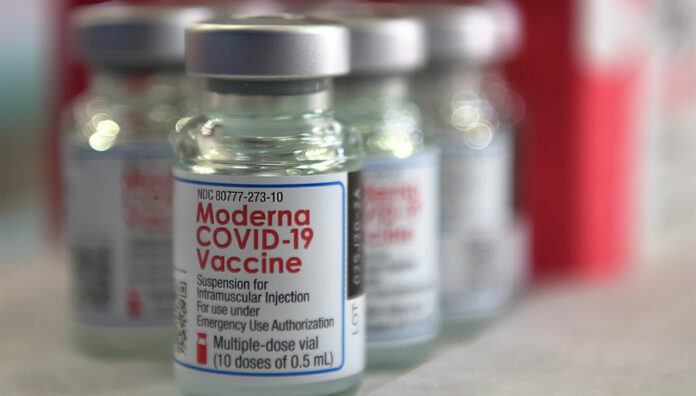 Just ahead of an apparent end-of-year surge in COVID-19 cases in the two most populous states, Federal Minister for Health Greg Hunt announced on 12 December that the booster program would be fast-tracked.
Australians aged 18 and over are now encouraged to receive booster doses 5 months after their second vaccine dose.
'[This] means an extra 1.5 million people are eligible to immediately access the boosters,' Mr Hunt said.
The vaccine advisory group ATAGI also approved Moderna's Spikevax for use as a booster dose for all patients aged 18 years and older, including pregnant women.
The dosage is 0.25 mL, half that recommended when used for the primary course.
'Those two things will help Australians be even better protected,' Mr Hunt said.
The updates come amid increased spread of the Omicron variant and reports of waning vaccine efficacy against the strain.
There have been several Omicron superspreader events over the last week, including 44 infections acquired within days from a trivia night at a Sydney pub and 200 at a Newcastle nightclub. Hundreds of Victorians were forced into isolation today after a person infected with the Omicron variant visited two busy Melbourne bars on Friday night.
Immunity to the Omicron variant may wane after 6 months, although protection provided by some vaccines may decrease even faster, according to recent British data analysing 580 people infected with the Omicron variant. 
It found that patients who had the AstraZeneca vaccine may have significantly reduced immunity against the strain, Dr Norman Swan told ABC's RN Breakfast.
'We were able to look at the effectiveness of vaccines, and what they showed was that after 15 weeks, people who had the AstraZeneca vaccine had almost no protection against symptomatic infection,' he said. 
All about boosters
Pfizer and Moderna are preferred over AstraZeneca as a booster dose, irrespective of what vaccine a person received in their primary course.
While AstraZeneca is not yet approved for use as a booster by the Therapeutic Goods Administration (TGA), a single dose can be administered to people who received this vaccine for their primary course. 
AstraZeneca can also be administered as a booster to those who have contraindications to mRNA vaccines, such as anaphylaxis or myocarditis.
Individuals retain their fully vaccinated status with the primary two-dose vaccination course, which provides high-level protection against the worst effects of COVID-19. 
While the booster dose is not mandatory, it provides additional protection against COVID-19.
The benefits are universal, but only increase with age. Data from Israel found that boosters: 
help to reduce the

rate of infection in eligible age groups

reduce incidence of severe disease in those aged over 40 

reduce the incidence of death in those aged over 60.
Pharmacists to vaccinate children aged 5–11
Children aged 5–11 years old are recommended by ATAGI to receive two Pfizer vaccine doses to protect them against COVID-19.
While the dose interval is 8 weeks, this may be reduced to 3 weeks in the event of an outbreak. 
Launching the kids campaign in a Sydney community pharmacy, Prime Minister Scott Morrison and Federal Minister for Health Greg Hunt announced vaccinations will be available through community pharmacies, GPs, Aboriginal health services and state and territory clinics. 
All providers will be able to order doses in coming weeks.
Mr Hunt said there are three key benefits of the COVID-19 vaccine for patients in this cohort. 
'It protects our children, their families and their schools,' he said.
The TGA and ATAGI are currently assessing the Moderna vaccine for use in children aged 6–11, with advice expected within weeks.
Bookings will open on 15 December through the Vaccine Clinic Finder, with appointments available from 10 January 2022. 
A separate booking button and appointment type was designed to help parents or carers find clinics administering Pfizer doses for children aged 11 and under.
Pharmacists should check in with their booking system provider to ensure it reflects this update. 
Pharmacist vaccine remuneration
PSA is calling on the Federal Government to equally remunerate pharmacists involved in the national vaccination strategy.
Pharmacists currently receive $16 per booster vaccine administered, while providers such as general practitioners can receive up to $63.55, including an additional dose administration claim of $24.45 and a suitability assessment fee of $39.10.
No after-hours payments are available for pharmacists despite many providing access outside normal business hours.
With pharmacists involved in vaccinating 2.3 million Australian children aged 5–11, PSA National President Associate Professor Chris Freeman said this remuneration model was unsustainable. 
'This means that extra consultation time will be required to undertake appropriate assessment and consenting, placing further strain on service sustainability,' he said. 
'As mass vaccination hubs downscale operations over the coming months and we revert to pre-pandemic primary health arrangements, responsibility will fall back on immunisation providers to cover both the 5–11 cohort, as well as those eligible for their booster dose.'
A/Prof Freeman is concerned that pharmacists may withdraw from the national vaccination strategy if the disparity is not addressed, causing additional pressure on GPs and other primary care providers. 
'As a nation that is on the verge of more widely opening up to domestic and international travel, we simply cannot afford to drop the ball on this,' A/Prof Freeman warned.
 'We need to support our frontline pharmacists so they can continue to support the Australian community.'