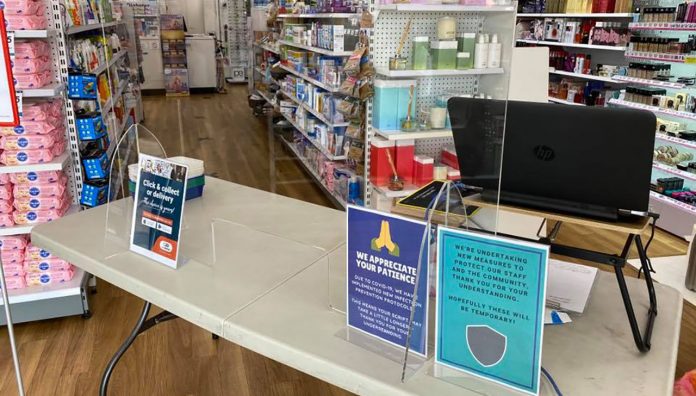 Pharmacists remain on the frontline of the COVID-19 crisis, as Victoria continues to report large numbers of new cases and New South Wales (NSW) records its biggest spike since April.
Victoria recorded 410 new cases of the coronavirus and 21 deaths in the past 24 hours.
One man and two women in their 70s, six women and five men in their 80s, one woman and five men in their 90s and one woman in her 100s represent the latest fatalities. Premier Daniel Andrews said 16 of these deaths could be linked to aged care outbreaks.
There are now 7,880 active cases across the state, including 1,079 in healthcare workers.
Mr Andrews said about 68 million gloves, 19 million surgical masks and 2 million face shields were ready to be distributed to health services.
Pharmacists can access masks from the National Medical Stockpile through Primary Health Networks.
A PSA submission to the Victorian Public Accounts and Estimates Committee inquiry into the Victorian health response to COVID-19 last week highlighted the serious challenges faced by Victorian pharmacists during the pandemic.
Shortcomings in consultation with pharmacy groups led to gaps in public health emergency orders and public health messages, which created confusion for Victorians in accessing medicines, said PSA Victorian President John Jackson.
As the pandemic progresses, a number of improvements are needed to better protect Victorians, and to help pharmacists to care for the community, he said.
Mr Jackson said he was 'incredibly proud' of how the profession had stood up as frontline health professionals.
More than 8,000 pharmacists have continued working in community pharmacies, hospitals, aged care facilities, general practice and beyond in Victoria during the pandemic.
There are also 1,952 pharmacists listed on the pandemic response sub-register, established by Ahpra and National Boards to help fast-track the return to the workforce of experienced and qualified health practitioners.
The sub-register allows pharmacists who previously held general registration and left the practice in the past three years to return.
NSW cluster causes concern
NSW has the second highest numbers of coronavirus infections and deaths, with a current tally of 3,897 cases and 50 fatalities.
In the past 24 hours, 18 new cases were recorded in the state, including two acquired in Victoria, one from overseas, and the majority of the rest linked to known sources of community transmission. There are a total of 1,578 active cases.
It is the biggest spike in the state since April, and Health Minister Brad Hazzard had a blunt message for residents during a press conference this morning: wear a mask.
'If you are in the shopping centre, wear a mask. If you go on public transport, If you go to your place of worship, wear a mask. If you're ever unsure, wear a mask,' he said.
Queensland testing trial
In Queensland, community pharmacies will soon begin testing people for COVID-19, Premier Anastacia Palaszczuk announced today.
Pharmacies across the state will be able to take part in the pilot project over the next few months with the aim of making testing more accessible.
As part of the pilot, pharmacists will be trained to conduct the tests, with specimens then analysed by Queensland Health.
PSA Queensland Branch President Shane MacDonald MPS urged people with respiratory symptoms to undertake measures to reduce the risk of transmission. This includes self-isolation and asking a friend or family member to collect medicine from a pharmacy, or organising a home delivery service.
'We don't want people with COVID-19 symptoms specifically coming into the pharmacy just to get tested, and we ask people with these symptoms to get tested at one of the many designated testing stations,' he said.
'This pilot is designed to pick up those people who have already come into a pharmacy and a pharmacist identifies as someone who should be tested.
'Pharmacies are health centres where people with chronic health conditions regularly visit, so we don't want to be exposing these at risk groups or the pharmacy workforce to COVID-19 unnecessarily.'
The government will conduct a comprehensive review of the program after the trial to determine if it is feasible to continue the initiative.
Queensland has recorded a total of 1,089 COVID-19 cases and six deaths, with no new cases reported in the last 24 hours.