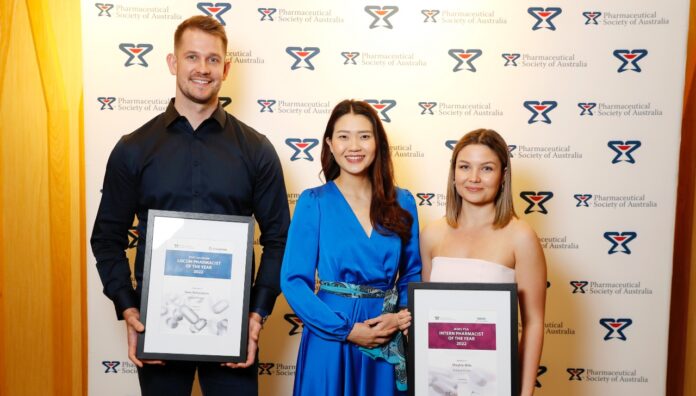 Two rising stars of pharmacy celebrated at PSA22 have a lot in common – including a passion for rural and regional pharmacy.
PSA22's Day 2 opening plenary saw multiple outstanding pharmacists given the recognition they deserve, including the MIMS Intern of the Year and the Locumate Locum Pharmacist of the Year.
The recipients of both awards show a commitment to bringing quality care to communities outside the big cities.
Life on the road
PSA Locumate Locum Pharmacist of the Year went to Sean Richardson MPS, who has shown incredible resilience alongside a flair for the pharmaceutical.
An injury saw the former construction worker swap life on the tools for one behind the dispensary. He hit the road with a pharmacy degree and hasn't looked back.
'Sean has helped countless pharmacies across Australia and is always encouraging students and pharmacists to make the move to rural and locum pharmacy,' PSA National President Dr Fei Sim said.
Speaking at the PSA22 presentation ceremony, Mr Richardson encouraged more pharmacists to take on locum work.
'I'd encourage any pharmacist who's considered that pathway, whether it's a temporary or long-term position, to expose themselves to such environments,' he said.
'A locum pharmacist's role is a vastly unique position, and it pretty much doesn't get much better than that.'
In the past 12 months, Mr Richardson has worked everywhere from the heat of Mt Isa in outback Queensland, to tropical Cairns and Millicent on South Australia's Limestone Coast. While each pharmacy comes with its own set of challenges, Mr Richardson said this is what keeps him going.
'The challenges are always going to be there, like with any career in any location. But the adventure aspect and exposure to what else is out there is amazing,' he said.
'Exposure is key to understanding what you do and don't like, and as a locum you get exposure to multiple environments, patient groups, demographics, staff culture and dispensary management.'
After graduating from the University of South Australia as a mature-aged student, he was eager to find his place in the profession. He quickly realised locum work would help him gain valuable experience in a short amount of time.
'If I was a student coming out, I would do exactly what I did again, which was find as many opportunities as I could that I hadn't had yet,' he said. '[Then] you can look at the next job advertisement and go, "Oh yes, I know how to do all those things because I've already been in an environment that expected it of me".'
Mr Richardson said he would encourage all pharmacists to try at locum work, even if just for a day through an emergency locum service.
'I think it's something that every pharmacist should get on board with at least once or twice,' he said.
'Sometimes, you're put in the deep end of a pharmacy you know only the basics about and you have to learn on your feet. It's like swimming; first you nearly drown, next you're floating and, by the time you're wrapping up your stay, it's all freestyle. It just takes time.'
Hear more about Mr Richardson's life as a locum pharmacist here.
Rural health champion
The PSA MIMS Intern of the Year was awarded to Western Australia's Shaylee Mills MPS, who is already making her mark on the profession with a focus on rural pharmacy.
Highlights from her intern year revolved around patients she met while working at the Kimberley Pharmacy Services in Broome.
Facing a major COVID-19 outbreak as her rural internship began, Ms Mills saw the importance of combining mental health first aid with vaccination services.
'I worked together with supervising pharmacists to learn that you could talk to patients about a range of different things,' she said.
'I made the effort to ask more questions than just what is on the typical checklist for immunisation screening and found people started to reveal [the types of things] that were bothering them.
'So, I started incorporating mental health first aid into the clinic. Just simply asking how someone is feeling can uncover a whole lot of truths.'
When presented with her award at PSA22, Ms Mills, who grew up in a small town in the wheatbelt of WA, expressed her gratitude for the support from her network both professional and personal.
'The team at Kimberley Pharmacy Services have guided me incredibly,' she said. 'I learn from them every day and they've been very supportive.'
Although at the beginning of her career, she has already found a passion: rural pharmacy.
'I understand the barriers people face when living so far away and how important it is to have a strong sense of community,' she said. 'I take a lot of pride in being able to give back to the community I now live in.'
Part of this community focus includes adjusting her communication style depending on the patient with whom she is interacting. This ranges from regular customers, many of whom identify as Aboriginal or Torres Strait Islander, to tourists passing through.
'I have learnt how to explain things in a variety of different ways, using words, my hands and with written information,' she said.
'Shaylee's passion to improve rural healthcare is evident, as she advocates for more students and interns to consider undertaking a rural placement, contributing to rural workforce capacity,' Dr Sim said.
Meet the recipients of PSA22 Excellence Awards here.