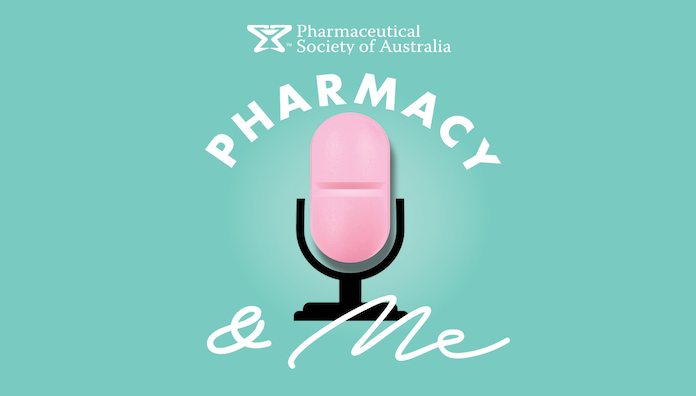 Live from PSA22, hosts Peter Guthrey and Hannah Knowles are back to delve further into remuneration – no doubt the most significant concern for Australian pharmacists today.
In this bumper episode of Pharmacy & Me, our hosts are joined by PSA's new National President Dr Fei Sim and General Manager for Policy and Projects Chris Campbell, who unpack PSA's remuneration campaign, potential funding models, and the future of the profession in Australia.
Reporting from the heart of one of the profession's biggest events of the year, the hosts share how PSA is advocating for fair remuneration and how individual pharmacists can help create change.
If you want to know how pharmacists can know their worth and gain the remuneration they deserve, this is an episode not to be missed.
Listen to the episode below or find it on Spotify, Apple Podcasts and Google Podcasts.
Follow the timestamps to jump to the topics below:
[00:00:53] The statistics laid bare

[00:02:18] Busting myths about remuneration

[00:10:17] Knowing your worth

[00:17:37] The future of pharmacy in aged care

[00:20:00] Finding your passion

[00:21:01] PSA remuneration campaign: what progress has been made?

[00:22:28] How pharmacists can get involved
Resources:
Peter [00:00:00] The PSA recognises the traditional owners of the lands we are recording this podcast on, the Turrbal and Wurandjeri people. We pay our respects to elders past and present and extend that respect to all Aboriginal and Torres Strait Islander peoples. 
"You probably start questioning yourself, is this is what I signed up for? Is this what I want to do for the rest of my life? Probably not."
Peter [00:00:024 From the Pharmaceutical Society of Australia, hello, and welcome to a special episode of Pharmacy and Me, the podcast that explores how pharmacists do the extraordinary things they do. I'm Peter Guthrey from PSA and a community pharmacist at a 24/7 pharmacy in Melbourne. 
Hannah [00:00:39] And I'm Hannah Knowles, a pharmacist at the Royal Brisbane and Women's Hospital. Today, we have a bumper episode all about pharmacist remuneration. 
Peter [00:00:48] This is a topic that impacts everyone in the profession, but particularly early career pharmacists and the stats, Hannah, aren't that great. 
Hannah [00:00:54] It's a bit scary, Peter, so let's start off with the big one. Did you know that pharmacists are some of the poorest paid graduates in Australia? It's difficult to compare exactly to other professions, given we have an intern year, but according to figures from 2019, pharmacy grads received an average salary of $48,000 a year, which is not that much higher than the minimum wage of $40,000. 
Peter [00:01:18] Ouch. 
Hannah [00:01:18] There's also a big gap between what pharmacists earn in Australia compared to overseas. So the average Australian pharmacist earns just under $81,000 a year. In Canada, it's over $113,000 a year, and the US a whopping $170,000 annually. Even our colleagues over the ditch in New Zealand earn approximately $6,500 per annum more than Australian pharmacists. 
Peter [00:01:43] It's no surprise that some pharmacists are wondering if the years of study are worth it, especially after the last few years and all the added demands with the pandemic. In fact, we did some number crunching at PSA, and we worked out that pharmacists have been shortchanged more than $156 million for administering COVID-19 vaccines. 
Hannah [00:02:01] What? 
Peter [00:02:01] That's the sum total difference between what pharmacists would have been paid if we received the same remuneration per dose as doctors. And unlike our medical colleagues, pharmacists cannot claim a Medicare payment for administering other vaccines like the flu shot on the National Immunisation Programme. 
Hannah [00:02:15] I didn't realise that. So does that mean that we don't get paid anything for administering vaccines under the NIP? 
Peter [00:02:22] Nope, that will be privately charged. The vaccines are funded, but the administration fee is not. 
Hannah [00:02:27] Gee. I think our Early Career Pharmacist Board Director Deanna Mill put it well when she tweeted earlier this year, saying 'pharmacists have been pushed to the brink, RAT shortages, long hours, staff shortages, abuse from patients, risk of bringing COVID-19 home. At the very least, we deserve equal remuneration for administering COVID-19 vaccines'. 
Peter [00:02:47] Absolutely, and our first guest today knows quite a bit about being pushed to the brink. 
Hannah [00:02:51] Victorian community pharmacist Ienaam Khatib has been a registered pharmacist for a year, after completing her internship in 2020, and while she loves being a pharmacist, she's already questioning how long she can last in the profession. Thank you so much for joining us, Ienaam. 
Ienaam [00:03:06] Thank you, Hannah, for having me today. 
Peter [00:03:08] It's lovely to have you here with us. To start off with, could you just tell us a little bit about yourself? How did you get into pharmacy? 
Ienaam [00:03:14] So I migrated to Australia after I left my country. I'm originally from Syria and coming to Australia was a great opportunity for me to pursue my education. When I first came, I was trying to find out what I wanted to do and what profession I wanted to be mine. So I started off with a degree in laboratory medicine and at an early stage I recognised that it's not for me. I couldn't see myself in it. So I decided to trial something different and that's how I got into it, into pharmacy. For me I decided to study pharmacy, it was a very responsible decision that I took with all the challenges that I had. For example, due to my visa conditions, I couldn't get a HECS loan so I had to pay my university fees all upfront and also the distance between my accommodation and my university was around 2 and a half hours using public transport, or around an hour, driving, on a good day.
Peter [00:04:13] It's quite the commute.
Ienaam [00:04:15] So you needed someone to be really committed and willing to do this. And because I enjoyed studying it and I could see myself as a successful pharmacist one day, I wanted to continue it and I thought it was wise to invest my time and money in the career. 
Hannah [00:04:30] And when you graduated, you started your intern year in one of the years of the pandemic, which is quite a difficult introduction to pharmacy. How did you cope? 
Ienaam [00:04:38] In 2020, it's when I started working fulltime in pharmacy as an intern. There was an immense pressure on not only interns, but also pharmacists in general and pharmacies. So you've had so many issues like, you know, from being out of stock of face masks and hand sanitisers to the introduction of telehealth and electronic prescription rules, so many other things, you know, like even the panic buying. All of that includes the number of angry clients that you're dealing with and that also puts more pressure on you. And in addition to that, after all of these challenges that you're having at work, you would have to go home and study and work on your assignments for your intern year 
Hannah [00:05:15] So in a way, you were sort of thrown into the deep end quite early. 
Ienaam [00:05:18] Pretty much. 
Hannah [00:05:19] And then again, when you became registered – do you feel recognised or appreciated? 
Ienaam [00:05:24] Look to be honest, I would say only to a certain extent, not like other healthcare professionals. It's a bit hard to think of a doctor that was okay accepting a patient presenting with cold and flu symptoms into their clinic. But then that same patient would come to the pharmacy with either a proper mask on or probably not. And then they might even lower their mask to talk to you. Pharmacists end up being the person helping that patient. And they've been in direct contact with them and then they don't get the recognition. And then when it comes to other services that doctors do, they get more recognition and more financial support. So in that instance, no, there was not much recognition for pharmacists. 
Hannah [00:06:09] And did you have any friends in similar situations who were feeling the same way? 
Ienaam [00:06:13] Yes, absolutely I did. I've had so many friends already being registered for a year, and they've already started having plans with either studying masters or trying to open up businesses not related to pharmacy or trying to study something different to pharmacy, which is sort of sad, it tells you something. I myself have worked as a student prior to being an intern for 3 years, so I was able to sort of compare what's the normal to the crazy. But I did have friends that started their career just in their intern year. It was their first time being in pharmacy. And you can just imagine how challenging would that be for them and you probably start questioning yourself, is this is what I signed up for? Is this what I want to do for the rest of my life? Probably not. 
Peter [00:07:01] It sounds like it's been a really, really tough year. And I think most of us who worked through it, it's felt quite tough, but reflecting that you previously travelled to uni for two hours each day, there's a lot of excitement, I guess, in contrast, how are you feeling about pharmacy as your career now? 
Ienaam [00:07:17] I love being a pharmacist and being able to help, and I want to pursue the profession that I voluntarily chose, and invested my time and money on. But obviously, we need to draw lines for things. There is only so much that we can accept. Not everything is acceptable that is happening in pharmacy, especially in community pharmacy. We need to draw those lines for us to be able to continue and do what we like to do. 
Peter [00:07:42] What are some of those lines that you think we need to draw? 
Ienaam [00:07:44] I think mainly is the recognition and also the equity, so us being recognised just the same as other healthcare professionals, especially when we provide the exact same service. And a very good example is the vaccinations, like you mentioned earlier in your introduction. You know, as a pharmacist, we did provide vaccinations during the COVID rollout. No one can deny the role the pharmacist played in this, and we were not getting the same pay. So, it wasn't fair on both the pharmacist and the owner. So the pharmacist vaccinating wasn't getting anything extra. And then the owner, for setting up the service and paying for the staff and all of that, they were not getting paid enough. It was almost like a loss to the business because it was taking so much time and effort, whereas not much was being given to them in return. So it wasn't fair on both sides. 
Hannah [00:08:37] I had some friends set up clinics outside of ours to help reach those vaccine demands and by the time you're paying pharmacists overtime and assistants overtime to help draw up the vaccines, it's really no money that comes back into the business or into the pharmacists' pockets. 
Ienaam [00:08:54] Exactly, it's very time consuming and in between that you are doing other things. You're doing dispensing, you are helping customers, you are answering the phone.
Peter [00:09:02] In terms of some of these other services that you think we perhaps aren't recognised for, are there those that community pharmacists are performing that you think should be funded, that aren't being funded currently? 
Ienaam [00:09:11] I don't know if I can call it service, but the ongoing support that we provide to the community, we are the first person that a patient would think of us, they would just call us or they come walking into the pharmacy, spend a good 10 minutes chatting to pharmacists, getting some advice, and all of that time spent with the patient is not recognised, it is not being paid at all. 
Peter [00:09:32] A consult fee, like a doctor gets a consult fee. 
Ienaam [00:09:35] Pretty much, pretty much. 
Peter [00:09:36] And in terms of your journey through the profession, what do you think needs to change for you to stay in the profession long-term? 
Ienaam [00:09:42] If I were to summarise it, I would say mainly it is to be able to have more support in terms of staff. Also, better remuneration – that's something definitely required. And, also more recognition, because it's not always about the extra bit of money that you can earn, it's also about the recognition and the respect that you get and also the fact that what you're doing is being seen and being noticed. 
Peter [00:10:09] Absolutely and thank you for your time in sharing that part of your experience and also for your commitment to your local community, I know in your community it was particularly hard affected by the pandemic so a big hug to all of those listening across all of Victoria and all across Australia.
Ienaam [00:10:23 Thank you. 
Hannah [00:10:24] Thanks so much Ienaam for sharing your experiences.
Peter [00:10:27] And now we have another pharmacist joining us to provide her perspective. Caroline Diamantis is a passionate community pharmacist from Balmain with more than 30 years of pharmacy ownership. She's also the vice president of PSA's New South Wales Branch Committee and sits on the PSA board. Thanks for joining us, Caroline.
Caroline [00:10:43] Hi there, Peter, thanks for having me, it's actually quite nice to be able to speak about my favourite subject in the world, pharmacy. 
Hannah [00:10:51] We're very privileged to have you here and there's a lot we want to cover with you today. But first, could you give us a quick overview of your career? 
Caroline [00:10:58] Absolutely, I have been a community pharmacist for probably close to 35 years. I've been an owner for more than 30. As a young, early career pharmacist in my 20s, I was fortunate enough to have a great mentor. I joined the board of a brand new buying group, which is now a national brand. 
Peter [00:11:21] You started out in pharmacy in the 1980s, how do you average wages compare now in real terms compared to when you first registered? 
Caroline [00:11:29] Being a community pharmacist, and that's sort of the platform that I'll speak from, in my experience, it was fairly well paid, but it was far less complex. Whilst we had the wonderful opportunity to be a clinician and the wonderful opportunity to dispense a script and to spend time counselling, there was much less focus on professional services. Move forward 30 plus years, I can tell you that comparatively and very sadly, our award has not kept up and is not reflecting our contribution as pharmacists to primary health care. I can't remember the exact numbers, but I did find an award for a pharmacist-in-charge in 2010. So it's not quite the decade you're mentioning, but in 2010 it was $27 an hour to be a pharmacist-in-charge. And in 2022, a pharmacist-in-charge is $32 an hour. Whilst the award is incredibly out of touch, I'd also like to mention that in recent surveys, and I managed to obtain data from two surveys, the most recent one was the UTS Pharmacy Barometer. The University does an annual survey, and the pleasing outcome was that 50% of the pharmacists surveyed were getting paid close to $40 an hour and 40% were being paid above $40 and up to $50 an hour. So the good news is that whilst the award is extremely disappointing, pharmacists are still managing to get paid something a little bit more reasonable as employers are recognising this lack of recognition. 
Peter [00:13:10] So it's really good to see wages above the award, are the current wages most pharmacists receiving adequate to recognise their current skills and expertise?
Caroline [00:13:20] Absolutely not, there's room to move. We need the award to catch up with real life. There's some work to do.
Peter [00:13:28] So I guess across the board and across the whole profession, what sort of future do you think younger pharmacists are facing? 
Caroline [00:13:34] Clearly, I'm excited about the future of the profession. I've always been excited about pharmacy. There will be so many areas of diversification, such as mental health specialists, wound care specialists, diabetes educators, HMRs, we've got vaccinators, we've got pharmacists embedded in nursing homes. The list is actually endless. We need to make sure that the remuneration for our workers recognises and acknowledges the work that we're doing. I think the government needs to also come on board. 
Hannah [00:14:09] Absolutely and it was good to see as part of PSA's National Day of Action some of this being recognised. However, we've heard from our first guest Iennam that recognition is a big issue for many during the pandemic, what's your experience been like over the last few years? 
Caroline [00:14:25] I think our guest is absolutely right. It was an extremely tough time. There's never been a harder time that I've worked as a community pharmacist. And I've never been prouder to work as a community pharmacist. The doctors in my community were closed and operating by telehealth, so people that were really suffering with minor ailments and non-urgent illness, they had nowhere to go. They actually had to walk into a pharmacy and they had to see our clinicians. And we got a chance to really demonstrate the depth and breadth of our training and our knowledge and the number of people that commented and said, oh my gosh, the care that you've given me, I never even thought about this. I'm definitely coming back to see you guys. So we've really gained traction and this is an amazing thing for moving forward for our profession. 
Peter [00:15:26] How do we turn that traction into some action? How do we take that community belief and the politicians providing thanks to the profession and turn that into action that translates into a more sustainable future? 
Caroline [00:15:40] Yes, that's a really good question, Peter, look, the PSA's Day of Action was really amazing. You know, we saw social media going off. I personally wrote to several MPs. I think it's making people really stop, take stock of what we did, take stock of how we impacted as primary health care givers. I think you won't have a problem with the community, but we have to work harder with our politicians. It was a slap in the face that we were paid less than doctors for the same job. 
Peter [00:16:12] You said you wrote a bunch of emails to your local politicians, did anybody get back in contact with you afterwards? 
Caroline [00:16:18] Sadly, no. 
Peter [00:16:20] Are you going to be chasing them down at the shopping malls in the election campaign? 
Caroline [00:16:24] I certainly have an intention of once again going and visiting the politicians that will see me, the local MPs. I think everyone plays a part, from the most early career pharmacists right through to the most seasoned pharmacists and all the people in between. We all need to have a voice. I think the community is on our side. I think they are really grateful. We had a moment to shine and we did. It was amazing to see how our profession stood up. 
Peter [00:16:55] There are some pharmacists, though, who are left feeling very flat and in some ways quite desperate about their future in the profession. What is your advice to those younger pharmacists who are considering leaving the profession because of this? 
Caroline [00:17:08] It breaks my heart. You know, everyone that works front line, and there are other professions like nurses and paramedics that are also experiencing similar burnout. My advice is I really believe that they should hang in there. I would shout out to all the senior pharmacists and owner pharmacists and the mentor pharmacists to stop and, you know, extend some care to those that they recognise are suffering. We've been known to be a really strong and collaborative profession. I'd like to see more of that. The future is very bright, but we are exhausted. I also think there needs to be some really good, honest conversations with employers. I think early career pharmacists need to understand their worth, but also to understand the business model in which they're working. 
Hannah [00:18:09] Having some of these conversations about wages and remuneration can be quite scary or difficult, particularly for young pharmacists, what tips would you give a young pharmacist for negotiating wages and other conditions with their employer? 
Caroline [00:18:25] I think early career pharmacists or young pharmacists looking to have an open conversation with their owners about wages need to really take it from the perspective of, you know, I'd like to have a conversation with you when it's the right time. I've been with you for X amount of years. These are the things I've offered to the business. I'm prepared to learn new skills and take on some specialties. Not every owner will be the best employer for a particular, you know, early career pharmacist. Like there might be a time where if you can't have honest conversations, it might be time you just need to pick up and leave.
Peter [00:19:08] I really like those kinds of honest conversations. And while honest conversations might not always give you the news that you want, at least you know where you stand and you can all make informed decisions from there. Those are some really great tips, thank you so much, Caroline. Hopefully our listeners can put them into practice. Thank you so much for sharing your insights with us. 
Caroline [00:19:25] It's not a problem.
Peter [00:19:26] When PSA held our National Advocacy Day of Action in March, we had hundreds of pharmacists across the country getting involved by writing letters to their local MPs, demanding action and fair wages for pharmacists. PSA's Public Affairs and Communications manager Candice Burch was the brains behind this campaign, and she joins us now. Welcome, Candice.
Candice [00:19:45] Thank you for having me. It's great to be here. 
Hannah [00:19:47] Candice, improving remuneration for pharmacists is a tricky area to advocate in. Where do you start? 
Candice [00:19:53] It is a very tricky area. I know there are a lot of opinions across the profession as to how we do address it. It's also an issue that has become particularly pertinent throughout the pandemic, and particularly due to the conditions that pharmacists have been facing. But timing and opportunity is crucial in advocacy, and we have a federal election that is rapidly approaching. This is why PSA has chosen in the lead up to the federal election to specifically focus on those parts of remuneration that are or should be funded by the federal government. 
Hannah [00:20:24] Ienaam, you got involved in PSA's National Advocacy Day of Action, what did you hope to achieve? 
Ienaam [00:20:30] I think I've included a few points. And some of them were mainly focusing about vaccinations, and thar pharmacists were not getting any payment for doing the vaccines. It was only for the pharmacy itself. Also, as I've mentioned about the remuneration, I would love to see, you know, I want to stay optimistic and I want to stay in the profession that I've loved studying and I wanted to consider myself being successful in and for that to obviously happen, I would love to see some of those changes happening. 
Peter [00:21:02] It was really exciting seeing that social media and the buzz on the day, how does that go from being a buzz on the day to real results for pharmacists? 
Candice [00:21:09] Change obviously doesn't happen overnight, so it is important that we keep up the pressure. It was a very successful day in ensuring that pharmacists' voices were heard, and we did also have dozens of politicians across the country who took part in our Thank Your Pharmacist Day as well. So we definitely managed to make a lot of noise, but we want to continue to hold those kinds of events and to get more and more members involved. And we also want to give members opportunities to actually meet with politicians and have those face-to-face conversations as well to show them the conditions that you're experiencing and how unfair current rates of remuneration are. 
Peter [00:21:46] So how does a pharmacist get involved if they want to be part of that? 
Candice [00:21:49] There are many ways that you can get involved and share your stories. You obviously are best placed on the ground and we need you to help us so that we can help you, really. So, you know, you can get involved by amplifying our message across social media, sharing your stories, whether it's through Australian Pharmacist or reaching out to the advocacy team directly and getting involved in future advocacy days that we hold. You can get in touch with the advocacy team at advocacy@psa.org.au. And if you've got a good story to share we can help you to amplify that message as well. 
Peter [00:22:23] I think one of the things that affects pharmacists generally is we can be very good advocates for our patients but we often find it hard to be advocates for ourselves. Why is it really important for pharmacists to be able to advocate for themselves? 
Candice [00:22:35] You are the only people that can truly talk about the conditions that you're facing, the workload that you're facing and the challenges that the profession is facing and being able to actually share those stories and talk about what you do with such passion as well. So many pharmacists are incredibly passionate about what they do for their patients. We need that passion. We need to see that shine through in our conversations with politicians. So I often say it's hard to expect others to advocate for you if you're not prepared to advocate for yourself. And I think that's something that applies to a lot of different facets of life but your career is particularly important. 
Hannah [00:23:12] Candice, it's very important for pharmacists to advocate for the profession. Do you have any tips for helping pharmacists advocate for themselves individually within a workplace? 
Candice [00:23:21] Often it just needs to start with a conversation with your boss, with your employer. I think people are often really scared of even having those conversations in the first place. Communication is just key, you know, and if it's as simple as asking for a pay rise, the worst thing that can happen is that they say no. They're not going to fire you because you've asked for a pay rise, so really you've got nothing to lose. You might as well give it a shot and if they say no, they say no, and maybe you can try again in a few months time.
Hannah [00:23:49] And I found my experience with connecting with mentors and someone a little bit more senior than you can help quantify actually what you're doing. So you can go to your boss and actually show them what value that you're bringing to the business or to the organisation to help negotiate that. And there's programmes within PSA that you can actually use to start upskilling and showing how you get that extra value. 
Candice [00:24:11] Absolutely and there are a lot of things that pharmacists do in your day-to-day roles where there isn't necessarily a direct monetary correlation or value to that. And that's why those things do sometimes go overlooked. So I think you're absolutely right. It's important to sit down and think about all of those things and the value that you are adding to the business and the patient, even if those numbers aren't necessarily entirely clear. 
Peter [00:24:36] Candice, you mentioned a couple of ways that pharmacists can reach out to PSA if they want to get involved, coming up to a federal election or in terms of other state elections, and other things coming up, what are some general tips for pharmacists to get more involved in being advocates for the profession? 
Candice [00:24:50] Social media is a really great way to do that. You can build your own personal brand and connect with people across the industry, but similarly, you can do that in the real world as well, in real life. I think people can sometimes find politicians a little bit intimidating, but at the end of the day, they are there to represent you. They work for you. They are just average people and they work for you. So don't be afraid to have those conversations. They can't do anything to fix a problem if they don't know that a problem exists in the first place. 
Peter [00:25:18] Great advice. 
Hannah [00:25:19] So, Candice, after you said that local politicians aren't quite as intimidating as you think, if I was going to meet with my local member, what are the asks that PSA is asking for in this upcoming federal election? 
Candice [00:25:31] So our federal election platform is largely around the fact that pharmacists deserve the same pay for the same work as other health care providers. So we're calling on the incoming government to address the unfair and inequitable pay disparities that exist between pharmacists and other health care providers. So that includes introducing an MBS rebate for pharmacists to actually be remunerated for multi-disciplinary case conferencing. So at the moment, pharmacists are the only allied health professional, who is not being remunerated for case conferencing. 
Peter [00:26:01] Outrageous. 
Candice [00:26:02] Yes, it really is terrible, isn't it? We're also calling on them to introduce an MBS service payment for pharmacists for administering National Immunisation Programme vaccines, including the COVID vaccine. And then the third thing we're calling for is that the incoming government commit to a binding agreement with PSA to improve pharmacist wages and working conditions in recognition of critical responsibilities, advanced training and skills, to improve consumer health outcomes in the longer-term as well. That's absolutely crucial to ensuring the sustainability of our pharmacist workforce because as we've heard, it has been so tough that many people are looking to leave. And if that continues, then unfortunately Australia will face a looming crisis if we can't attract and retain our pharmacist workforce. 
Hannah [00:26:50] And is there somewhere I can find these resources on the PSA website? 
Candice [00:26:53] Yes, it's all there at psa.org.au/remuneration. 
Hannah [00:26:59]  We've had a few really big years with COVID, and I know a lot of pharmacists are tired. Do you think there's light at the end of the tunnel? 
Candice [00:27:06] Absolutely, change doesn't happen overnight, so it is something that we need to continue to advocate and fight for. But change is absolutely possible. Through the pandemic, we did see a slight increase in the rate of payment for booster vaccinations, which was the result of a lot of our advocacy work. So, you know, persistence is absolutely key. And they often say in marketing, you need to say something to somebody eight or nine times before they even start paying attention. So you feel like you sound like an absolute broken record. But that's the point at which people are only actually just starting to pay attention. And, you know, if something is important, then it's worth fighting for. 
Hannah [00:27:47] And it's really exciting for someone in their early career watching all of these new avenues for pharmacists to start to develop and grow and unfold. So some exciting things to look forward to. 
Peter [00:27:57] Thanks, Candice. 
Candice [00:27:58] Yes, thanks for having me. It's been great to chat today. 
Hannah [00:28:01] This is such an important topic. It feels like we've only just scratched the surface. Thanks to all our fantastic guests for joining us and sharing their experience. 
Peter [00:28:08] And thanks to everyone for listening. You can check out the show notes for links to everything we've spoken about today. To learn more about being your own practise advocate, check out the April Australian Pharmacist article 'Rethinking Remuneration: Inside the Push to Address Chronic Underdosing of Pharmacist Wages', or visit, psa.org.au/remuneration to have your voice heard and secure our pharmacist workforce for the future.