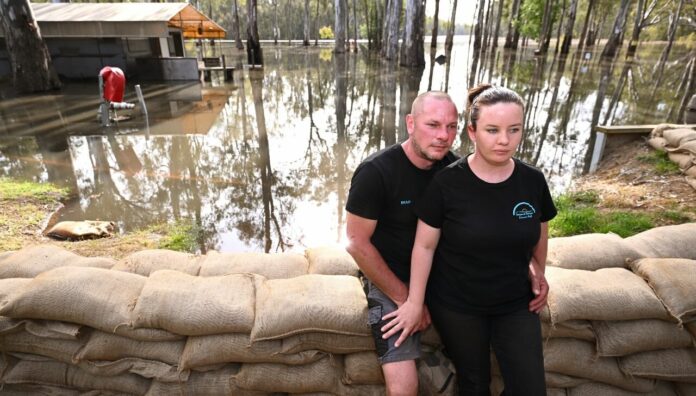 Pharmacists have been stranded without access to more than 730 PBS medicines struck off the Continued Dispensing initiative measure.
Since widespread floods first hit Victoria and Southern NSW on Friday 14 October, one man has died, 1,000 homes have been affected and 34,000 homes are expected to be inundated with water or isolated.
Residents in the Victorian towns of Echuca, Charlton, Bunbartha, Rochester and surrounding areas have been told to evacuate, sometimes at a moment's notice – with people in Shepparton, Kialla and Orrvale given only 2 hour's notice to leave over the weekend.
The PSA has again called on the Federal Government to reform continued dispensing arrangements amid further flooding in Victoria, New South Wales and Tasmania.

'Current continued dispensing arrangements are simply not fit-for-purpose,' said PSA National President Dr Fei Sim. 'Governments need to make sure that all patients have access to their medicines in emergency situations, regardless of what medicines they take,'
Full continued dispensing arrangements came into effect in late 2019, allowing residents affected by NSW bushfires to continue accessing their regular medicines when they lost access to their prescriptions and were not able to reach a GP. Nearly all Pharmaceutical Benefits Scheme (PBS) medicines were available for continued dispensing.
These arrangements were extended in response to COVID-19 and remained in place until 1 July 2022 when the Federal Government reduced the number of eligible medicines from over 900 to 168.  
Dr Sim said that pharmacists are working harder than ever to ensure patients have access to the medicines they need, but their hands are tied when it comes to supplying prescription medicines to those who have been most affected.
Mooroopna under water
Meanwhile, Mooroopna Pharmacy owner Linh Nguyen was able to open his pharmacy for the first time today after floods swept through the region.
'On our side of the street, the water has gone down. But the other side is still flooded,' he told Australian Pharmacist.
'Luckily, this morning the State Emergency Service (SES) was able to escort me over to open a pharmacy while patients were [outside] screaming for medication.'
With the power back on and equipment intact, the team is now able to dispense medicines to patients.
While some have scripts and some don't, Mr Nguyen said he 'can't override the rules' to help desperate patients access their medicines.
'We're trying to get [patients] to get their doctor to [issue] escripts sent to their phone or email," he said.
Even for those who do have valid prescriptions, funds are scarce.
'People are short on cash because the bank is not open and the ATM is out of order,' he said. "We're just saying "Take the medication and come back later to pay",' he said.
With the pharmacy under pressure to provide medicines to stranded patients, Mr Nguyen said expanded continued dispensing arrangements are needed.
'We couldn't open for the last 3 days and the other [pharmacies] are still flooded right now, so they won't be able to open for the whole week,' he said. 'We're the only one here.' 
For now, the team is focussed on helping patients where they can and the clean-up effort.
'It just may take a day or two to clean things up so that we can go back to [full] operation,' he said.
Pharmacists on the ground in Echuca and Shepparton
Over in Echuca, Brent Coburn MPS, owner of Coburn and Reid Pharmacy, said that while his pharmacy is open and operating for now, they are 'flat out'.
'We're doing the best we can to provide medicines for everyone, and we're just asking all our customers to be patient while we get through it,' he said.
The pharmacy requested patients send prescriptions through, with limited staffing making it difficult to get to the phone to answer inquiries.
'A lot of our staff have been affected [by] floods and potential floods,' he said. 'We're playing it by ear and will open as long as we can, provided we've got staff and supplies.'
Shepparton-based pharmacist Melvin Deo MPS, who owns Shepparton Amcal+ Pharmacy, said he was unable to deliver medicines to three patients yesterday due to rising floodwaters.
'We have [patients] in Mooroopna and customers from other pharmacies who are trying to get medications, so we're trying to help them out as much as we can to keep them going with their [medicines],' he said.
Mr Deo has reached out to SES to see if they can help with the delivery of medicines, along with liaising with pharmacies in Mooroopna to see if they can dispense medicines to Amcal's patients until the roads open.
'We've just been [issuing] emergency supplies to help people get through the next few days,' he added.
Replenishing stock a priority
With medicine orders placed on Saturday and Monday yet to be delivered, and stock running low, Mr Deo is trying to figure out how to replenish the pharmacy's supply.
'I'm liaising with [our primary wholesaler] to see what options we have. If need be, I can meet them halfway, or even go to the depot in Truganina, which is a bit over 2 hours' drive, and pick up the stock if that's an option.'
While the highways are open at this stage, Mr Deo is monitoring how safe they are to navigate.
'I've heard of incidents where people are parked along the highway because they have burst their tyres driving through the puddles,' he said.
Now that Shepparton is starting to open up, and staff members who were previously stranded are able to get to work, the team is bracing for an influx of patients who can finally make it into town for the essentials.
'The last thing we want is them coming in and we haven't got the medication on the shelf,' he said.
'What if another round of flooding occurs and they are boxed in again?'
Good emergency supply regulations needed
Jarrod McMaugh MPS, Victorian PSA State Manager, grew up in Echuca. While flooding has always been an issue in the region, it is becoming more frequent and severe.
'You'd get flood water that would come up and interfere with traffic, with a couple of people losing property,' he said.
'Now entire areas, or in some cases, towns, are getting inundated in a way that destroys everything, then you're left with this huge muddy mess.'
While pharmacists are doing whatever they can to help in the current situation, they are unable to help every patient access their medicines, he said.
The PSA has been speaking with pharmacists who are staying open and trying to help patients with intermittent power, water damage and without stable phone and internet lines, said Dr Sim. 
'They have told us the watered-down [continued dispensing] arrangements are putting them in an impossible situation of having to deny reasonable requests for lifesaving medicines or risk losing their AHPRA registration by breaking the law,' she said.
It is vital the full PBS continued dispensing list is restored, guaranteeing access to full PBS quantities Australia-wide for people affected by an emergency.
'We cannot wait for the next natural disaster to revisit this issue yet again. Restoring full continued dispensing permanently will help improve our disaster response and protect the post-disaster health of our communities,' Dr Sim said.