A new strategy was announced at the International Pharmaceutical Federation (FIP) conference this week to further the scope of pharmacy practice and research.
The 21st century will be the century of pharmacists, FIP President Dominique Jordan proclaimed last week as he launched a global strategy to decrease the gaps in pharmaceutical science, practice and education between regions.
More than 2600 pharmacists, pharmaceutical scientists and pharmacy educators from 115 countries travelled to Abu Dhabi for the conference this week.
Mr Jordan said in order to consolidate the position of pharmacists in the different health systems, and to be able to take new roles and provide new services, all three domains of pharmacy ― science, education and practice ― are crucial.
'Practice cannot exist without science or education, and only this interdependency and the collaboration of these three domains can ensure universal health coverage,' he said.
Mr Jordan said all pharmacists, pharmaceutical scientists and educators have a 'key role' in the sustainability of this strategy, and in the evolution of pharmacy globally.
The strategy has six aims: 
Everyone has access to the medicines they need

Everyone has access to the health and medicines-related information they need

Everyone benefits from new medicines, services and health technologies

Pharmacists ensure the responsible and quality use of medicines

Healthcare professionals and patients work together to ensure comprehensive health care for all

FIP is a vibrant and growing organisation that meets the needs and functions of its members
'The 21st century will be the century of pharmacists,' said Mr Jordan, who pointed out that pharmacists can play an active role in all 10 current threats to global health identified by the World Health Organisation, including a global influenza pandemic.
'We know all pharmaceutical professionals must adapt to new challenges and be integrated partners in the health system. 
'FIP improves global health by supporting the advancement of pharmaceutical practice, sciences and education,' he said. 
Mr Jordan said in continuing the work of previous presidents, FIP has implemented a number of new projects towards the strategy. 
This includes the growth of the FIP Global Pharmacy Observatory for all constituencies.
The Board of Pharmaceutical Practice and the Board of Pharmaceutical Sciences are also working on "FIP Global Development Goals", which will incorporate workforce development goals alongside goals for services, patient and public needs, and innovations in practice and science.
'At the end of the process, we will have FIP-wide Global Development Goals, underpinned by FIP standards, principles and evidence,' he said. 
Mr Jordan said by 2022 the profession should be able to prove that pharmacists are important players in making a difference in a region or country.
Meanwhile, Australian community pharmacist and University of Sydney PhD candidate Jack Collins MPS was honoured at the conference with a FIP Foundation Young Pharmacists Group (YPG) Grant for Professional Innovation.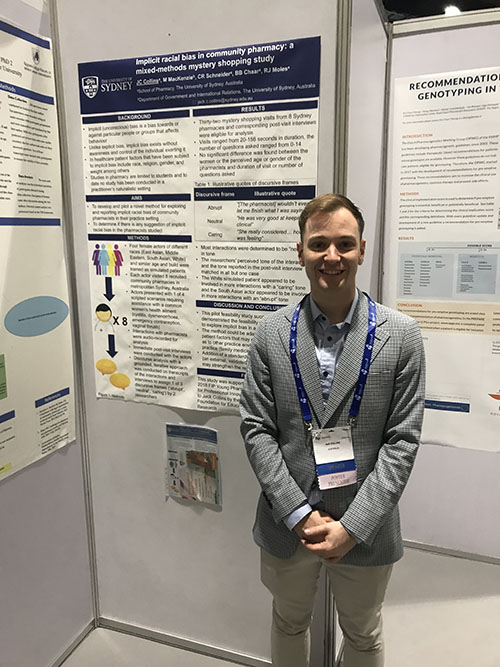 Mr Collins' project explores whether implicit racial bias is present in practising community pharmacists, using simulated patients. He said the grant has provided him with the funds to use paid experienced actors as simulated patients for the study.
'Through this pilot study we've been able to show that this novel method of exploring implicit bias is feasible. This grant was instrumental to the success of the project. 
'I was truly honoured to have been selected as the winner of this competitive grant. It's a fantastic opportunity for young pharmacists and pharmaceutical scientists, and it's great to see the Foundation recognising and supporting the work of these early career researchers,' he said.
Mr Collins will be presented with his award at the YPG business meeting later this week. 
The grant consists of €1,000 for the implementation of the project and is judged based off five categories: significance & relevance, creativity & innovation, scientific accuracy, feasibility, and clarity of communication. The conditions of accepting the award include submitting a project and interim reports to the YPG or FIP Foundation.
FIP Foundation for Education and Research Executive Director Carola van der Hoeff said part of the role of the Foundation is supporting education and research ventures of pharmacists and pharmaceutical scientists, and supporting charitable projects that advance global health. 
'These projects can stem from any field of pharmacy, but should directly or indirectly benefit or improve health in communities, and demonstrate the added value of pharmacy to health,' she said.
References
International Pharmaceutical Federation. In the presence of H.E Sheikh Abdulla Bin Mohamed Al Hamed – FIP president reveals new strategy for global pharmacy. 22 Sept 2019. At:

https://gallery.mailchimp.com/8a53014ef869b0c219eac7e5f/files/0566e46e-620b-4cc6-a978-f062a60e5451/2019_09_Press_release_FIP_President_s_address_EMBARGOED.pdf