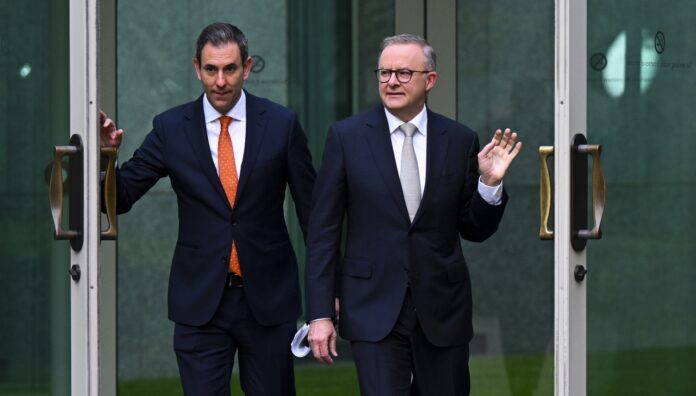 The new federal government last night delivered its 2022–23 'bread and butter' Budget amid a growing cost-of-living crisis.
A sizable chunk of funding was dedicated by the Albanese Government to Health and Aged Care, with $104.1 billion in funding allocated to a range of important community health measures.
'The PSA welcomes all initiatives that support the pharmacist profession, especially as pharmacists continue playing a greater role in primary healthcare,' said PSA National President Dr Fei Sim
Here is a run down of the key changes that will impact pharmacists.
1. Maximum general co-payment for medicines slashed
As the cost of living continues to rise, there is one necessity that Australians can expect to pay less for – prescription medicines.
Treasurer Jim Chalmers announced a $787.1 million investment, released over 4 years,  to reduce the general co-payment for Pharmaceutical Benefits Scheme (PBS) prescriptions by 29%, with a maximum cost drop, as promised, to $30.
When the changes take effect on 1 January 2023, Australians will save up to $12.50 per prescription.
'Each year, this will save around 3.6 million Australians more than $190 million in out-of-pocket costs,' the Treasurer said.
While those taking one medicine per month could save up to $150 annually, families or people on multiple medicines can expect savings of $300–400 per year.
'The Federal Government's decision to reduce the maximum co-payment for PBS medicines is a historic move that will improve access to medicines for the most vulnerable Australians,' said Dr Fei Sim.
'Medicines are the most common healthcare intervention, but for many low or no-income Australians they can be unaffordable. 
'Making medicines cheaper and more accessible for patients is always going to be a good thing for the health sector, and for the health of Australians.'
A further $1.8 billion was committed to cheaper medicines, including $1.4 billion towards new PBS listings and $96.7 million for COVID-19 and monkeypox treatments.
2. A boost for the pharmacy workforce via extra student places
Since COVID-19 emerged and migration plummeted, Australia has been faced with an unprecedented skills and workforce shortage – particularly in the healthcare sector.
To bolster the workforce, the government committed to a $485.5 million investment over 4 years. From 2023, an additional 20,000 Commonwealth-supported university places will be delivered.
Over 7% of these places will be dedicated to healthcare, with 2,740 promised to professions such as pharmacy and health science.
The PSA welcomed the inclusion of pharmacy students in the additional university spots, describing the move as 'a sensible, longer-term solution to growing concerns about the future of the pharmacist workforce'.
'Many pharmacists are feeling the pressures of workforce shortages every day, so we do need to look at immediate actions as well as long term solutions,' said Dr Fei Sim.
'It is vital for the federal government to develop a national pharmacist workforce strategy to ensure that the profession is fit for future purposes.'
3. Funding for pharmacists in residential aged care facilities confirmed
The Coalition Government announced a $345.7 million investment over 4 years to place pharmacists on site in Residential Aged Care Facilities (RACFs) back in March this year. Yesterday, the Albanese Government committed to delivering that funding.
The program is now likely to commence on 1 July 2023.
Other investments aimed at strengthening the aged care sector include $3.9 billion towards the Restoring Dignity to Aged Care initiative, including $2.5 billion to secure around-the-clock nursing staff in RACFs.
A further $185.3 million was committed to Rebuilding Our Health and Aged Care Workforce, including $29.4 million to expand the Workforce Incentive Program. 
Other health budget highlights include:
$234.9 million committed to personal protective equipment for the National Medical Stockpile to be distributed to pharmacies and other healthcare facilities

$2.9 billion towards

Strengthening Medicare and Rebuilding Primary Health Care

, including $235 million for Medicare Urgent Care Clinics

 $314.5 million additional investment to support First Nations health, including training up to 500 people in the First Nations Health Workers Traineeship Program

Preparatory work to establish an Australian Centre for Disease Control will begin with $3.2m in funding
National Centre of Excellence in Intellectual Disability Health – $23.9 million over 4 years from 2022–2023.
PSA budget recommendations
In its Federal Budget submission earlier this year, PSA made a series of recommendations to support pharmacists to play a greater role in primary healthcare.
These included:
calls to introduce Medicare Benefits Schedule (MBS) service payments to pharmacists for administering National Immunisation Program (NIP) vaccinations

funding for participating in multidisciplinary case conferences

support for a GP-Pharmacist Collaborative Prescribing Pilot to address the GP workforce crisis in regional, rural and remote areas. 
The PSA is disappointed these vital initiatives were not included in the Budget.
'We have repeatedly called for MBS service payments to pharmacists for administering NIP vaccinations and participating in multidisciplinary case conferences,' said Dr Fei Sim.
'Not only would this support pharmacists, it would also make primary healthcare more accessible to the community. 
'The PSA will continue to fight for the profession, working with the Albanese Government to ensure that all pharmacists are able to best support their patients.'