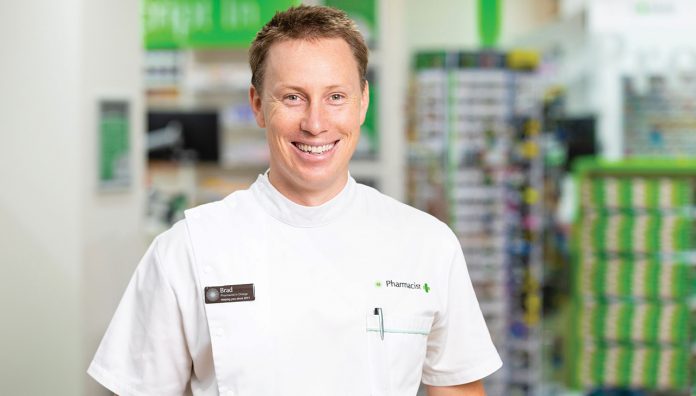 For Bradley Butt MPS at his Cooleman Court Pharmacy in Canberra, dispensing robots and automation are just tools that help him focus on delivering award-winning pharmacy services to patients.
How did you get started in community pharmacy?
I used to work at the pharmacy in Armidale, NSW, picking up the rubbish in the car park. Inevitably it turned into pharmacy assistant work and then a dispense tech and off to study pharmacy. Greg Hannon [the owner] was a very early adopter of this serviced-based, forward-pharmacy model. He was passionate about providing hands-on advice: looking at a rash, listening to a cough. I worked with him for 10 years and learned the craft of being a pharmacist through him.
Last year you redesigned your pharmacy and installed a dispensing robot. Why?
We wanted to ensure that our pharmacists spent more time with patients because that was one of the things we learned from our patient surveys. One way we believed we could achieve that was by optimising the dispensing process so that dispense techs were processing. Having a pharmacist processing a script is crazy and takes pharmacists away from their core business: checking prescriptions for safety and accuracy and providing advice. So, we worked with Pharmacium – they do pharmacy design – and gutted the shop, redesigned everything and incorporated a Consis dispensing robot. It relocates stock to an exit point so staff can just scan and label medicines ready for a pharmacist to review.
What has been the benefit?
There's a tangible time saving on each prescription; no walking through shelves each time. And we've cut dispensing errors. It's streamlined our dispensing process and means we can now do a direct dispense. As pharmacists, we now spend a whole lot more time with the patients, which our business model and patients demand. There are clear benefits to customers, but also for staff satisfaction; pharmacists like to spend time with patients, more now than ever. The graduates coming out of university now are very patient-orientated.
Why the focus on additional professional services?
In the US, there are the big providers like Walmart and the like, but there's still really successful small community pharmacies who specialise. They're not trying to compete with Walmart. You can't be everything to everybody. We need to look at how we can be practitioners more than providers of a commodity. If we can do that and put ourselves in a pharmacy that sings that message to our communities, then we're doing well.
What additional professional services do you offer?
We offer smoking cessation counselling, point-of-care testing, vaccination, diabetes educator clinic and asthma services. Our cardiovascular clinic took out the People's Choice Award at this year's PSA Pharmacy Shark Tank contest, and our Men's Health Downunder urology clinic is recognised as a national leader.
What advice do you have for others who want to focus on establishing additional professional services?
For an early career pharmacist, if you want to be doing more professional services and you're not, then you need to look at where you're working and the people around you. If the business model doesn't facilitate that, then maybe look elsewhere. Put yourself in a position where you've got people around you who support you. If you're working with somebody who's not supportive of that, then it's always going to stymie you.
A DAY IN THE LIFE of Brad Butt, pharmacist, pharmacy owner and specialist in professional services
8.00 am: Typical long day begins
Arrive at work and start, usually talking with patients about health-related issues.
9.00 am: Pharmacist duties
Various activities, eg, vaccinating patients, discussing men's health, dosing methadone.
11.00 am: Administration
Chasing prescriptions from doctors and patients; calling patients about outstanding accounts.
1.30 pm: Checking prescriptions
Filling multiple prescriptions for a new patient from Albury (NSW), he seemed to have been unnecessarily prescribed the Parkinson's medicine, carbidopa and levidopa by a neurologist. He had started on haloperidol and metoclopramide a week before developing Parkinsonian symptoms. After concern about iatrogenic disease, the man consulted his own pharmacist, who advised another consult with his GP and neurologist. It turned out the man hadn't told his neurologist about the haloperidol and metoclopramide, which had caused these symptoms.
3.00 pm: Men's Health Downunder consultation
A man in his 30s suffering premature ejaculation was referred. With his wife unable to fall pregnant, the clinic tried a 'special' combination compounded formulation. After working with his GP to get the right prescription, the man 'was able to last five minutes'. The couple avoided stressful sperm collections and artificial insemination.
4.00 pm: Community engagement
This can include talks on topics like incontinence medicine at a retirement village, general health tips to kindergarten children ('sneeze into your elbow') and giving post-award media interviews.
After 5.00 pm: More admin after leaving work
After the children are in bed, tidy up loose ends on the men's business, write some referral letters, do staff appraisals, then bed. 'They're long days – it's not like that all the time, but during the busy times, you have to get the work done.'
Further resources
Want to find out more about different career pathways for pharmacists? Visit www.psa.org.au/careerpathways